From A Life Changing Experience to A Change-Maker, Meet Ruchira
When I started Apne Aap I didn't realize that how difficult would it be to run an NGO. I had no idea and no experience of this field. The only thought which bothered me was that I won't have a regular salary! But I was determined..
Description
A journalist by profession, Ruchira is a brave heart. She has covered sensitive issues like riots, religious conflict, and human trafficking, during her career spanning over 23. She worked with the United Nations in various capacities for over ten years in different countries. She also helped develop the National Action Plans on women's empowerment and laws against human trafficking. She conceptualized and created a manual for law enforcement personnel and prosecutors jointly with United Nations Office on Drugs and Crime (UNODC) which continues to be used in India on confronting the demand for prostituted sex.
Ruchira has won many awards and global recognition for her consistent contributions towards eradicating human trafficking.
She has worked on issues related to violence against women and sex trafficking and prostitution in particular. She is a journalist, a policy maker, an activist, an author and the founder of a grass root organization called Apne Aap.
She founded Apne Aap Worldwide in 2002, an organization working in countering human trafficking and helping women in prostitution.
Started in Mumbai, Apne Aap now has centers in Delhi, Kolkata and Forbesganj in Bihar state, touching the lives of over 21,000 girls and women and their family members. It works toward empowering women in prostitution by making them financially independent, imparting income generating skills and most importantly, making them aware of their rights. It creates an exit strategy for women by reducing their dependency on brothels and also reduces their vulnerability.
Ruchira Gupta's journey from journalism to Apne Aap is as inspiring as the work Apne Ap does. She says "I share a dream with victims and survivors of sex trafficking. I believe in a world in which it is unacceptable to buy or sell another human being. I imagine an economy in which one is not forced to sell oneself. I challenge the notion that slavery and prostitution are inevitable."
She tells NGOBOX the story of her own journey
What motivated you to start Apne Aap? How did it happen?
I was a journalist and while working in the Nepal, I came across villages with missing girls. We ended up making a documentary on the same. As I was investigating, I found out that sex trafficking or modern form of slavery existed in our life time, in our generation. I was really shocked by that and I wanted to tell the story.
After that incident, I spent a lot of time in brothels of Mumbai, where the trafficked girls were ending up, and made a documentary which won and an Emmay award. It was a life changing experience for me because I could not believe that this kind of deliberate exploitation of one human being by another existed. I wanted to do something about it. First, it was just telling the story. But later I quit journalism, as I thought it is limiting and I should be able to do something more about this horrible issue. So, I started Apne Ap with the twenty two women in prostitution, and also I started to do consultancies with United Nations to track how women in prostitution were combating aids in South East Asia.
I also began to show my documentary everywhere and started talking about the issue, to create awareness and to see what we can do about it together.
Why the name Apne Aap?
We chose the name 'Apnea Aap' which means self empowerment. When I was filming the documentary, one man pulled out a knife on me and told me that I won't let you film here. The women protected me by surrounding me and telling the man, that if you have to kill her, you have to kill us first. There was the strength in the collective. So when the women came together and we decided to start Apne Aap, I said that I know nothing about running an NGO, I am just a journalist and they said that we are illiterate, but we want to change our lives. So, we rescued each other and that why we called it Apne Aap.
How easy or difficult it was to start an organization like Apne Aap which works for an issue which is still considered taboo in the society? Was it supported initially?
Giving up a very successful career to work on sex trafficking wasn't really easy or well supported. There were all sorts of voices, form 'why work on a remote issue' to 'working on a fringe subject'. People thought that it wasn't important enough and prostitution was considered inevitable. Comments like, "It's as old as the hills nothing can be done about it", and "men will be men" etc were common.
When I started Apne Aap I didn't realize that how difficult would it be to run an NGO. I had no idea and no experience of this field. The only thought which bothered me was that I won't have a regular salary! But I was determined and moved enough to make a change and work on this issue.
Do you think that the laws and policies framed around sex trafficking and prostitution in India are progressive?
When I began to listen to the women and their dream for justice I realized that to stop trafficking the blame has to shift from the victim (Women) to the perpetuator (Pimp/client) As long as the customers exist, the pimps would exist. The whole system needs a change. The laws have to go after the traffickers and the customers. We started lobbying for this, and we had our first success with the United Nations, and got a protocol which shifted the blame from the victim to perpetuator. It decriminalizes the women and punishes the perpetuator.
The living conditions of the shelter homes for the rescued women are not good at all. There have been news and reports of inhuman living conditions and girls/women trying to run away from the shelter homes. What are your views on that?
Mostly there are not enough funds for these shelter homes. There is a lack of training and sensitivity. There is no adequate staff. There are a lot of delays. When the system itself can't prevent the coming up of a red light area, it is so difficult to expect a clean and proper shelter home.
We have to find ways of turning red light areas into non red light areas because that the most sustainable and the women will make sure that it's running properly.
There must be some inspiring stories too?
In Bihar and Kolkata, the red light areas have been turned into non red light areas. The women have reclaimed the brothels they were living in and made homes out of them. The kids go to school, and the women are linked to livelihood
There are lot of women who are out of prostitution and leading a happy life. Five girls from red light area in Bihar, have joined college! These girls come from the Nat Community, which has practiced inter- generational prostitution for generation. More than hundred kids are in college now. Another survivor of trafficking went on a quiz show and won twenty five lakh rupees. We have more than eight hundred kids who are going to school. More than three thousand women are linked to bank accounts and subsidies. We have sixty six traffickers in jail. Every story is an inspiration in itself.
What would be your word of advice for the start ups, people who want work for a cause and social entrepreneurs?
Whatever one should do, one should do it with passion. We should not get brainwashed with what the west is telling us about the corporate methods of running an Ngo. Because then the bottom line will become efficiency and numbers and it should never be that. The bottom line should be the qualitative change that we can bring.
It's not always about impact assessment. We should do what we can, rather than just thinking about what we can do. People, who want to make a change, work on an issue, should go to the weakest person, the last person and sit and listen to them. What the people say, what change they need is the real change you can bring. It's better than any book or what a college will teach can teach. Go with your gut instinct and work.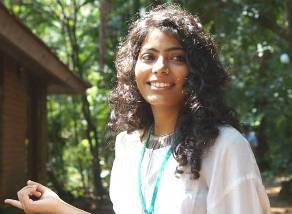 Ashmeet Kaur (Team NGOBOX)
A feminist at heart and a vegetarian by choice, Ashmeet loves travelling and reading. With a bachelor's degree in Literature from Delhi University and a Masters in Social Work from Tata Institute of Social Sciences, Mumbai, she has experience of working and interning with different social organizations. Always found reading, she believes that stories have the power to change us. Through this segment, she wishes to capture and share some of the most inspiring stories.