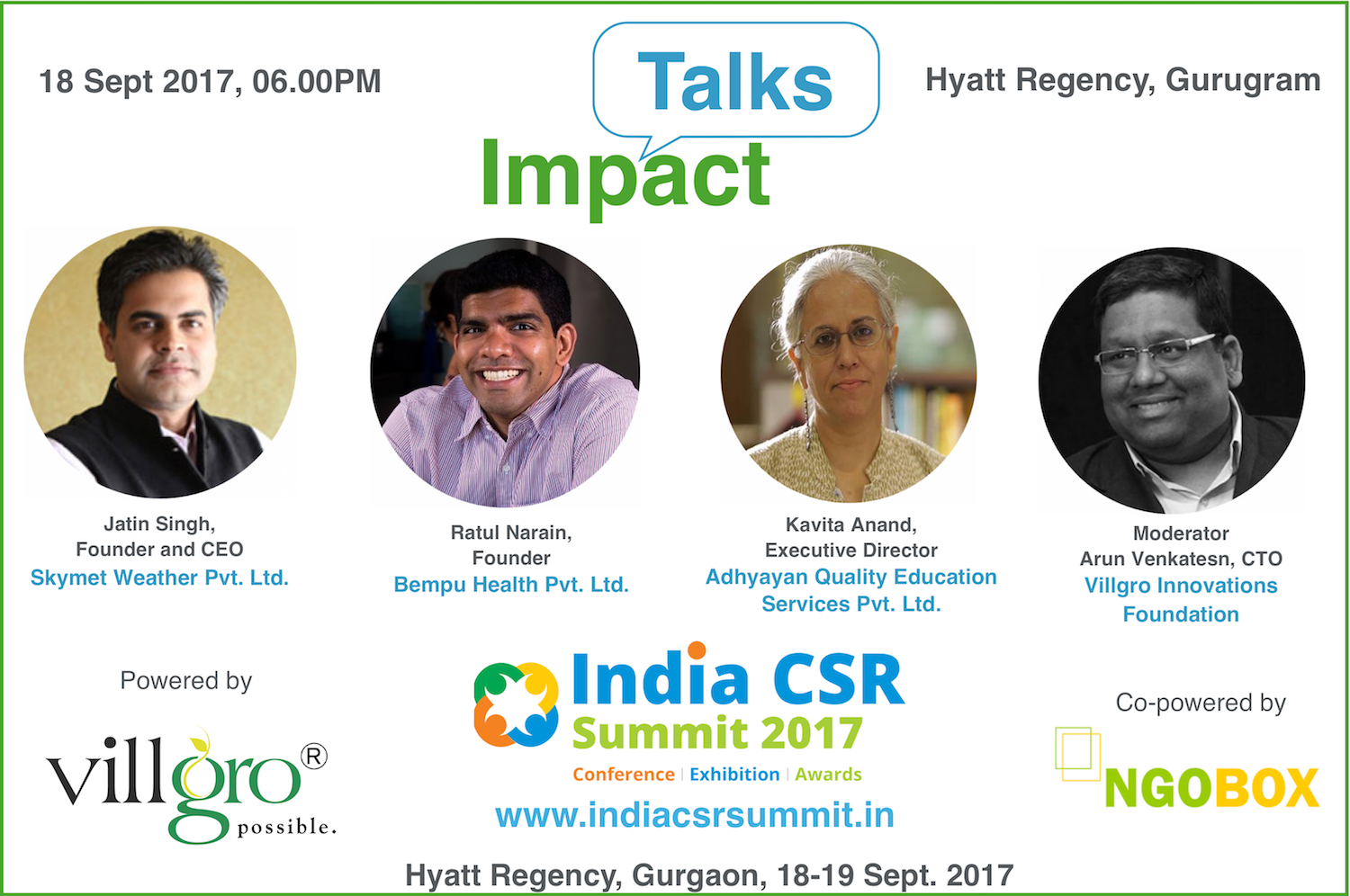 About
Incubators play a critical role in nurturing start-ups and social enterprises. Although there are approximately 200 incubators in India, the boom in start-ups and social enterprises has fuelled a demand for incubator support with estimates placing the demand at 1,000 incubators by 2020.
In addition to recent Government priorities such as Startup and Make in India promotion, the recent Companies Act (2014) permits funding to Government approved Incubators as a CSR activity. These factors combined make a strong case for corporate participation in supporting incubators and enabling social enterprises.
In light of this, Villgro and NGOBox will host the following sessions that aim to bring to focus the journey and impact of social entrepreneurs, and how incubators and corporates can help them succeed. The India CSR Summit 2017 provides an ideal platform as the largest forum for CSR thought leadership and partnerships by setting the context for discussing various aspects of incubation support to enterprises.
Agenda
Date: 18th September, 2017
Venue: Ballroom, Hyatt Regency Gurgaon, New Delhi NCR, NH8, Sector 83, Gurugram,
Haryana 122004, India
Time: 6:00 PM to 8:45 PM (Followed by networking dinner)
| | |
| --- | --- |
| Time | Session |
| 6:00 - 6:15PM | Registration |
| 6:15 - 6:30PM | Keynote Speech |
| 6:30 - 7:15PM | Panel: Fostering Incubator - Corporate Partnerships |
| 7:15 - 8:00PM | Impact Talks by Social Entrepreneurs |
| 8:00 - 8:45PM | Fireside Chat: Impact and Social Entrepreneurship |
| 08.45PM onwards | Networking Dinner |
Keynote Address:
Mr. H K. Mittal, Adviser, Member Secretary National Science & Technology Entrepreneurship Development Board (NSTEDB)
An alumni of the National Dairy Research Institute (1981) and the Indian Institute of Management (IIM) Ahmedabad(1984), Shri Harkesh Mittal has been instrumental in giving a new vibrancy to promoting the innovation and entrepreneurial acumen among a wide section of Indian entrepreneurs ranging from simple rural industries to high end technological enterprises.
Fireside Chat: Impact and Social Entrepreneurship
Impact Talk Speakers with Fireside Chat
1. Kavita Anand, Executive Director, Adhyayan Quality Education Services Pvt. Ltd.
2. Jatin Singh, Founder and CEO, Skymet Weather Pvt. Ltd.
3. Ratul Narain, Founder, Bempu Health Pvt. Ltd.
Registration
If you have not registered for India CSR Summit & Exhibition and want to attend only 'Impact Talks' sessions (6.00 to 9.30pm) , you may register with:
INR 1800 (Inclusive of Taxes) with networking dinner
INR 900 (inclusive of Taxes) without dinner
Please visit www.indiacsrsummit.in for online registration or go to payumoney page here https://www.payumoney.com/events/#/buyTickets/impact-talks-2017
About Villgro
Founded in 2001, Villgro is India's oldest social enterprise incubator. Villgro supports innovative enterprises that solve critical issues faced by the poor through market-based models. Villgro funds, mentors, provides resources and networks to social enterprises in sectors such as education, skills training, health, agriculture, energy, among others. Villgro is a Technology Business Incubator (TBI) approved by the Department of Science and Technology, Government of India. Villgro has incubated over 130 social enterprises, many of which have gone on to generate around 4,000 jobs, secure 119.5 cr in follow-on funding, and touch over 15 million underprivileged lives.
Contact us
For any query write to us at
csr@ngobox.org or call at +91-9560352170
For more information please check the Link