Media Workshop On Climate Change Reporting In The Indian Regions Along The Bay Of Bengal
Organisation: Earth Journalism Network
Event Duration: 21 Feb . 2019--23 Feb . 2019
Last Date To Apply: 10 Jan . 2019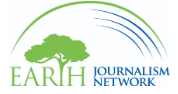 About The Organization -
Earth Journalism Network trains journalists to cover a wide variety of topics, develops ground-breaking digital media sites, establishes networks of environmental journalists in countries where they don't exist, and builds their capacity where they do, through workshops and development of training materials, Fellowship programs, support for story production and distribution, and dispersing small grants.
The Earth Journalism Network's Bay of Bengal Project focuses on boosting climate justice and resilience in the region through working with journalists, educators and civil society actors to produce and distribute reliable, actionable information to vulnerable coastal communities, in partnership with the Climate Justice Resilience Fund.
Workshop -
Internews Earth Journalism Network (EJN) is conducting a workshop for journalists on the subject of climate change in the Bay of Bengal region, with a focus on justice and resilience, especially for women and youth who live along the coast. The workshop is designed as an opportunity for journalists to interact with experts and to participate in a field trip that will enable them to report on these issues. It will help enhance quality and quantity of information and understanding for improved coverage.
Prerequisites For Applicants -
To commit to attend all days of the workshop.

To have a record of reporting on scientific and/or environmental topics

To be able to understand and communicate in English, since the sessions will be in English.

If you produce stories for your home media organizations as a result of your attendance at the workshop, to be willing to post copies of them on the net website.

A letter from your editor or media outlet supporting your application (freelancers are welcome but must have a letter of support from a media organization that will publish or broadcast your stories)
Detailed Information Below -
The workshop will be held in Visakhapatnam, Andhra Pradesh, on February 21-23, 2019.

EJN will bear the travel, accommodation and meal costs of selected participants.

Journalists from print, web, radio and television are all encouraged to apply. Women journalists and young journalists are especially encouraged to apply.

You will have to submit two samples of stories or links to relevant reports, so please get them ready beforehand.

The website will inform you that your application has been submitted, you will not receive email confirmation.

Applications submitted after the deadline time and date below will not be considered.

For enquiries, please contact ejn@internews.org
Application Deadline: January 10, 2018 at 5p.m IST
For more information please check the Link.