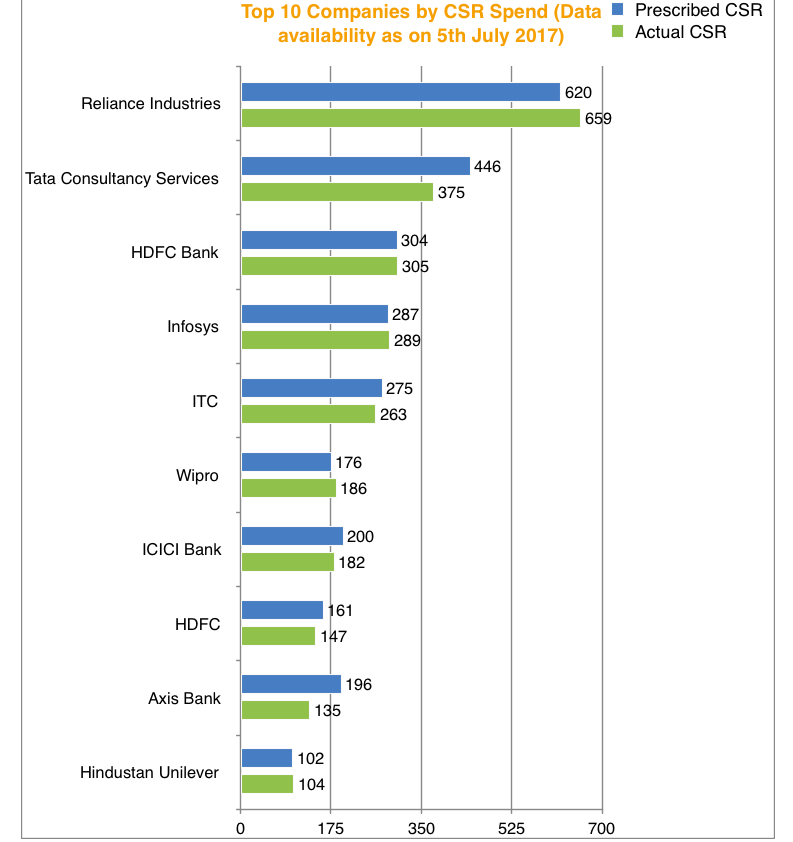 NGOBOX has been analysing officially reported CSR data of companies since the CSR became a compliance in India and companies began reporting as per the Section 135. Our CSR research has been backbone of many policy initiatives and action-plans at the national and state levels. I remember when we released our first India CSR Outlook Report in 2015 in Bengaluru, immediately after that we were invited by one of the top officials in the Ministry of Rural Development, Government of India to help them identify companies and CSR foundations that would be interested to collaborate for Sansad Adarsh Gram Yojana. Similarly, we have been part of government-corporate partnerships talks for development projects in sanitation, digital financial literacy and rural development in four states in recent past.
CSR data tells a lot when you try to dig deeper and play around with the numbers. It helps non-profits to plan their fundraising strategies and action-plan, while social businesses that are into waste recycling, water and sanitation related projects, education-kit manufacturing, science-lab set up, solar light unit providers and technology providers for education, healthcare and water conservation, all of them leverage the targeted marketing using the CSR data. The business does not stop here, CSR has opened doors for B2B orders for many SMEs dealing with products that are being used in Swachh Bharat initiatives or affordable housing projects or in rural development and basic infrastructure projects.
However, the real use of CSR data is for the CSR fund managers themselves. I feel happy when I get a call from CSR head of a company or chief of a CSR foundation, and able to help him or her with the names of companies implementing projects in certain district or state, going deep to the level of partners names, project funding and similar initiatives in the vicinity. However, now we have made this all very easy with our CSR analytics platform-CSRBOX.
So, as we are gearing up for 'India CSR Outlook Report 2017' in India CSR Summit and Exhibition 2017 in Gurgaon, we tried to do a pre-report analysis and present it to the fraternity.
We analysed CSR data of financial year 2016-17, of 100 BSE listed companies. Here are a few interesting insights.
100 BSE Listed Companies
All of these companies are with prescribed CSR of INR 1Cr. or above
No public sector enterprise has been included in the analysis
A comparison has been done of FY2015-16 CSR data and FY 2016-17 CSR data of same set of 100 companies
These 100 companies command almost 33% of the prescribed CSR of all companies falling under the ambit of CSR compliance in India FY 2016-17
Highlights of CSR Spend in FY 2017
Actual CSR spend increased by 20% on YoY basis

36% companies could not meet the CSR compliance while this number was 44%in FY 2016

Actual CSR spend is 88% of the prescribed CSR, while the same was 86% in FY 2016

Almost 1/3rd of the companies spent more than the prescribed CSR

21% companies (same set of companies) spent more than the prescribed CSR in both FY 2017 and FY 2016

55% of CSR spend is through implementing partners

Almost 1/3rd of CSR fund was spent on education projects while another 1/3rd was spent on rural development and healthcare projects.

Addressing hunger and malnutrition and environment sustainability related projects are gaining new grounds as there seems to be substantial increase in CSR spend in these areas.
Why could companies not spend the CSR fund?
The responses of 36 companies that could not spend the prescribed CSR show glaring fact that many of them (almost 1/3rd) are still setting up internal processes or are confused about what and where they need to focus on. There are companies who managed to spend the remaining fund of previous year but could not spend the 2017's CSR fund. This is just one part of it.
There are cases where companies had committed CSR fund to partners, released initial tranches of fund but implementing partners could not spend the CSR fund and by the time companies realised that their partner NGOs did note have capacities to implement the projects, the financial year was about to over. And it takes time and effort to on-board new partners, isn't it!
However, these are initial numbers and represent one-third of CSR fund in the country. We will share more insights and deeper data-sets as we

Please feel free to share your thoughts at bhomik@ngobox.org