Back to the Admission Listing
Post a Admission announcement
Advertise with us
Online store
Subscribe our Weekly Newsletter
More Admissions
---------------------------------------------
Applications Invited for PhD in Sustainability Science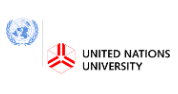 Institute Name: United Nations University
Apply By: 20 Jan 2022
About the Organization
The United Nations University is the academic and research arm of the United Nations. Headquartered in Shibuya, Tokyo, Japan, with diplomatic status as a U.N. institution, its mission is to help resolve global issues related to human development and welfare through collaborative research and education.
About the Program
The PhD programme in Sustainability Science is a three-year programme that aims to produce scholars who will become key researchers in the field of sustainability science. The programme takes an innovative approach to sustainability, seeking to promote a better understanding of the issues by incorporating global change perspectives, specifically those related to climate change and biodiversity.
The programme will equip graduates with comprehensive, multidisciplinary knowledge of sustainability problems, and deepen their understanding of the role of environmental sustainability in addressing current issues related to global change. The programme provides students with unique opportunities to interact with leading scholars and policymakers through lectures, international conferences, and workshops. Students undertake problem-oriented research by playing an active role in UNU-IAS research projects, and acquire the quantitative and qualitative analytical skills necessary to understand the underlying principles of various systems involved in sustainability issues and debates. Through coursework and research, PhD students gain critical thinking and problem-solving skills, as well as the technical literacy required to address sustainability problems.
The programme starts in September, and by July of their third-year students are expected to complete all of the course requirements, obtaining at least 14 credits. Students can select courses from those offered by UNU-IAS, while also enjoying the opportunity to take courses at other leading universities in Japan such as the University of Tokyo, Sophia University, and International Christian University.
Application Processing Fee: None
Tuition Fee: USD 10,000 per year
The estimated total expenses for living and studying in Tokyo for 3 years are approximately USD 84,000, including tuition. Applicants must ensure adequate financial resources to meet the full costs of educational and living expenses.
Eligibility
The UNU-IAS Postgraduate Programmes in Sustainability / Sustainability Science seeks students with the following qualities:
1. Students who possess a firm academic interest in the pressing global issues on the UN agenda, in particular those of sustainability, and a strong desire to contribute to the solving of problems concerning global environment and society through a transdisciplinary approach;
2. Students who have adequate research skills and clear questions related to global issues as well as a strong desire to engage in research in UNU-IAS thematic areas with the potential and motivation to succeed in our programmes;
3. Students who have the intention to proactively apply academic research findings to policymaking, and aim to pursue careers in international fields in public service or private organisations, including United Nations, multinational corporations, and non-governmental organisations as well as research academic institutions.
Admissions Requirements 2022
Applicants for the PhD in Sustainability Science are required to have met ALL of the following requirements by the application deadline in order to be considered:
1. A completed Master's degree (or equivalent) from a recognised university or institution of higher education and demonstrated ability to link course work and activities to principles of sustainability;
2. A minimum of 2 years of practical field experience related to UNU-IAS research themes which was acquired after obtaining a university degree (full time equivalent);
OR
2. Two completed Master's degrees, at least one of which must be in a discipline related to sustainability studies (those who expect to receive a second Master's degree before the entrance period of September 2022 may also apply);
3. A GPA of 2.8 or above on a 4.0 scale (equivalent to 70% on a 100 % scale) for at least one of the Master's degrees earned; and
4. English language proficiency.
The minimum score requirements for English language qualifications required by UNU-IAS are:
600 on TOEFL – Paper-Based Testing (PBT) OR

100 on TOEFL – Internet-Based Testing (IBT) OR

7.0 on IELTS – Academic format
Applicants, excluding those listed below, must submit original TOEFL or IELTS score reports (from a test taken within the last two years) to the Admissions Office once they are shortlisted for interviews. For the 2022 admissions, UNU-IAS accepts scores of TOEFL iBT Home Edition and IELTS Indicator in addition to TOEFL PBT, TOEFL iBT and IELTS. Please find more details on score reports in the application instruction. The following applicants are exempt from submitting score reports:
Applicants whose native language is English.

Applicants who graduated from a university or a postgraduate school located in an English-speaking country.

Applicants who completed an undergraduate or postgraduate degree programme where the language of instruction and examination was English. In this case, an official statement from the academic institution will be required, confirming the use of English as the language of instruction and examination.
For more information please check the Link.
Latest Online Store
Latest Tenders And EOIs
Latest News
© Renalysis Consultants Pvt Ltd