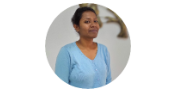 Roshini Muthukumar
Roshini Muthukumar, a native of Chennai, started her career as a content writer but made a switch to journalism to pursue her passion. She has experience writing about human interest stories, innovative technology, entrepreneurs, research blogs, and more. Previously, Roshini has done internships with The Hindu, Metroplus and worked as a correspondent with The Better India.
India is one of the fastest-growing countries in the world. However, a study published in 2019 suggests that over 63 million people do not h....
When I fall sick with a cold or a fever, the first step I take to feel better is eating an over-the-counter paracetamol tablet. It is not ju....
Coconuts are considered to be one of nature's most versatile gifts. While every part of the tree usually finds some purpose including the husk a....
© Renalysis Consultants Pvt Ltd