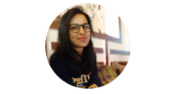 Smita Singh
Smita currently finished her Masters in Economics Major. Being an introvert personality, writing suits best to her. She has vivid experience in the content area from writing research papers to writing content for various websites, blogs & stories. Smita has worked for a Patna based digital marketing company named DigiwaleBabu.
Even after various initiatives taken by the great politicians and government of India, it is a matter of great concern that India ranks very....
Why is it so important to understand female hygiene? You might be surprised to know that around 300 million women in India are denied using sanitary n....
© Renalysis Consultants Pvt Ltd