Back to the Call for Papers Listing
Post a Call for Papers
Advertise with us
Online store
Subscribe our Weekly Newsletter
More Call for Papers
---------------------------------------------
Call for Papers - International Conference on Innovative Research Practices in Economics, Business and Social Sciences (ICIRPEBS)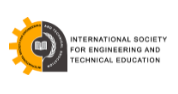 Organization Name: International Society for Engineering and Technical Education
Apply By: 26 Nov 2021
Location: Pandharpur
Presentation Date: 15 Dec. 2021 - 15 Dec. 2021
About the Organization
The International Society for Engineering and Technical Education (abbreviation for ISETE) is an independent, nonprofit research and development organization and a unit of PET. ISETE organizes various Academic International conferences/Seminars, publishes journals, conference proceedings, books, and newsletters, and organizes other scientific activities among the Society members.
ISETE aims to develop and promote competitive and sustainable technology by undertaking innovative and customer-oriented research and development to meet the needs of the industry. We are committed to making ISETE be one of the most influential R&D centers in the world.
About the Conference
Welcome to the official website of the International Conference on Innovative Research Practices in Economics, Business and Social Sciences (ICIRPEBS - 2021). The conference will be held at Pandharpur,India on 15th December 2021. The aim objective of ICIRPEBS is to present the latest research and results of scientists related Economics, Business and Social Science topics. This conference provides opportunities for the different areas delegates to exchange new ideas and application experiences face to face, to establish business or research relations and to find global partners for future collaboration. We hope that the conference results constituted significant contribution to the knowledge in these up to date scientific field. The organizing committee of conference is pleased to invite prospective authors to submit their original manuscripts to ICIRPEBS.
All full paper submissions will be peer reviewed and evaluated based on originality, technical and/or research content/depth, correctness, relevance to conference, contributions, and readability. The conference will be held every year to make it an ideal platform for people to share views and experiences in Computer Science and Information Technology related areas.
Journal/Paper Publication: All registered conference papers will be published Conference proceeding (Having ISBN Number) and the extended versions of the papers will be published in related reputed Scopus/ SCI/WoS/UGC Care Listed international journals.
Important Date
Submission Deadline: 26th November,
2021Registration Deadline: 30th November,
2021Conference Date: 15thDecember, 2021
For more information please check the Link
Latest Online Store
Latest Tenders And EOIs
Latest News
© Renalysis Consultants Pvt Ltd