Back to the Call for Papers Listing
Post a Call for Papers
Advertise with us
Online store
Subscribe our Weekly Newsletter
More Call for Papers
---------------------------------------------
Call for Papers - World Summit on Climate Change and Global Warming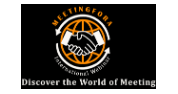 Organization Name: Meeting Fora
Apply By: 09 Sep 2022
Location: Online
Presentation Date: 24 Sep. 2022 - 25 Sep. 2022
About the Organization
We are an organization that amalgamates Open Access Publication and International science events for the benefit of the global scientific community. The organization was established in the year 2007 with the sole aim of providing a platform for "Open Access" to the research information pertaining to diversified fields of Science and technology. We publishe scholarly journals that can be easily accessed online without paying any subscription charges.
Meetingfora is a global leader in producing high quality conference, meetings, workshops and symposia in all major fields of science, technology and medicine. Since its inception, Meetingfora has been associated with national and international associations, corporations and high level individuals, dedicated to host world class conference and events. Meetingfora supports broad scope research and peer review at a broad range of specialists around the world. Meetingfora is to communicate science and medical research between academia, and industry. Through inspiring sessions and tons of networking, you will learn to be even more audacious and bold than you are now and free to grow your mind, grow your business, and grow your bottom-line. We can relieve you of the time and resource draining elements of the events that you plan to hold. From planning to coordinating, start to finish; we will be there to ensure you take the accolades for yet another brilliant program. We organize conferences world-wide. All major conferences of Meetingfora are accredited with Continuing Professional Development, Continuing Education, and Continuing Medical Education Credits.
'About the Conference
World Summit on Climate Change and Global Warming welcomes you to Present your research and Ideas Online on the 24th - 25th Sep 2022.
This climate change conference overwhelmingly emphasis on "Adaptation to climate change" Meetingfora is a diagram to bring collectively all leading academic scientists, researchers and studies pupils to trade and percentage their studies and research results on all aspects of meteorology technology and climatology.
It additionally gives a gold standard interdisciplinary platform for researchers, practitioners, and educators to give and discuss the most recent innovations, tendencies, and worries in addition to sensible challenges encountered and answers followed in the fields of earth technological know-how and climate change. The earth's atmosphere has been changing all through the history.
Deadline
09th Sep 2022
For more information please check the Link
Latest Online Store
Latest Tenders And EOIs
Latest News
© Renalysis Consultants Pvt Ltd