Sadbhavna: A Newgen's Initiative to Enable Holistic Development of Children with Lesser Means
Newgen Software
Corporate social responsibility (CSR) programs do not necessarily need to be external. Charity begins at home. Sadbhavna—Newgen's philanthropic education program—was launched in 2006, with the active involvement of many employees and their spouses. It was created for the community around our offices in Okhla, New Delhi. However, the children of our support staff became the first members of the program. We encouraged children going to pre-school, regular school, and even college-going students to attend the monthly sessions.
The initiative turned out to be a great success. A fun-filled environment was created for the younger children. These children got an opportunity to show their creative streak. There was music, plays, poetry, art & craft sessions to ensure that the children attended the sessions regularly and had an ideal platform to showcase their talents. For the senior students, personality development and career counselling sessions were conducted.
Sadbhavna has Evolved Over the Years…
Beginning with 10-15 students in 2016, today, we have 100+ active members benefiting regularly from the program.
"Sadbhavna sessions play a crucial role in my life as these are not restricted to academics but conjointly empower me in other spheres of life too," said Kamini Ghosh.

This 19-year-old beneficiary scored 80% in 10th and 82% in 12th. She is currently pursuing B.com (Hons) from the University of Delhi, wants to do an MBA, and work for a renowned organization in the future.
"Sadbhavna gives us a medium to utilize our potential in the best possible way. We feel empowered as we can share, discuss, and put across our thoughts on confidential and even intimate discussions, which we never even heard of earlier. I leverage the learnings of my sessions and incorporate them into my day-to-day lives to be the best version of myself," said Kajal Mehra.

This bright kid scored 9.6 CGPA in 10th and 85% in 12th. She is presently pursuing BA (Hons) English and aspires to complete her master's in English literature from the University of Delhi.
Let's take a sneak-peek into the activities of Sadbhavna
Personality Development Program: This program aims to groom students to live a happy and healthier life. The sessions are conducted on the second Saturday of every month.
This program is divided into two phases. The first phase aims to ignite the young minds to learn and tackle limitations imposed by society. The second phase helps children face and overcome challenges identified in the program's first phase. The program improves their group interactions and allows them to interact with one another and build connections. Having an opinion and presenting them confidentially, identifying their likes and dislikes, strengths and weaknesses help them identify their personality and become a better individual. On the whole, the program helps children improve their communication skills, attention span, creativity, and imagination, accept differences, and work on them.
In July 2020, the first online personality development session was conducted, focusing on providing mental and emotional support to students during the pandemic.
Newgen ensured the availability of digital devices—iPads, tablets, and smartphones, enabling students to attend their online sessions during the pandemic. The digital literacy sessions helped students understand the usage of digital devices and their applications, such as photo booth, notepad, time, calendar, safari, and search engine.
Career Counseling: This program uses active participation methods to support students' education and career choices. Our CSR team guides students through complex admission procedures, ensuring they make the right career choice. The sessions enabled the children to make informed choices about the career they want to pursue across varied disciplines like hotel management, BBA, B. Com, Nursing, etc.
Personality development and career counseling are the two most important tools in shaping the future of children. It helps students build confidence, develop communication, interpersonal, and teamwork skills, and improve concentration and social etiquette.
Source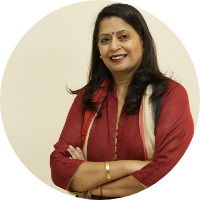 Priyadarshini has been on Newgen Board since 1997. She heads the corporate communication function as well as CSR at Newgen Software and plays a pivotal role in driving Newgen's CSR initiatives through programmes like Sadbhavna, Newgen Digital Discovery Paathshala (NDDP) and SOS village adoption.
© Renalysis Consultants Pvt Ltd