Back to the Event Listing
Post an Event announcement
Advertise with us
Online store
Subscribe our Weekly Newsletter
More Events
---------------------------------------------
Development Communication Design for Social Impact & CSR Partnership: A Virtual Masterclass.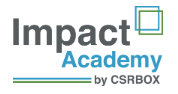 Organization: Impact Academy by CSRBOX
Event Duration: 22 Jun. 2020 - 26 Jun. 2020
Apply By: 19 Jun 2020
Inviting NGO professionals, Social business founders and PG students (courses related to CSR & Social Sector) for a Virtual Masterclass on Development Communication Design for Social Impact and CSR Partnerships by CDMC-MICA
Host: Impact Academy by CSRBOX
Date- 22nd, 24th and 26th June, 2020.
Last date for application- 19th June, 2020
Registrations closed. Show interest for Batch 3
In association with the Centre for Development Management and Communication (CDMC), MICA, the Impact Academy (by CSRBOX) brings to you its first masterclass on Development Communication Design for Social Impact and CSR Partnerships. More than just a marketing strategy, development communication promotes multi-level dialogue between the stakeholders; with an aim to promote, develop and implement policies and programmes that enhance the quality of life for all.
The 3 days (9 Hrs.) online masterclass is designed to give insights to participants into the hidden opportunities for the NGOs in the current business environment, understand mutual benefits of partnerships and discuss the challenges which may be encountered in the process. The workshop will expose the participants to a ring-side view of what companies look for in selecting a partner NGO. The hands-on sessions will build competency in communicating the essential qualities to the corporate as well as making these qualities a visible part of the NGO's public image. Participants will learn about story-telling for NGOs and social businesses to improve brand building and perception.
The session provides
Learning from Experiences: A blend of corporate, NGO and stakeholder view shared by academicians and trainers
Learning from Research and Current trends in CSR: Insights from trainers who have had a first-hand experience of working, training and researching in the same domain.
Brainstorming Strategies: Interactive session driven by the participants and moderated by the facilitators to ensure active engagement. The situation/case-based pedagogy will help exemplify the theoretical concepts detailed and discussed by the facilitators.
Exercises for Home-based Learning: Handouts and exercises to translate concepts into practical situation and design communication map.
This workshop is for
NGO professionals handling CSR partnerships, communication and outreach, social project managers

Social business founders and communication team members

Post-graduate students pursuing rural management, social work or social entrepreneurship courses
Pedagogy
Active learner-oriented pedagogy of business cases and situation analysis clubbed with discussion about the CSR, communication and Corporate-NGO partnership concepts and models
Date & Time
22nd, 24th and 26th June, 2020. (online)
2.30 PM to 6.00 PM (with 30 min. break)/Day
Registrations Closed.
We are fully booked for the 2nd batch of the CDMC-MICA Masterclass on Development Communication scheduled between 22nd-26th June. We will be announcing the 3rd batch shortly. To get notification for the 3rd batch, please click on the link below.
Show interest for the third batch of CDMC-MICA Masterclass on Development Communication
Certificate of Participation
All participants will be given a Certificate of Participation on completion of the workshop, on behalf of Impact Academy and CDMC-MICA.
Key Speakers
Prof. Manisha Pathak-Shelat, Chair, CDMC-MICA
Prof. Manisha has taught and worked as a media consultant, trainer and researcher in India, Thailand, and US. She has a Ph.D. in Mass Communication with a minor in gender and women studies from the University of Wisconsin-Madison, USA and in Education from the Maharaja Sayajirao University of Baroda, India. Her works have been published widely in nationally and internationally reputed journals and books. Multiple universities in India and abroad have hosted her as a key speaker. Currently she is also the editor of the Journal of Creative Communications published by MICA and Sage. She has worked as a consultant/advisor with various social sector organizations such as Gujarat Energy Development Agency, Centre for Environment Education, SEWA, The Adani Foundation, Mahila Samakhya, United Way of Baroda, UNESCO and UNICEF among others. She has led several capacity building programs for non-profits, various state governments, corporate sector, and international organisations in communication and information management, strategic communication, gender, and media literacy.
Ms. Sushama Oza, Advisor, CDMC-MICA
Ms. Sushama Oza just retired on December 31, 2019 as a Director, Strategy & Sustainability at Adani Foundation, Ahmedabad. She was also the CEO of Adani Foundation from May 2007 to October 2014 and has been playing pivotal role in shaping the CSR for Adani conglomerate for more than thirteen years. She has represented the organization at many national and international fora. Ms. Oza has over 37 years of experience in the development field, out of which 21 years have been as head of the organization in India and USA. She has strategized and spearheaded projects in sectors of education, primary health care, sustainable livelihood development and rural sports. She has led several capacity building programs all over India in the field of CSR. Before retirement she was spearheading two centre of excellence projects Swachhagraha and SuPoshan which were being implemented nationwide. She continues to support Sustainability efforts and reporting as part of Sustainability leadership committees and as advisor for Adani Group of companies.
Dr. Arbind Sinha, Advisor, CDMC-MICA
Dr. Arbind Sinha is well-known in the field of communication for development with special expertise in the health sector and disaster communication strategies. He integrates his understanding of anthropology and communication methods in his approach towards development management and communication. He has over 20 years of varied experience as communications expert at the Space Applications Centre at ISRO (Indian Space Research Organization); the Royal Danish Embassy, New Delhi as its communications advisor and with TALEEM Research Foundation as a professor. He has held all senior positions at MICA where his association has spanned many years from 2002 to 2015 and in 2017 he has re-joined MICA in the capacity of advisor.
Prof. Ruchi Tewari, CDMC-MICA
Ruchi Tewari specializes in CSR and Communication. With a PhD in CSR Communication, Prof. Tewari has been engaged in teaching, training and consulting since 1997, in both the online and the offline format. She has been invited as a speaker, moderator and chair for sessions on CSR as a tool for development and social well-being by organizations like Telecom Authority of India (TRAI); Lodha Developers; Society of Business Ethics etc. Her writing is published in various journals of national and international repute. Apart from her involvement in academics, she has been engaged as a consultant and trainer with companies like Navneet Publishers; Task Staffing and Elitecore technologies. Her research, training and consulting areas deal with CSR and Communication.
Terms and Conditions
Registration fee is non-refundable, however nominee name can be changed

Participants will get CDMC-MICA certificate of participation in the masterclass

Once you submit the registration form along with the payment (online), you will receive the confirmation email in 2 working days. You will receive the details of the online access of masterclass along with a demo of how to use the platform by 6th June 2020.
About Centre for Development Management and Communication (CDMC), MICA
MICA (formerly known as Mudra Institute of Communications, Ahmedabad) is one of the premier institutes of the country, dedicated to creating leadership in strategic communication, management, and marketing. MICA's unique pedagogy draws from research and experiential learning, and equips organizations and their personnel with new thinking and experiences, tools and techniques, knowledge and skills. MICA's Centre for Development Management and Communication (CDMC)is a center of excellence that leverages MICA's expertise in strategic communication and information and communication management to strengthen development programs across sectors.
The Centre meets current and impending demands of social development systems in government, academia, civil society, and corporate sectors by designing innovative solutions and best practices driven by research and grounded in socio-cultural and economic realities. It strives to bridge the gaps in the areas of development management and social impact communication, ultimately contributing to the last mile coverage of development initiatives. Know more about CDMC-MICA her https://www.mica.ac.in/academic-centres/cdmc
About Impact XPA
The 'Impact Experience Centre & Academy (Impact XPA) is an 'under the one roof' experience of impact-oriented projects, innovations, technology, best-in-class products and services in the Indian development context. As the name suggests, the Impact XPA uses a two-pronged approach to cater to the needs of the development sector. While the Impact Centre provides a physical cum visual near-to-on-field demonstration of potential use of innovative project design and technology to connect with the real problems and finding the best-fit solutions; the Impact Academy works towards strengthening teams by the way of sharing knowledge, building capacities and integrating technology.
About CSRBOX
CSRBOX is India's leading CSR knowledge and impact intelligence driven media platform for the development community. It serves as an enabler, encouraging collaboration and partnerships between CSR stakeholders. Our research and social impact advisory practice works with a few large companies and CSR foundations in India to design and deploy collaborative CSR projects. A few of our clients are Arvind Ltd, BOSCH India, Sterlite Technologies, Cognizant Foundation, UNICEF India, UNDP India and Children Investment Fund Foundation. Visit us at www.csrbox.org
For any further details, please contact:
Vaidehi Kaul
Mobile: 8130050215
Latest Online Store
Latest Tenders And EOIs
Latest News
© Renalysis Consultants Pvt Ltd