Back to the Event Listing
Post an Event announcement
Advertise with us
Online store
Subscribe our Weekly Newsletter
More Events
---------------------------------------------
Applications Invited for Documenting History of Public Administration Competition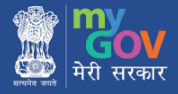 Organization: MyGov, Government of India's Citizen Engagement Platform
Event Duration: 30 Jun. 2022 - 31 Jul. 2022
Apply By: 31 Jul 2022
About the Organization
MyGov has been established as Government of India's Citizen Engagement Platform which collaborates with multiple Government bodies/ Ministries to engage with citizens for policy formulation and seeks the opinion of people on issues/ topics of public interest and welfare.
Since its launch on 26th July 2014, by Hon'ble Prime Minister, Shri Narendra Modi, MyGov has more than 23.5 million registered users. Almost all Government Departments leverage MyGov platform for their citizen engagement activities, consultations for policy formulation and also to disseminate information to citizens for various Government schemes and programs. MyGov is amongst the most active profiles on Social Media – Twitter, Facebook, Instagram, YouTube & LinkedIn with the username @MyGovIndia. MyGov has a significant presence on several Indian social media platforms like Koo, Sharechat, Chingari, Roposo, Bolo Indya and Mitron. MyGov has adopted multiple engagement methodologies like discussions, tasks, polls, surveys, blogs, talks, pledges, quizzes and on-ground activities by innovatively using internet, mobile apps, IVRS, SMS and outbound dialling (OBD) technologies.
About the Event
The Government of India launched Mission Karmayogi on September 2nd, 2020. Also known as the National Program for Civil Services Capacity Building, it is a civil services reform initiative that aims to improve capacity building efforts across the Government. Under this, the Capacity Building Commission (CBC) will be publishing a report on the civil services in 2022 that will aim to take a deeper look at the health and performance of the Indian civil service.
In its 1st edition, the report will be accompanied by a primer on capacity building reforms that will trace the history of reforms related to capacity building in India and seek to understand the relevance of these capacity building reforms today, and how they can be improved and appropriately implemented to enable India's civil service to take on the challenges of 21st century governance. This section will also seek to bring together insights on administration and governance from across India's social and political history.
Documenting history of public administration competition is being hosted on MyGov platform to highlight India's rich, wide-ranging local public administration. CBC in collaboration with MyGov invite civil servants and citizens from around the country to share stories or anecdotes that illustrate the administrative history of their district or region or state, and their continued relevance to the local administrations of those regions. Civil servants are invited to submit a photo, text, newspaper article, song, play or other historically or culturally significant artefact, along with a story explaining its significance to their local administrative history. These artefacts and stories can draw upon the unique social history of the locality, from ancient or medieval times to the colonial era to independent India.
For example, the District Magistrate in West Champaran could share a picture of the Ashokan pillar that stands at Laurie Areraj and discuss how the edicts inscribed in the pillar were crucial to Ashoka's unique administrative style of communicating directly with citizens to reduce social conflict in the interest of public welfare.
Similarly, Citizens can share about their local administrative histories. Villages in Chola administration were called as urs. Village administration was entrusted to the gram sabha/village assembly which was the lowest unit of Chola Administration. It took care of maintenance of roads, tanks, village ponds and village temples.
Selected stories of administrative histories will be compiled into a repository of India's local public administration history.
Objectives
Informing policymakers, civil servants, citizens and civil society about the unique public administration styles that were practised across the country, and how these styles adapted to the local social, political, and geographic context.

Highlighting and popularising key, unique administrative innovations, especially those related to capacity building, within the civil service.

Providing a platform that provides a big-picture view of the improvements in India's civil service and its ability to deliver public goods

Building a first-of-its-kind repository of records on local administration in India over the ages.
Eligibility Criteria
For applicants:
Applications are invited from citizens and all serving civil servants who are stationed in a state, district or local administration (i.e., zila panchayats, municipalities, etc). This includes:
All citizens

Civil Servants

All persons employed in the civil services of the Central, State or local government.

Civil servants at any level (Group A, B, or C)

Nehru Yuva Kendra Sangathan (NYKS)
For submissions:
To be considered by the CBC, submissions must meet the following criteria:

The submissions must relate to the history of the district/region in which the applicant is stationed.

The submissions must be accompanied with an item of proof (this can include a photo, text, newspaper article, song, play or other historically or culturally significant artefact)
How to Apply
Applications can be submitted through the application portal, which is accessible at: https://innovateindia.mygov.in/ . To make their submissions, applications will need to fill out an online application form. The participants should consider the following guidelines while making their submissions:
The submission can include any story of your public administration practiced in your region in ancient, medieval or modern India.

The submissions must draw upon an instance of public administration which has been discussed and/or implemented during that particular age, and should not be based on local myths.

Submission should include:

Descriptions of the social, economic, geographical or political context in which the particular administration method was implemented;

Description of the actual governance or public administration style and details of the period of history in which it was practiced, its leadership and geographical spread;

Account of the impact of the public administration method on the population of the region, along with any unintentional impacts

Any artefact or symbol from that era of public administration (this can be, but is not limited to, a photo, text, newspaper article, song, play or other historically or culturally significant artefacts​​)
Deadline: 31st July 2022
For more information please check the Link
Latest Online Store
Latest Tenders And EOIs
Latest News
© Renalysis Consultants Pvt Ltd