Back to the Event Listing
Post an Event announcement
Advertise with us
Online store
Subscribe our Weekly Newsletter
More Events
---------------------------------------------
Applications Invited for Global Webinar Series: Environment and Emergencies in the face of COVID-19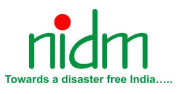 Organization: National Institute of Disaster Management (NIDM)
Event Duration: 29 Jul. 2020 - 16 Dec. 2020
Apply By: 28 Jul 2020
About the Organization:
National Institute of Disaster Management (NIDM), Ministry of Home Affairs, Government of India is a premium institute and a Statutory Body (under Disaster Management Act 2005) for training, research, documentation, awareness and human resources and capacity development in the field of disaster mitigation and management. The institute lays emphasis on multi-stakeholder interdisciplinary cross-sectoral approach for an efficient proactive continuum disaster risk management based on participatory integrated multi-risk management concept.
Global Webinar Series: Environment and Emergencies in the face of COVID-19.
The COVID-19 pandemic has only been the latest, very powerful wake-up call on the links between environment and emergencies. Disasters, crises and the environment are intrinsically interconnected. Therefore, a key element of emergency response is the rapid identification and mitigation of environmental risks.
The United Nations Environment Programme (UNEP) and the United Nations Office for the Coordination of Humanitarian Affairs (OCHA) have been partners for the past 25 years, supporting countries in strengthening their capacities to respond to the environmental dimensions of disasters and complex emergencies.
Join for a series of webinars on readiness for and response to the environmental dimensions of emergencies, with a special focus on managing these challenges in the face of COVID-19.
Webinar Topics and Details:
Webinar 1: Environment and emergencies: What you need to know in a pandemic context (29th July 2020, 14:00-15:30 CEST)

Webinar 2: Environmental coordination in emergencies: localisation and lockdown challenges (19th August 2020, 14:00-15:30 CEST)

Webinar 3: Crisis waste management: COVID-19 and beyond (23rd September 2020, 14:00-15:30 CEST)

Webinar 4: Preparing for and responding to chemical risks: re-starting industry (14th October 2020, 14:00-15:30 CEST)

Webinar 5: Enhancing the sustainability of humanitarian action (25th November 2020, 14:00-15:30 CEST)

Webinar 6: What have we learnt from past emergencies and future outlook? (16th December 2020, 14:00-15:30 CEST)
For more information please check the Link
Latest Online Store
Latest Tenders And EOIs
Latest News
© Renalysis Consultants Pvt Ltd