Back to the Event Listing
Post an Event announcement
Advertise with us
Online store
Subscribe our Weekly Newsletter
More Events
---------------------------------------------
Applications Invited for Innovators under 35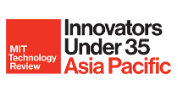 Organization: MIT Technology Review
Event Duration: 23 Jun. 2022 - 15 Jul. 2022
Apply By: 15 Jul 2022
About the Organization
Founded at the Massachusetts Institute of Technology in 1899, MIT Technology Review is a world-renowned, independent media company whose insight, analysis, reviews, interviews and live events explain the newest technologies and their commercial, social and political impacts.
MIT Technology Review derives authority from its relationship to the world's foremost technology institution and from its editors' deep technical knowledge, capacity to see technologies in their broadest context, and unequaled access to leading innovators and researchers.
The mission of MIT Technology Review is to make technology a greater force for good by bringing about better-informed, more conscious technology decisions through authoritative, influential, and trustworthy journalism.
About the Event
Launched in 1999 to celebrate MIT Technology Review's centennial anniversary, "Innovators under 35" (TR35) aims to select and recognize top-notch young innovators from various cutting-edge S&T and industry fields annually and accelerate the pace of S&T innovations from around the globe. Over the past two decades, TR35 gradually becomes today's "35 Innovators under 35" and has demonstrated tremendous international influence and thought leadership. TR35 Asia Pacific was established in 2014 and has propelled a number of outstanding young innovators in Asia-Pacific area onto the highest international stage.
Five Categories of Innovators:
Visionaries / Pioneers / Inventors / Humanitarians / Entrepreneurs
Eligibility
The candidates have achieved innovative breakthroughs or pioneering achievements in cutting-edge technology fields in the past one or two years which might solve global problems and make contributions to socioeconomic and sustainable developments of Asia Pacific region.
Age: the applicants should be under or just turned 35 years old on January 1st, 2022 (i.e. the date of birth should be on or after January 1st, 1987), as shown on the official ID card or passport;
Nationality: Citizens or residents from countries Asia-Pacific wide: including but not limited to China (including Hong Kong, Macao and Taiwan), Brunei, Philippines, India, Indonesia, Japan, South Korea, Laos, Malaysia, New Zealand, Australia, Singapore, Thailand and Vietnam.
Education Background: no special requirements;
Fields of Study/Work: including but not limited to Aerospace, AI, Biotechnology and Life Sciences, Digital and Information Technology, Energy and Environment, Materials Science, Medicine, Quantum Physics, Robotics and Automation, Telecommunications etc.
How to Apply
You will need to sign in to start and submit the online application. The full application needs to be completed and successfully submitted as soon as early as possible, preferably before the first half of July.
Application Materials to Provide (English only):
General Information: basic personal information, educational background, a list of references etc.
Related documents:
• Scanned copy of your official ID card (front and back) or the information page of passport (for age verification purpose only);
• CV or biosketch, in which all of your publications are included;
• Personal statement about your innovative work;
• Additional information (not a must), such as major journal/media coverage about your work, patents, award certificates etc.
For more information please check the Link
Latest Online Store
Latest Tenders And EOIs
Latest News
© Renalysis Consultants Pvt Ltd