Back to the Event Listing
Post an Event announcement
Advertise with us
Online store
Subscribe our Weekly Newsletter
More Events
---------------------------------------------
India EduFuture Summit, 2020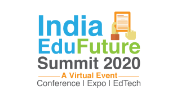 Organization: CSRBOX
Event Duration: 22 Jul. 2020 - 23 Jul. 2020
Apply By: 17 Jul 2020
India EduFuture Summit, 2020
2 Days - 15 Sessions - Unlimited Insights
The largest virtual event in India in Education Domain
22nd – 23rd July, 2020
The Context
There is no doubt that the current global healthcare crisis has been one of the biggest disruptors of all time, forcing us to rethink the flaws of our Education system in India. Perhaps it has not only posed a challenge, but has also provided us an opportunity to redefine, re-design and recalibrate the processes and order to make education seamless, inclusive and a fundamental element of every child's life.
Most experts and academicians opine that, in the coming time, technology will play a vital role in shaping the way children will learn and the delivery of education in the classroom and beyond. We couldn't agree more.
The Event
India EduFuture Summit 2020, a 2-day virtual mega-event, aims to convene all the key stakeholders onto a single forum wherein we can discuss challenges, ideate solutions and decipher the way forward for delivering quality education, especially K-12 and higher education, to identify best strategies for implementation and do away with all the inherent challenges that India's large education system has been grappling with for decades.
The India EduFuture Summit 2020 provides a platform for experts and proficient practitioners in the field of Education to share their insights from newer experiences and experiments, and deliberate on how we can give a direction to India's education for future. We will engage with educationists, policy-makers, government agencies, teachers, innovators, technocrats, design thinkers, non-profits, funders and donors, students, parents and impact investors to explore the best of India's future of education. Much like the physical set ups, the virtual event will host conferences, expo, exhibition and edtech demos pertaining to the education ecosystem, masterclasses for educators, and workshops for innovators and parents in real time and designated venues and will allow you to connect with innovators, walk through exhibition gallery and much more.
Who is this for?
STEM & EdTech Product & Service Providers and Innovators

CSR Leaders & NGOs

Incubators and Investors

Government Agencies

Parents, Educators, Schools & Coaching Institutes

Students
Why should you be interested?
India EduFuture Summit 2020 is a first of its kind virtual event which you can attend from the comforts of your home or workplace.
Witness the largest aggregation of key stakeholders of India's education system, be it in the areas of design, delivery, assessment, infrastructure, technology, learning, training or education policy design and implementation.

Participate in intense discussions to understand challenges and opportunities in India's pre-primary, primary and secondary education systems, and how the processes need to be recalibrated to deal with the current situation and adapt to the coming future with technology predominant.

Engage with government agencies, educationists, design thinking professionals, teachers, technology experts and learners to visualize the roadmap and hybrid models for mainstreaming technology-based learning and remote education.

Understand possible solutions to build teachers' capacities, design learning modules, monitor learning and assess development, while delivering Quality Education even at the last mile.
Key Highlights
Fully virtual set up with high-end technology platform giving it an on-site event like experience

Includes masterclasses, workshops, conferences, expo and edtech demos on education ecosystem

120+ speakers including renowned thought leaders, educationists, innovators and specialists sharing their experiences

110+ innovations, edtech and futuristic education solutions presented through demos and virtual exhibition booths (experience it like a physical exhibition, connect with innovators, walk through the exhibition gallery and much more)

4,500+ attendees from India and abroad, over 18,000+ visitors for virtual exhibition area

Critical discussion around case studies of successful teaching models adopted during the lockdown, propelling to identify key takeaways of how to overcome common challenges and the way forward

Understanding the 5L approach focusing on- Life skills, Languages, Libraries (e), Labs (e-labs) and Learning-aids for better education and learning
This virtual event imitates the on-site physical events in its structure, networking opportunities, learning environment and intent to grow, yet it is even better. Through the IES 2020, CSRBOX aims to reach all those who are passionate change makers by providing them with the flexibility of location independence
To know more, download the brochure from here
Contact us, for queries related to:
Delegate Registration

Sponsorships and Exhibitions

Speaker Nomination

For immediate escalations

Namrata Mishra

namrata@csrbox.org

9512607053

Shilpi Jain

csr@ngobox.org

9560352170

Sweta Chakraborty

sweta@csrbox.org

9512607823

Bhagyashree Patil

For more details, go to website: http://indiaedufuture.in/
Latest Online Store
Latest Tenders And EOIs
Latest News
© Renalysis Consultants Pvt Ltd