Bharat Petroleum Corporation Limited supports a CSR initiative "Integrated Cancer Care and Cure"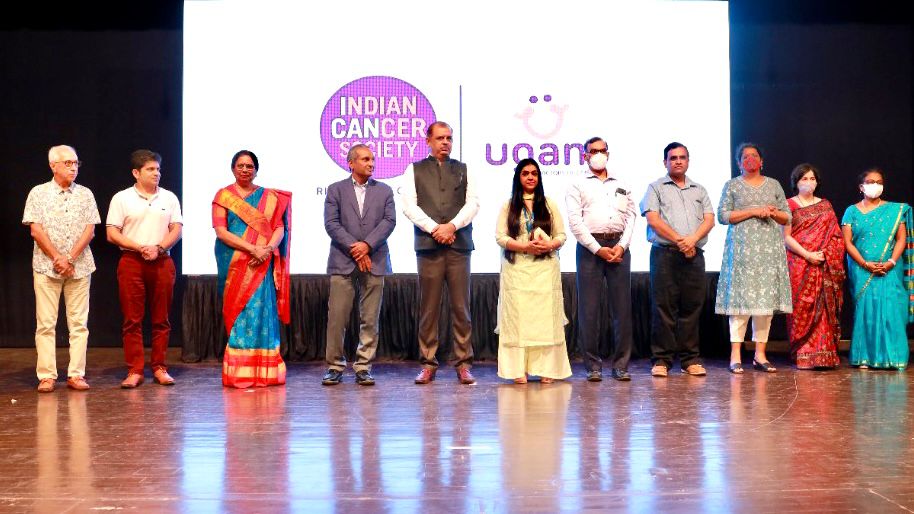 Bharat Petroleum Corporation Limited one of the leading company in petroleum sector in India has been supporting a CSR intervention "Integrated Cancer Care and Cure" in partnership with Indian Cancer Society which encompasses "Preventive" as well as "Curative" dimensions of Cancer Care. The project comprises of Cancer Screening camps for Oral, Cervical and Breast Cancer in Uttar Pradesh, West Bengal and Maharashtra along with financial support for treatment of cancer in through 10 government/non for profit hospitals PAN India as well survivorship & rehabilitation programs for cancer survivors.
BPCL has supported the entire cancer spectrum through its CSR activities. "Ugam"- a voluntary cancer survivors' support group is an integral part of the overall program which has been formed by Childhood Cancer Survivors who have completed treatment. UGAM means "To Rise", underscoring the determination of childhood cancer survivors, to rise above all obstacles in life and be VICTORS. UGAM has been set up with an aim to empower the survivors & become the ambassador of the message "Childhood Cancer is Curable" in society. Throughout the year Ugam volunteers are involved in many activities to create awareness of curability of cancer and foster bonding amongst cancer survivor's fraternity.
700 Cancer screening camps are also supported by Bharat Petroleum Corporation Limited towards the screening of Oral, Cervical and Breast Cancer at Pune, Kolhapur, Varanasi and Kolkata. These camps would be secerning more than 70,000 beneficiaries over a period of two years.
Under this program, Indian cancer society which is one of the national organization for awareness, detection, cure and survivorship of those affected by cancer, has developed a holistic rehabilitation interventions for optimizing quality of life of underprivileged childhood cancer survivor and bringing them into mainstream society. It also includes establishing survivorship clinics, educational support, vocational skill program and UGAM – support group network of childhood survivorship.
About Bharat Petroleum Corporation Ltd. (BPCL):
Fortune Global 500 Company, Bharat Petroleum is the second largest Indian Oil Marketing Company and one of the premier integrated energy companies in India, engaged in refining of crude oil and marketing of petroleum products, with a significant presence in the upstream and downstream sectors of the oil and gas industry. The company attained the coveted Maharatna status, joining the elite club of companies having greater operational & financial autonomy.
Bharat Petroleum's Refineries at Mumbai & Kochi and subsidiary Bharat Oman Refineries Ltd., at Bina, Madhya Pradesh have a combined refining capacity of around 35.3 MMTPA. Its marketing infrastructure includes a network of installations, depots, energy stations, aviation service stations and LPG distributors. Its distribution network comprises over 19,000 Energy Stations, over 6,100 LPG distributorships, 733 Lubes distributorships, and 123 POL storage locations, 53 LPG Bottling Plants, 60 Aviation Service Stations, 3 Lube blending plants and 4 cross-country pipelines.
Bharat Petroleum is integrating its strategy, investments, environmental and social ambitions to move towards a sustainable planet. The company has chalked out the plan to offer electric vehicle charging stations at around 7000 energy stations over next 5 years.
With a focus on sustainable solutions, the company is developing a vibrant ecosystem and a road-map to become a Net Zero Energy Company by 2040, in Scope 1 and Scope 2 emissions. Bharat Petroleum has been partnering communities by supporting innumerable initiatives connected primarily in the areas of education, water conservation, skill development, health, community development, capacity building and employee volunteering. With 'Energising Lives' as its core purpose, Bharat Petroleum's vision is to be the most admired global energy company leveraging talent, innovation & technology.
© Renalysis Consultants Pvt Ltd