Corteva partners with governments and local communities to ensure health and safety of farmers during the pandemic
By Corteva Agriscience
September 22, 2020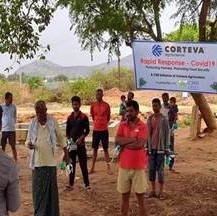 Keeping in line with its sustainability goalto help the farming communities thrive, global agriculture company, Corteva Agriscience (NYSE: CTVA) has partnered with local governments and non-profitorganizationsin India to ensure the health and safety of farmers during the pandemic.
Through partnerships with non-government organizations such as PRADAN, Sewa Bharati and CHD Group, Corteva was able to supportover 200,000 plusbeneficiaries during the last few months.
Over 16 lakhpersonal protective equipment (PE)was produced and distributed to farmers across 220 villages. PPE production units were set up in the vulnerable communities of Jharkhand and Bihar,providing temporary employment to women farmers in times of financial difficulty.
Commenting on the initiatives, Dr.Aruna Rachakonda, Marketing Director, Corteva Agriscience™, South Asia, said, "We're committed to enriching the lives of those who produce. Our long-term goal is to improve farmers' livelihoods and operations while conserving resources and sustaining the land. As these farmers were not able to step out to tend to their fields, demand and supply frameworks were being challenged. Our initiative was targeted to help smallholder farmers and migrant workers resume work, while staying safe."
The company also supported farmers and their families in these regions by providingtwo meals every day for two months. A total of 145,000 kg of food was distributed in the survival kits that included other hygiene essentials – supporting migrant workers.
Corteva formed multiple district / block level WhatsApp groups through which volunteers kept in touch with the communities for new updates and information sharing. Through theseWhatsApp groups, the communitiesreceivedupdated information around lockdown rules, special transport arrangements and government care package distribution. The volunteers also supervised sanitation and transportation of farm products till market yard and undertook health monitoring initiatives in seed and research farms in about 20 villages, through public health outbreak surveillance methodology.
The Corteva team also worked with local government bodies to help run quarantine facilities in the affected communities, and provided PPEs, food and medical facilities at 15 government established quarantine centers.
About Corteva Agriscience
Corteva Agriscience is a publicly traded, global pure-play agriculture company that provides farmers around the world with the most complete portfolio in the industry - including a balanced and diverse mix of seed, crop protection and digital solutions focused on maximizing productivity to enhance yield and profitability. With some of the most recognized brands in agriculture and an industry-leading product and technology pipeline well positioned to drive growth, the company is committed to working with stakeholders throughout the food system as it fulfills its promise to enrich the lives of those who produce and those who consume, ensuring progress for generations to come. Corteva Agriscience became an independent public company on June 1, 2019 and was previously the Agriculture Division of DowDuPont. More information can be found at www.corteva.in.
™ ,®, ℠Trademarks and service marks of Corteva Agriscience, Dow AgroSciences, DuPont or Pioneer, and their affiliated companies or their respective owners. © 2020 Corteva.
Media contacts
Contact
Bhavna Imran
Corteva Agriscience
+91 9701185424
Megha Behl
H+K Strategies
+91 9999636849
Tags
© Renalysis Consultants Pvt Ltd