Hon'ble Chief Minister of Gujarat, Shri Vijay Rupani Inaugurates Akshaya Patra's New Kitchen Sponsored by the Reliance Foundation and Jamnagar Municipal Corporation
By brand-comm
January 15, 2021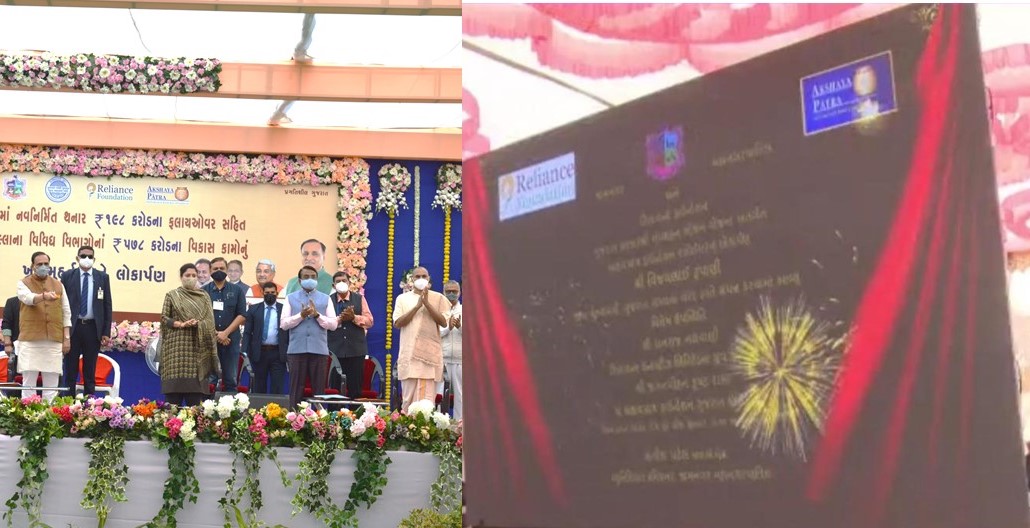 Hon'ble Chief Minister of Gujarat, Shri Vijay Rupani inaugurated The Akshaya Patra Foundation's new kitchen in Jamnagar, Gujarat, througha virtual event organised to launch a series of public welfare projects in the state. The newly inaugurated kitchen has been built in collaboration with the Reliance Foundation and Jamnagar Municipal Corporation (JMC) and has the capacity to serve 50,000 beneficiary children.In the first phase, Akshaya Patra willserve 33,375 beneficiaries of the Mid-Day Meal (MDM) Scheme andICDS Anganwadi feeding programmewhile adhering to international standards of food safety and hygiene.
The chief guest for the occasion was Shri Vijay Rupani – Hon'ble Chief Minister of Gujarat. The event was also attended by Shri Dharmendrasinh Jadeja – State Minister of Food, Civil Supplies and Consumer Affairs, Shri Poonamben Maadam – Member of Parliament, Jamnagar (Devbhumi Dwarka), Shri Raghavjibhai Patel – MLA, Jamnagar Rural, Shri Chiragbhai Kalariya – MLA, Jamjodhpur, Shri Mahendra Nathwani – Group President, Reliance Industries Ltd., and Shri Satish Patel, IAS – Municipal Commissioner, Jamnagar Municipal Corporation.
Speaking on this occasion, Shri Vijay Rupani said "Today, The Akshaya Patra Foundation with the support of Reliance Foundation has launched its state-of-the-art centralised kitchen so that children get nutritious meals. I believe that this kitchen can provide good quality mid-day meals to approximately 50,000 government school-going children of Urban and Rural Jamnagar. I congratulate all the persons engaged in this project."He also distributed Happiness Kits to children. These kits are designed keeping in mind the health and the education of children during the pandemic, and therefore, contain essential groceries, hygiene products and education materials.
Other dignitaries in attendance also expressed their appreciation for Akshaya Patra's initiative and commended the Foundation, Jamnagar Municipal Corporation and Reliance Foundation for the kitchen launch.
Shri Jaganmohan Krishna Dasa said, "We are thankful for the support we have received from the Jamnagar Municipal Corporation and Reliance Foundation for this kitchen. It will enable us to reach 50,000 children in this region with nutritious mid-day meals every day. I also want to thank the Government of Gujarat for their support to Akshaya Patra's endeavours in the state for over a decade."
Shri Chanchalapathi Dasa, Vice-Chairman of Akshaya Patra, said, "We are immensely grateful to the Hon'ble Chief Minister, Shri Vijay Rupani ji for launching our 55th kitchen today and giving us this opportunity to serve the children. I want to extend my gratitude to the Ministry of Education (MoE), Government of India, for their continued support and encouragement to the Foundation's feeding initiative over the last 20 years. I also want to thank the Jamnagar Municipal Corporation and Reliance Foundation for partnering with us to serve children. Such partnerships play a crucial role in ensuringthe sustainability of our feeding initiatives."
The Foundation currently feeds over 4.14 lakh beneficiaries in Ahmedabad, Bhavnagar, Vadodara, Surat, Kalol and Bhuj in Gujarat through its six centralised kitchens. The new state-of-the-art kitchen infrastructure, with a built-up area of 2,965 sq. mt., will be the Foundation's 7th kitchen in the state and 55th kitchen in the country. As a standard practice, the kitchen will also have important features like RO water plant and cold storage.
About The Akshaya Patra Foundation
The Akshaya Patra Foundation is a not-for-profit organisation which strives to address classroom hunger and malnutrition in India. By implementing the Mid-Day Meal Scheme in Government and Government-aided schools, Akshaya Patra aims to fight hunger and at the same time, bring children to school. Since 2000, Akshaya Patra has worked towards reaching out to children with wholesome food on every single school day. The Foundation is continuously leveraging technology to cater to millions of children. Its state-of-the-art kitchens have become a subject of study and attract curious visitors from around the world.
In partnership with the Government of India and various State Governments and the inestimable support of many philanthropic donors and well-wishers, Akshaya Patra has grown from humble beginnings serving just 1,500 school children across five schools to becoming the world's largest (not-for-profit run) mid-day meal programme, serving wholesome food to over 1.8 million children from 19,039 schools across 12 States & 2 Union Territories in India.
For more details, please log on: www.akshayapatra.org
For media queries contact:
Vivek: +91 9620127191
Neelima: +91 8494946081
Tags
© Renalysis Consultants Pvt Ltd