Khammam: ITC trains jobless youth provides facilities in schools as part of CSR
By The Hans India
February 4, 2020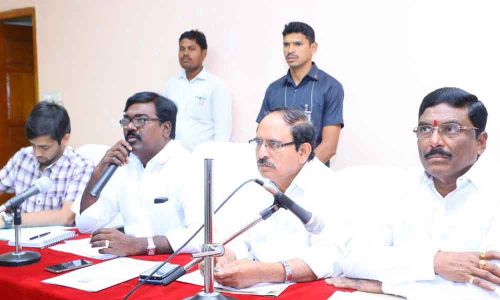 The ITC Paper Board Limited Company, Bhadrachalam has extended their services as part of Corporate Social Responsibility to the agency mandals of Bhadrachalam, Burgumpahad, and Palvoncha. The company, which has a turnover of Rs.500 crore, has spent 2 per cent of its profits in the agency areas.
ITC's Mission Sunehra Kal (Bangaru Bhavita) designed under CSR has evolved into a highly scalable integrated developmental models that simultaneously conserve and enrich environment, create sustainable livelihoods, empower local communities and address the challenges of climate change.
The NGOs picked up by company under CSR identified the unemployed youth who had failed tenth and Intermediate and imparted training in electrical wiring of houses. The youth are now getting regular employment by engaging themselves in house wiring. Similarly, the girls above 18 years of age are being imparted training in beautician course and they can also secure some employment after it.
N Pichamma of Reddypalem in Burgumpahad mandal, a poor woman was given Rs.12,968 financial assistance under CSR to set up a grocery shop and she is doing good business. "My financial condition is satisfactory," she said.
Digging of new mini-percolation tanks (MTP) to protect environment is paying good dividends to them. Allam Muthaiah, a resident of Jagannathapuram village, is earning Rs.3 lakh per year through aquaculture in the MTP and 50 acres are being irrigated by the water source.
Similarly, the company also provided toilets and drinking water facilities in 19 primary schools. D Venkateswarlu, a resident of Burgumpahad said, " The CSR has forced the companies earning profits by using natural sources in Bhadrachalam to consider about society, particularly the stakeholders."
© Renalysis Consultants Pvt Ltd