Back to the Grant Listing
Post a Grant announcement
Advertise with us
Online store
Subscribe our Weekly Newsletter
More Grants
---------------------------------------------
Call for Proposals - 4th Round of Abdul Aziz Al Ghurair Refugee Education Fund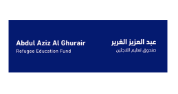 Organization: Abdul Aziz Al Ghurair Refugee Education Fund
Apply By: 01 Jul 2022
About the Organization:
The Abdul Aziz Al Ghurair Refugee Education Fund is administered by the Abdulla Al Ghurair Foundation for Education (AGFE). The fund awards grants based on a competitive selection process to organisations working directly with refugee and conflict-affected children and youth in the United Arab Emirates, Lebanon and Jordan. The fund has taken an impact-driven approach, and values a partnership model, working closely to build capacities of partners based on emerging needs from the ground.
Abdul Aziz Al Ghurair Refugee Education Fund Call for Proposals – 4th Round
The Abdul Aziz Al Ghurair Refugee Education Fund invites proposals for programs that explore and identify new solutions to long-standing challenges in vulnerable and refugee youth education that can improve impact at scale.
The fund in its fourth round will priorities Upskilling Refugee Youth, Broadening Access to Secondary Education and Pathways to Scale for Arab refugee youth in Jordan, Lebanon and Arab youth from conflict affected countries residing in the UAE.
The Fund awards grants to education institutions and non-governmental organizations working with refugee youth and vulnerable host community youth. Through innovative solutions, this round aims to increase access to quality education that leads to improved livelihoods. It aims to fund successful programs that support young people in completing secondary formal education as well as supporting post-secondary programs that broaden access to accredited or industry recognized certifications that lead to elevated livelihoods.
Types of Programs:
In its fourth round of grant cycle, the Fund will prioritize three types of programs:
Upskilling Refugee Youth– Programs that aim to fill the skill gap through the provision of accredited and/or industry recognized certifications that pave the way for better job or livelihood opportunities for refugees and vulnerable host community youth.

Broadening Access to Secondary Education– Programs that focus on supporting refugee youth and vulnerable host community youth to access, stay in and/or complete formal schooling through innovative educational programs. Programs must have an academic strengthening focus, but can also include counselling, psychosocial support and extra curricula activities.

Pathways to Scale – Current or previous grantees of the Abdul Aziz Al Ghurair Refugee Education Fund. Programs that have proven successful and applicant is able to show evidence for the urge to scale with co-funding / matched funding.
Eligibility Criteria:
The applicant must:
Have experience in at least 1 successfully completed program with refugees that is aligned with at least one of the Fund's areas of priority;

Be able to demonstrate proof of concept that the program or pilot has had significant impact and has potential to scale;

Provide previous evaluations of the proposed program and other relevant programs, as appropriate;

Be a non-profit organizations, educational institutions (both private and not for profit) or social enterprises;

Have a valid up-to date registration in Jordan or Lebanon;

Not be affiliated with a political party or have political objectives;

Have approval from relevant local government or process in place to implement proposed program;

Have internal procedures and policies that allow them to follow the Fund's financial and technical reporting requirements; and

Have capacity to plan, implement, and evaluate programs of the scale proposed
Requirements:
All programs must have co-funding of at least 25% of matched funds;

Duration of program can range from 1 to 2 years;

The proposed program could be an existing program that has potential to scale or a new program, where funding will enable it to scale and increase impact;

Proposed programs can only address one of the areas of priorities;

Proposed programs can be in Jordan and/or Lebanon, but only one proposal per organization; and

For programs in the upskilling priority area, priority will be given to programs that already have private sector partners to ensure employment pathways (i.e. remote, part-time, freelancing or internships).
Benefit:
The Fund targets vulnerable refugee youth in Jordan and Lebanon. The Fund will also consider targeting 50% of the proposed program to vulnerable youth in host communities. Beneficiaries should be in the age range that corresponds to the secondary and vocational education levels (age group: 14 to 30 years of age).
For more information please check the Link
Latest Online Store
Latest Tenders And EOIs
Latest News
© Renalysis Consultants Pvt Ltd