Back to the Grant Listing
Post a Grant announcement
Advertise with us
Online store
Subscribe our Weekly Newsletter
More Grants
---------------------------------------------
Applications are now open for HCL Grant - Edition VII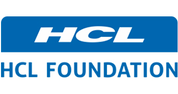 Organization: HCL Foundation
Apply By: 17 Jun 2021
Grant Amount: 165000000 INR
Applications are now open for HCL Grant - Edition VII
About HCL Grant:
Started in 2015, the HCL Grant is a Corporate Social Responsibility (CSR) commitment by HCL Foundation, the CSR arm of HCL Technologies, to strengthen and empower NGOs, engage with them, as well as recognize them for their path-breaking work. Currently focused on rural development, the HCL Grant is awarded in three thematic categories - Environment, Health and Education. The Grant is designed to support breakthrough award-winning projects of NGOs that have a proven track record of evident impact, high credibility and distinct ability to deliver, NGOs that reach out to marginalized, isolated, underserved and underdeveloped rural communities in India, and work jointly to achieve sustainable socio-economic development.
HCL Grant awards the winning NGOs in each of the categories of Environment, Health and Education, a grant of ₹ 5 Crore (~US$0.71 Million) for a 3-5 years project. The HCL Grant rewards the finalists too with a grant of ₹ 25 lakhs (~US$0.04 Million) each for a year-long project, which is mutually agreed with HCL Foundation after the final Jury meet. Thus, the total committed fund for HCL Grant is ₹16.5 Crores (~US$2.36 Million), for Edition VII. Besides this, each year, work of up to 30 shortlisted NGOs, 10 per category, is photo-documented and published in The Fifth Estate – The HCL Grant Compendium. This is possibly the first-ever, sector-wide, comprehensive compendium of highly credible NGOs, highlighting their proposals submitted for HCL Grant, striving towards the empowerment of rural India. Each one of these case studies demonstrates examples of best practices in areas of environment, health and education, with evidence of meaningful transformation in the rural belt of this diverse nation.
So far, the HCL Grant has already committed ₹ 78.67 Crore (~US$9.46 Million) towards high impact projects. Through this commitment, the HCL Grant supported projects aim to reach 22,17,931 people in 8,598 villages of 70 districts across 18 states and 2 Union Territories of India, of which the projects have already covered 8,38,879 beneficiaries.
Grant Amount: (Total INR 16.5 Cr)
5 Crore Grant each, To 1 HCL Grant Winner NGO, in each category for a 3-5 years project.

25 Lakh Grant each, to remaining 2 HCL Grant Finalist NGOs, in each category for a 1 year project.
Who Can Apply?
The Grant is applicable for NGOs working in the field of Education, Health and Environment with experience of implementing projects in rural India. We encourage organisations from all over India to apply innovative, replic​able and sustainable models, which can make significant contributions towards rural development.
Eligibility Criteria
The organization must be a registered not for profit entity in India i.e. either a Society or a Trust or a Section 8 (previously Section 25) company or any other organization (as prescribed under Section 135 of The Companies Act, 2013, the CSR Rules 2014, and its amendments).

The organization must have registered u/s 80G of The Income-tax, 1961. (including organizations who have successfully submitted applications for renewal of 80G certificates, subject to further scrutiny).

The organization must have the below-mentioned functional existence (as per their registration certificate) in India on or before 31st March 2021:

If applying under Environment, Education and Health category – minimum 5 years or above

The organization must be in full compliance with applicable regulatory rules and must have valid documents for registration, audited financial reports, etc. Further, the organization must have valid and timely submissions for requisite statutory and regulatory compliances (wherever applicable). These shall cover (but not limited to) income tax, employee provident fund, professional tax, minimum wages, employee state insurance, goods and service tax and FCRA and / or other relevant regulation depending on the nature of funding/donations it receives.

The organization must have registered u/s 12A of The Income-tax, 1961. (including organizations who have successfully submitted applications for renewal of 12A certificate, subject to further scrutiny.)

he organization must have registered with the Ministry of Corporate Affairs as CSR Implementing Agency through Form No. CSR-1. (including organizations who have successfully submitted application, subject to further scrutiny)

The organization must have the below mentioned average expenditure (as per income & expenditure account) for the last three financial years viz. 2017-18, 2018-19 and 2019-20:
If applying under Education and Health category – minimum ₹ 1 Crores or above

If applying under Environment category – minimum ₹ 0.50 Crores or above
Deadline for Application: 17th June 2021
Latest Online Store
Latest Tenders And EOIs
Latest News
© Renalysis Consultants Pvt Ltd