Back to the Grant Listing
Post a Grant announcement
Advertise with us
Online store
Subscribe our Weekly Newsletter
More Grants
---------------------------------------------
Applications invited for Primate Conservation, Inc Grant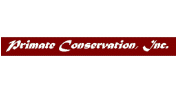 Organization: Primate Conservation Inc.
Apply By: 15 Dec 2021

Follow us @ngobox
About the Organization
Primates are the mammals that are humankind's closest biological relatives. We share 98.4% of your DNA with chimpanzees. Apes, monkeys, and prosimians such as lorises, bush babies and lemurs make up the 505 and that's of 234 species of the family tree. About 90% of primates live in tropical forests. They play an integral role in the ecology of their habitat. They help the forest by being pollinators, seed predators, and seed dispersers.
About the Grant
Primate Conservation, Incorporated (PCI) is a not-for-profit foundation founded to fund field research that supports conservation programs for wild populations of primates. Priority will be given to projects that study, in their natural habitat, the least known and most endangered species. The involvement of citizens from the country in which the primates are found will be a plus. The intent is to provide support for original research that can be used to formulate and to implement conservation plans for the species studied.
Eligibility
Primate Conservation, Inc. will grant seed monies or provide matching grants for graduate students, qualified conservationists and primatologists to study rare and endangered primates and their conservation in their natural habitat. Grants have averaged approximately $2,500, with a maximum grant of $5,000. We do not support conferences, travel to scientific meetings, legal actions, tuitions or salaries at institutions, and overhead costs.
Selection Criteria
Proposals are evaluated on competitive basis. Applications are screened by outside reviewers and the Board of Directors of PCI. All appropriate projects will be considered, but the regions of current interest are Asia and West Africa.
Closing Dates and Notification
Deadlines for all grant application materials to be in our office is February 1st and September 20th. Awards will be given by May 15th and December 15th.
For more information please check the Link
Latest Online Store
Latest Tenders And EOIs
Latest News
© Renalysis Consultants Pvt Ltd