Back to the Grant Listing
Post a Grant announcement
Advertise with us
Online store
Subscribe our Weekly Newsletter
More Grants
---------------------------------------------
BIRAC Call for Proposals under SBIRI Scheme 2021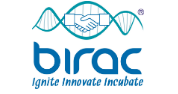 Organization: Biotechnology Industry Research Assistance Council (BIRAC)
Apply By: 31 Mar 2021
Call for Proposals under SBIRI Scheme
About the Organization:
Biotechnology Industry Research Assistance Council (BIRAC) is a not-for-profit Section 8, Schedule B, Public Sector Enterprise, set up by Department of Biotechnology (DBT), Government of India as an Interface Agency to strengthen and empower the emerging Biotech enterprise to undertake strategic research and innovation, addressing nationally relevant product development needs.
Key Features of the Call:
Under the present call, proposals are invited ONLY in the following PRIORITY AREAS:
A. Import Substitutes
BIRAC through its programmes has been playing a pivotal role in strengthening the biotech sector across the entire product development chain. BIRAC through its flagship schemes has been supporting projects from industries and academia across various field of biotechnology such as devices, diagnostics, drug, drug delivery, biotherapeutics, stem cells and regenerative medicine, vaccines, industrial biotechnology, veterinary sciences, aquaculture, agriculture and secondary agriculture.
In order to boost the Indian Biotechnology sector and promote the research and development in key areas of biotechnology, through this call, emphasis is being laid on development of indigenous technologies and products. Keeping up with the mandate of "Atmanirbhar Bharat" and realizing the potential of Indian Biotech Ecosystem in making India self-reliant and self-sustainable, proposals are invited from eligible companies, LLPs and academia in the following areas:
Components of diagnostic kits including reagents, probes, primers and other components needed for diagnostics

Development of novel technologies for production of monoclonal antibodies for therapeutic applications and diagnostics

New methods/technologies for Vaccine delivery and Cold chain distribution of Vaccines

Cost effective production technologies for Industrially relevant bio-based import substitutes

NGS based workflows for high volume screening including mutation detection

Technologies to enhance shelf life of packaged foods

Field usable diagnostic kits for disease and algal toxins relevant to aquaculture

Microfluidics based diagnostics relevant to Veterinary Sciences

Cost effective production technologies for APIs, intermediates, high value products, polymers, surfactants, fine chemicals, dyes, pigments, flavors and fragrances

Repurposing of Drugs
B. Plant and Soil Health Management
Agriculture plays a vital role in the Indian economy with over 70 per cent of the rural households depending on agriculture for their livelihoods. Agriculture contributes to around 17-18% of the country's GDP and provides employment to around 60% of the population. Though important, the sector hasn't been able to perform to its potential. To meet the forthcoming demand and challenges, there is an urgent need to develop and adopt new eco-friendly technologies for increasing our crop productivity.
It is in this background that the present Call for Proposals has been announced in the field of Plant diagnostics and Soil Health Management. The specific topics covered under the call are as below:
Soil Health Appraisal

Plant Health Assessment & Monitoring
Who Can Apply?
The proposals can be submitted under SBIRI scheme of BIRAC
Eligibility for SBIRI -
Solely by a Company incorporated under the Companies Act, 2013 or

Limited Liability Partnership (LLP) incorporated under the Limited Liability Partnership Act, 2008 or

Joint Ventures either in the form of Company/ LLP by any of the above entities jointly with other private or public partner(s) (Universities or Institutes).
Eligibility criteria for industry -
Minimum 51% of the shares of the Company should be held by Indian Citizens holding Indian passport (Indian Citizens do not include Person of Indian Origin (PIO) and Overseas Citizenship of India (OCI) holders)

Minimum half of the persons who subscribed their names to the LLP document as its Partners should be Indian citizens.

Participating companies should have adequate in-house facility to address the project implementation aspects (which shall be evaluated during the site visit) OR Incubated with any of the recognized Incubation Facility.
Eligibility criteria for academic collaborator -
Public/private university/colleges in India

National research laboratories

Not-for-profit private research labs/societies/foundation
Deadline: 31-03-2021 05:30 PM
For more information please check the Link
Latest Online Store
Latest Tenders And EOIs
Latest News
© Renalysis Consultants Pvt Ltd