Back to the Grant Listing
Post a Grant announcement
Advertise with us
Online store
Subscribe our Weekly Newsletter
More Grants
---------------------------------------------
Call for Proposals: Countering Abusive Litigation through Effective Responses to SLAPPs in the Global South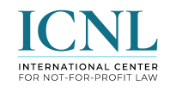 Organization: International Center for Not-for-Profit Law (ICNL)
Apply By: 31 Oct 2020
Grant Amount: 20000 USD
About the Organization:
International Center for Not-for-Profit Law (ICNL) works with governments, civil society organizations, and the international community in more than 100 countries to improve the legal environment for civic space around the world. They believe that when people have the space to come together, positive, lasting change can be made. To achieve this vision, individuals must be able to join together, speak out, and take action to make the world a better place. Since 1992, ICNL has worked with our partners at all levels to promote and protect an enabling legal environment for civil society.
Call for Proposals: Countering Abusive Litigation through Effective Responses to SLAPPs in the Global South
The International Center for Not-for-Profit Law (ICNL) is pleased to announce a call for proposals to advance effective responses to strategic litigation against public participation (SLAPPs) in the Global South.
ICNL is now inviting proposals from applicants to develop and implement advocacy, monitoring, public awareness, or legal defense strategies aimed at effectively responding to urgent threats posed to civil society by SLAPPs in the Global South.
Strategic lawsuits against public participation, or SLAPPs, are private suits filed not to secure relief, but to use the risks and costs of litigation to defuse criticism and opposition and discourage the exercise of fundamental freedoms. SLAPPs are often filed against activists, civil society organizations (CSOs), journalists, and community members by powerful companies and businesspersons in order to prevent citizens from coming together, engaging in protest, and making their voices heard.
Project Activities
Activities that may be supported include (but are not limited to):
Advocating for the advancement of effective policy responses to SLAPPs by relevant ministries, regulatory bodies, legislative bodies, and courts;

Creating and implementing sustainable methodologies for tracking and reporting SLAPPs filed in a country or regionally;

Building a coalition of companies and investors that pledge to refrain from SLAPPs and from providing business support to entities that do file SLAPPs;

Designing and deploying awareness campaigns to increase understanding among the public of the threat posed by SLAPPs and, where appropriate, to increase the reputational consequences of filing SLAPPs; and

Setting up effective networks of attorneys and legal organizations, including law firms, to provide legal support to those who have been SLAPPed.
This list is merely illustrative, and we strongly encourage applicants with innovative ideas and approaches not described above to apply.
Eligibility Criteria:
This call for proposals is open to domestic civil society organizations located in countries currently listed on the DAC List of ODA recipient countries.
Grant: Grant amounts are not fixed, but successful grant applications may range from $5,000 to $20,000.
For more information please check the Link
Latest Online Store
Latest Tenders And EOIs
Latest News
© Renalysis Consultants Pvt Ltd