Back to the Job Listing
Post a Job announcement
Advertise with us
Online store
Subscribe our Weekly Newsletter
More Jobs
---------------------------------------------
Consultant - Climate Change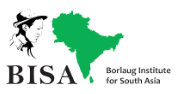 Organization: Borlaug Institute for South Asia (BISA)
Apply By: 04 Oct 2020
Location: (Assam)
About the Organization:
The Borlaug Institute for South Asia (BISA) is a non-profit international research institute dedicated to food, nutrition and livelihood security as well as environmental rehabilitation in South Asia, which is home to more than 300 million undernourished people. BISA is a collaborative effort involving CIMMYT and the Indian Council for Agricultural Research (ICAR).
Scope:
Application of climate resilient technologies for productivity enhancement is one of the project intervention areas under APART. Demonstration of these technologies in both pond/tanks of Common Interest Group (CIG)/FPO members and beel fisheries managed by community groups are the key areas for technology application. The proposed study would support resilience of fisheries and aquaculture production systems in order to increase fish production and minimize/reduce risks associated with climate change, in the targeted districts.
Objectives:
The specific objectives of the consultancy assignment are:
Mapping the existing climate resilient technologies being practiced by fish farmers in pond/tank and beel fisheries in the state of Assam with reference to the PDO of APART

Mapping of the existing fish farming technologies being implemented with special reference to the Indigenous Technical Knowledge (ITK), its applicability and adoption

Addressing the gaps in the adoption of technology of intensive farming practices, their mitigation and technology upgradation strategy

Scoping the application/adoption of climate resilient fish farming, processing, trading/ marketing practices by fish value chain players in the state of Assam
Major activities:
The Consultant would be assigned to perform the following duties:
a) Collect, collate, analyze/evaluate the relevant information on climate resilient technologies including Indigenous Technical Knowledge (ITK) from primary and secondary sources for fish production practices and productivity enhancement in freshwater aquaculture ponds/tanks and culture-cum capture fisheries in open water bodies such as beels-oxbow lakes being practiced in the state, country and globally and also climate resilient technologies related to fish processing/value addition.
b) Archiving of the ITKs in relation to climate resilient practices and establishment of Intellectual Property Rights (IPR),
c) Study the gaps in the intensive farming systems with reference to climate resilient practices, tabulating the same and processing for dissemination at farmers' level;
d) Carry out a detailed study and analysis of the present packages / level of farming practices adopted in the fish farming sector by fish farmers in the identified project districts, in the context of climate resilience, encompassing the following areas:
Fish seed production by hatcheries and hapa breeders, seed growers,

Fish production in ponds/tanks and beel fisheries, and

Fish production in integrated farming systems, including in other crop production areas.

Post-harvest fisheries practices - for processing, preservation, transportation and marketing.
Methodologies and Approach:
Consider Climate Resilience study designs of CGIAR and WorldFish, finalize the methodology and survey in consultation with WorldFish team, ARIAS and DOF, undertake the study and submit the final report

Personal/direct interaction with all stakeholders (including seed producers, fish farmers, input suppliers, beel user communities, R&D organizations, fish based business entrepreneurs) either directly or indirectly associated with fish and fish seed production/ harvest and post-harvest management,

Collection, compilation and analysis of primary data/information through structured questionnaires prepared in consultation with WorldFish team/DoF/ ARIAS Society experts,

Collection, compilation, review and analysis of secondary data/information from all the relevant and available sources,

The assessment shall be carried out essentially through Focus Group Discussions (FGDs), stakeholder consultations based on the requirements, in-depth interviews with individuals and key informants, through structured and semi-structured questionnaires and also by conducting stakeholders workshops (if required),

The consultant should share the primary data with the APART project implementing partners (DOF and WorldFish) in addition to submission of final reports.

observations of WorldFish team/DoF/ARIAS Society should be addressed in the final report to be submitted within the stipulated time
Outputs:
Existing Climate resilient technologies practiced by the fishermen and fish farmers in Assam

Indigenous Technical Knowledge (ITK) among the fishermen and fish farmers in Assam with reference to the climate resilient technologies

Application/adoption of climate resilient fish farming, processing, trading/ marketing practices by fish value chain players in the state of Assam
Budget
Applicants should indicate overall budget including consultant's fee, per day rate, travel, accommodation etc., taking into account that an all-inclusive fee will be paid for this assignment. The position is for a fixed-term contract of 3 months.
Email cover letter and CV as a single document with last drawn salary, fee expectations and notice period no later than Sunday, 4 October, 2020 to Human Resources, CIMMYT/BISA. (Email: recruitindia@cgiar.org / Please insert the word "Consultant-Climate Change" in the subject of your email)
Latest Fellowships
Latest Grants
Latest News
© Renalysis Consultants Pvt Ltd