Educating the country through Adult Literacy Program
India has the largest number of illiterate adults in the world. Over 257 million adults can't read and write and among them 65% are women.
Driven by Tata Group's philosophy of giving back to the society, TCS introduced 'The Adult Literacy initiative. Traditional methods take 300 hours to make the adults functionally literate. This was reduced to only 50 learning hours by employing their home grown computer based functional literacy software.
Augmenting the efforts of Indian Government to accelerate the rate of Adult Literacy, this solution employed animated graphics and voiceovers to make lessons more interesting. To make it more accessible, the solution was made available on phones as well as tablets in 9 local and 3 foreign languages.
Hansaben, an Adult Literacy Program beneficiary says- "I used to get my clothes stitched outside but after being a part of the ALP Program, I do all the work myself. Because of this program I understood the nitty gritties of tailoring and learned the art". Now she dreams of owning a shop and wants to do more work.
In the Financial Year 2017, the initiative reached 173,876 adults. The beneficiaries successfully navigated the 3R'S of literacy-Reading, Writing and Arithmetic. It benefitted 15 states in India and Burkina Faso in Africa.148 TCS Employees volunteered 1315 hours for this initiative. The project has opened doors for the beneficiaries in terms of Physical Mobility, Economic Empowerment, Increase in status of self and family and the ability to participate in social welfare organizations.
To make this program a success, TCS Partnered with Prison Authorities, NGOs, Tata Group Companies and National Literacy Mission.Adult Literacy Program was awarded with: IBM Beacon Award 2018 for outstanding community service, Certificate of Merit at UN GCNI-National Conventional 2017.
Going forward the program aims to empower more marginalized communities so that they can create opportunities for themselves through literacy.
Source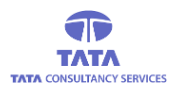 TCS's mission is to help customers achieve their business objectives by providing innovative, best-in-class consulting, IT solutions and services and to make it a joy for all stakeholders to work with us.
© Renalysis Consultants Pvt Ltd