Back to the Fellowship Listing
Post a Fellowship announcement
Advertise with us
Online store
Subscribe our Weekly Newsletter
More Fellowship
---------------------------------------------
Applications Invited for Global Good Fund Fellowship 2020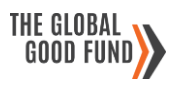 Organization: The Global Good Fund
Apply By: 30 Jun 2019
About the Fellowship
The Global Good Fund identifies high-potential leaders and accelerates their success through a year-long, virtual Fellowship focused on leadership development. We support global social entrepreneurs with proven methods, such as executive mentorship, leadership coaching, and access to capital, to accelerate their growth and impact. We believe investing in leadership development is the best tool for enterprise growth and achieving global good.
Global Impact
Since 2013, our signature Global Good Fund Fellowship has developed 105 entrepreneurs who are now accelerating their enterprise growth in 30 countries and beyond. Over 2,400 high-potential entrepreneurs from more than a 100 countries applied for one of 12 Fellowship positions in 2018. Together, we build a strong and sustainable community around the world to generate more global good every day.
The Fellowship
Following a rigorous 3-stage process, selected Global Good Fund Fellows embark on a structured 12-month journey of experiential learning, leadership development coaching, and executive mentoring that leverages proprietary leadership development tools and methods honed since 2013. At our core is The Global Good Fund 360 MIRROR – the first evidence-based leadership assessment created specifically for social entrepreneurs. Our proven leadership development tools and services are also available to individuals, social enterprise organizations, NPO's and impact-driven corporations.
How Does The Program Work?
Each Fellow is paired up with 1 dedicated professional leadership coach and 1 dedicated c-suite executive who serves as a mentor. Over a 12 month period Fellows receive intensive 1:1 coaching sessions via phone/Skype/WhatsApp.
What Do We Look For In A Fellow?
The Global Good Fund Fellowship is open to social enterprise leaders based anywhere in the world, who are trying to make the world a better place through business. Ideal Fellows are dedicated to their own self-discovery and development, under 40 years of age, hold a leadership position at their social enterprise, operating for 3-5 years and demonstate coachability.
Fellowship Elements
360° Assessment
We administer the 360 MIRROR leadership assessment tool ​designed specifically for social entrepreneurs to ​ deriv​e​ feedback from their board, staff, peers, and stakeholders as well as the Fellow. The Fellow will retake the leadership assessment at the end of the Fellowship and then 1, 3, 5, and 10 years post Fellowship to track his/her growth.
Leadership Development Plan
The results of the 360 MIRROR are used by each Fellow with his/her Leadership Development Coach (​LDC). The LDC serves as an executive coach. The 360 MIRROR data points combined with one-on-one LDC interactions over 3 months result in each Fellow creating a personalized Leadership Development Plan (LDP).
Executive Mentoring
Each Fellow is paired up with 1 dedicated professional leadership coach and 1 dedicated c-suite executive who serves as a mentor. Over the 12 month Fellowship period Fellows receive intensive 1:1 coaching and mentorship sessions via phone/Skype/WhatsApp. The coach and the mentor serve as accountability partners, challenging the Fellow to complete his or her LDP and provide personaized and consistent support along the way
Annual Summit
Fellows participate in an annual Global Good Fund Summit each spring. This 4-day event provides a platform for networking between Fellows, LDCs, ​Coaches, Alumni, and The Global Good Fund staff. The Summit is a curated leadership development experience for each Fellow.
Targeted Funds
Each Fellow receives a leadership development grant of up to $10,000. These funds are used explicitly for LDP implementation and leadership development with a special focus on experiential learning
Peer and Subject Matter Expert Network
Fellows are part of a global cohort of social entrepreneurs. The Global Good Fund facilitates regular interaction among the Fellows. Fellows are encouraged to engage each other, Alumni, and Content Experts in tackling leadership development challenges. The Global Good Fund intentionally connects Fellows with Content Experts to address specific functional, sector, or geographic issues faced by each Fellow.
For more information please check the Link
Latest Online Store
Latest Tenders And EOIs
Latest News
© Renalysis Consultants Pvt Ltd