Back to the Event Listing
Post an Event announcement
Advertise with us
Online store
Subscribe our Weekly Newsletter
More Events
---------------------------------------------
Applications Invited for 2019 International Quality Awards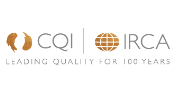 Organization: The Chartered Quality Institute (CQI)
Event Duration: 27 Nov. 2019 - 27 Nov. 2019
Apply By: 31 Jul 2019
About the organization
The Chartered Quality Institute (CQI), formerly known as The Institute of Quality Assurance (IQA), is the chartered body for quality professionals. It improves the performance of organisations by developing their capability in quality management. As a registered charity, the CQI exists to advance education in, knowledge of and the practice of quality in the industry, the public sector and the voluntary sectors. The CQI also owns the International Register of Certificated Auditors, the world's first and largest international certification body for auditors of management systems. IRCA certifies some 10,000 auditors in over 150 countries worldwide.
Event Description
Spanning six major categories, the International Quality Awards are designed to recognise and reward the contribution of quality professionals, teams and entire organisations across the globe. To ensure the highest level of rigour, a panel of subject matter experts will judge all the entries
Eligibility Criteria
There is a category for everybody. CQI members, IRCA registered auditors, non-members of our institute, teams and organisations are welcome to apply. All awards have subtly different criteria and marking schemes to fit various career stages and organisational contexts.
Emerging Talent Award: Recognises the quality professional who has contributed most to their organisation in the areas of governance, assurance, improvement, leadership and context within the first eight years of their quality career
Audit System Award: Honours the team that fuels their organisation's success by establishing and delivering an effective audit system. CQI members and IRCA auditors of any grade can submit entries.
Quality Professional of the Year Award: Celebrates a quality professional who plays a key role in advancing their organisation's governance, assurance, improvement, leadership and context.
Quality Team of the Year Award: Recognises a team of quality professionals who contributes most to their organisation through governance, assurance, improvement, leadership and context.
Quality Organisation of the Year Award: Distinguishes the organisation that best exhibits a culture of quality and puts it at the heart of everything they do. This award is open to any organisation of any size or type.
Improvement System Award: Celebrates a team that moves its organisation forward by establishing and delivering an effective improvement system.
CQI Honorary Award: Pays tribute to an individual who has moved the profession and discipline of quality forward over a number of years, not only in relation to their own organisation, but also on a wider stage. This is an honorary award and therefore not open to entries.
Prize
Winners receive a trophy at the awards ceremony and feature in Quality World magazine
How to Apply
All entries are completed online. Visit https://cqi.awardsplatform.com/ to submit an entry.
For more information please check the Link
Latest Online Store
Latest Tenders And EOIs
Latest News
© Renalysis Consultants Pvt Ltd