Back to the Event Listing
Post an Event announcement
Advertise with us
Online store
Subscribe our Weekly Newsletter
More Events
---------------------------------------------
Applications Invited for Engaging Boys in a Gender-Transformative Programme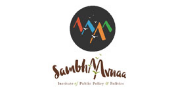 Organization: Sambhaavnaa
Event Duration: 08 Jul. 2019 - 08 Jul. 2019
Apply By: 08 Jul 2019
Event title: Applications for Engaging Boys in a Gender-Transformative Programme
Deadline: 8th July 2019
Background:
When we think of gender-based violence (GBV) typically we think of women as victims and men as perpetrators. Most interventions to end GBV tend to focus on empowering women to find their voices and use their agency to secure their rights. Typically men and boys are left out of these discussions or are treated as oppressors and subjugators.
We must accept that men and boys are not born to be violent and discriminatory towards women and girls. Growing up in patriarchal societies, they inculcate actions and behaviours that are violent and discriminatory. In fact, when given an opportunity to learn and practice gender-equitable behaviours, boys can and do take actions to promote gender equality. Hence it is important to take more efforts to engage boys in programmes and activities that will enable them to identify, challenge and change inequitable gender norms.
About the Workshop:
This workshop will showcase a set of themes, topics and activities that can be used to engage boys in a structured gender-transformative programme. As such it is an effort to bridge the gap between standard gender-based training and a concrete set of activities that can be used to engage boys in a behaviour transformation programme.
Participants will learn key concepts in gender, sexuality, GBV and human rights. They will be exposed to an activity-based curriculum which they can then use to engage adolescent boys in their communities.
Who is the workshop for?
We welcome development sector professionals who work with adolescent children in education, health, life skills, etc. and who would like to learn about a structured approach (themes, concepts and activities) to engage adolescent boys in conversations on gender in order to enable them to identify, challenge and change gender norms.
For more information please check the Link
Latest Online Store
Latest Tenders And EOIs
Latest News
© Renalysis Consultants Pvt Ltd