Back to the Event Listing
Post an Event announcement
Advertise with us
Online store
Subscribe our Weekly Newsletter
More Events
---------------------------------------------
Applications Invited for Leading Digital Transformation-Batch 3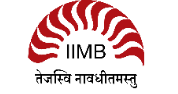 Organization: Indian Institute of Management Bangalore (IIMB)
Event Duration: 02 Mar. 2020 - 17 Jul. 2020
Apply By: 18 Jan 2020
Leading Digital Transformation-Batch 3
About the Organization:
Indian Institute of Management Bangalore (IIMB) is a public management school and an Institute of National Importance located in Bangalore, Karnataka, India. They were the third IIM to be established, after IIM Calcutta and IIM Ahmedabad. They offer Post Graduate, Doctoral and executive training programmes.
Overview:
Leading digital transformation requires both an understanding of technologies driving the change, as well as the ability to lead the organizational transformation. A robust business model that is built on top of the technology is therefore the key to digital transformation and sustained value creation.
The companies can choose to develop new technologies with the customer needs in mind or build a product/ services and a business model with improvements to existing technologies. What approach should one adopt? This programme opens one's mind to the different possibilities and provides a framework to analyse and come up with a blue print.
This programme has been conceived, designed and developed by IIMB in cooperation with FAU and Fraunhofer Institute of Integrated circuits to address the question of building transformational business models using technological advances.
Programme Benefits:
New Business Realities: New Competencies
For sustained business success, it is imperative that the businesses of tomorrow embrace technological challenges. Advances in computing technologies have made big data analytics accessible to every corporation across the globe. Falling data access and storage costs, maturation of IT security and cloud computing, and the ability to organize information using the block chain has spawned the emergence of a lot of innovative business models. In addition, global corporations are waking up to the promise held by advances in automation and Robotics, Artificial Intelligence, Machine Learning, and Industrial Internet of Things. Smart products have already begun reaching consumer homes, and it is not long before they cease to be sources of competitive advantage for established corporations.
This emerging context requires that their leaders not only understand, but are able to leverage these technologies in their customer value propositions. It is also important that these leaders enable a culture of business transformation in their organizations. Given the evolutionary nature of these technologies, it is imperative that leaders cannot continue to work in their organizational/ industry silos, but be able to innovate and co-create with the help of the entire ecosystem.
Key Takeaways:
Global Cohort: The programme involves participation from India and Europe. Therefore, participants acquire global perspective on digital transformation and sustained value creation.

The technology behind Digital Transformation: Participants get an insight into various disruptive technologies at the core of digital transformation.

Value creation through Innovative Business Models: This module will focus on how to build value around some of the underlying technological building blocks, including co-creation and open innovation methods.

Intrapreneurship: Case studies on how large and mature organizations have created entirely new lines of business by setting up a new culture of innovation and entrapreneurship.

Business Plan: Participants would create a business plan to lead digital transformation in their own companies.

Strategic thinking and leadership: Developing strategic thinking and the ability to lead self and others through complexity and change.
Programme Content:
Module1: Technologies aiding digital transformation

Module 2: Value creation through innovative business models

Module 3: Intrapreneurship and Business Models

Module 4: Individual Projects

Module 5: Strategic thinking and leadership
Target Audience: CEOs, CXOs, COOs, Vice-Presidents, General Managers, Business Heads and Entrepreneurs.
Start Date: 02 Mar, 20
End Date: 17 Jul, 20
Fee (excluding GST): Rs.4,95,000
Important Dates:
Application Deadline: 18 January 2020(Early)*

Application Deadline: 31 January 2020(Regular)

Programme Commencement Date: 2 March 2020
For more information please check the Link
Latest Online Store
Latest Tenders And EOIs
Latest News
© Renalysis Consultants Pvt Ltd