Back to the Event Listing
Post an Event announcement
Advertise with us
Online store
Subscribe our Weekly Newsletter
More Events
---------------------------------------------
Applications Invited for Training Programme on Planning and Implementation of MGNREGS - Inclusion of Vulnerable Groups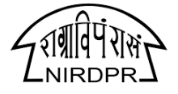 Organization: National institute of Rural Development & Panchayati Raj (NIRDPR)
Event Duration: 20 Jan. 2020 - 24 Jan. 2020
Apply By: 16 Jan 2020
About the Organization:
National institute of Rural Development & Panchayati Raj (NIRDPR) is an apex organization for Training, Research, Action Research and Consultancy assignments in all aspects of rural development in India. It is also a premier institution in the Asian and pacific region having close linkages with regional and international organizations. The Institute functions as a think-tank of the Ministry of Rural Development, Government of India. The Mission of NIRD&PR is to facilitate rural development vigorously both governmental and non-governmental initiatives.
Training Programme on Planning and Implementation of MGNREGS: Inclusion of Vulnerable Groups:
The Mahatma Gandhi National Rural Employment Guarantee Scheme (MGNREGS) is one of the unique employment generation programmes in India, aiming to augment rural livelihood security by creating sustainable natural and human made assets, through public and individual works. MGNREGS also ensures participation and inclusion of the various vulnerable groups in the society like Persons with disabilities, Primitive Tribal Groups, Nomadic Tribal Groups, Denotified Tribes, Women in special circumstances, Senior citizens above 65 years of age, HIV positive persons, internally displaced persons, Rehabilitated bonded labour etc. in the programme.
The United Nations 2030 agenda of Sustainable Development Goals (SDGs) and also is our commitment to equitable economic growth, in this context, the NIRDPR has designed a capacity building programme for effective planning and implementation of MGNREGS for inclusion of the vulnerable groups in the society. The present capacity building programme focuses on planning and implementation of MGNREGS, in terms of livelihoods, employment and inclusiveness of vulnerable groups under the programme. The training programme also aims to elaborate different aspects of social inclusion by taking examples of category A and B assets under MGNREGS. We also impart examples of best practices on transformation in the life of these vulnerable groups and how it helps to achieve SDGs goals and our responsibilities towards equitable society.
Objectives of the Training programme:
To impart basic understanding on vulnerable groups working under MGNREGS.

To introduce methods of assessing socio-economic benefits given to the various vulnerable groups in terms of assets and employment under MGNREGS for sustainable livelihoods.

To enhance capacity and to sensitize participant working for MGNREGS towards inclusion of vulnerable groups during planning and implementation process for equitable society.
Methodology:
Technical sessions by experts.

Panel and Group Discussions

Case Presentations
Participants: District level officials dealing MGNREGS and other Rural Development programmes, SIRD faculty and officials of line departments.
Venue: NIRDPR, Rajendranagar, Hyderabad-30
Date: January 20-24, 2020
Registration: There is no registration fee for the participants.
Last date for nominations: Participants are requested to send the nominations on or before 16.01.2020.
Accommodation: Boarding and Lodging facilities will be arranged by the organizing institute. Travel expenditure has to be borne by the nominating institutions.
Contact:
Dr. Digambar Chimankar
Contact No. 7095266266,
e-mail: digambar.nird@gov.in
CC to: nirdcwepa@gmail.com
For more information please check the Link
Latest Online Store
Latest Tenders And EOIs
Latest News
© Renalysis Consultants Pvt Ltd