Back to the Event Listing
Post an Event announcement
Advertise with us
Online store
Subscribe our Weekly Newsletter
More Events
---------------------------------------------
Applications Invited for Young Global Changers 2020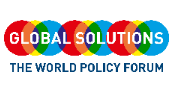 Organization: Global Solutions
Event Duration: 17 Apr. 2020 - 22 Apr. 2020
Apply By: 01 Dec 2019
About the Organization
The Global Solutions Initiative is a global collaborative enterprise to propose policy responses to major global problems, addressed by the G20, the G7 and other global governance fora. The policy recommendations and strategic visions are generated through a disciplined research program by leading research organizations, elaborated in policy dialogues between researchers, policymakers, business leaders and civil society representatives.
About the Event
The Young Global Changers program brings together young people from around the world who are working towards a global paradigm shift, combining their talents and together becoming a strong voice for change. Successful applicants will receive a scholarship to participate in the Global Solutions Summer School and the Global Solutions Summit from April 17-22, 2020 in Berlin, Germany.
We are currently witnessing a trend in many advanced and emerging economies where economic prosperity is increasingly becoming decoupled from social prosperity and environmental sustainability. There is an urgent need for a global paradigm change to recouple the economy with social and ecological needs, and to reverse the growing global inequality.
If you share our concern about the current global situation; if you are already engaged in a project or initiative to bring about positive change and would like to engage with a broad network of like-minded people; if you would like to participate in a comprehensive summer school and attend the Global Solutions Summit in Berlin and if you would like to contribute as a member of an active global community of change makers - then apply to the Young Global Changers program by December 1, 2019!
Who are we looking for?
This year, you can apply to one of three different areas: academia, business or civil society. The Young Global Changers program aims at bringing together people from these areas at the Global Solutions Summer School and explore solutions to current challenges.
They are looking for young people between 21-35 years with innovative ideas on how to make this world a better place and who have developed a project or an initiative to put these ideas into action. This project can be a research project, a social project, a global advocacy campaign or a local neighborhood initiative, a business idea a social enterprise, or more. It needs to be connected to a current global challenge and must aim to make an impact and bring about positive change, whether at the global, regional or local level. Applicants from all three areas will be part of the same program and attend the Summer School and the Summit together. The aim of the program is to bring people from different backgrounds together, so they can benefit from each other´s know-how.
When:
April 17 - 22, 2020
Where:
Berlin, Germany
For more information please check the Link
Latest Online Store
Latest Tenders And EOIs
Latest News
© Renalysis Consultants Pvt Ltd