Back to the Event Listing
Post an Event announcement
Advertise with us
Online store
Subscribe our Weekly Newsletter
More Events
---------------------------------------------
Applications invited for SDG Action Zone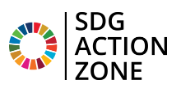 Organization: UN General Assembly
Event Duration: 23 Sep. 2019 - 23 Sep. 2019
Apply By: 12 Aug 2019
About the Organization
The United Nations General Assembly is one of the six principal organs of the United Nations, the only one in which all member nations have equal representation, and the main deliberative, policy-making, and representative organ of the UN.
About the Event
The SDG Action Zone is a space inside the United Nations grounds during General Assembly week (UNGA) where different actors can engage around the UN-High level meetings and events in a meaningful and visible way.
Objective
Achieving the Sustainable Development Goals (SDGs) relies on dynamic partnerships and the SDG Action Zone is a new opportunity to re-shape multilateral and diverse engagement during UNGA by enabling partners to gather, share stories and lessons, and devise plans to accelerate SDG action.
Opportunity: The SDG Action Zone offers partners the chance to:
Connect and build important partnerships to accelerate SDG action, inside a packed General Assembly week

Engage diverse actors in dynamic ways

Break out of silos and have meaningful conversations around the High-level events inside UN Headquarters
Important Dates
Sept 23 : Climate Action Summit

Sept 23: High-Level Meeting on Universal Health Coverage

Sept 24 - 25: SDG Summit

Sept 26: High-Level Dialogue on Financing for Development

Sept 27: High-Level Midterm Review of the SAMOA Pathway
Venue: Rose Garden of the United Nations HQ, New York
Eligibility
Engagement Types: Individuals and organizations from across all sectors are invited to share fresh, dynamic proposals that break through silos to accelerate and collaborate on SDG action. Host an event, deliver a lightening-talk, showcase an exhibit or join the speaker.
They encourage the content to dig into specific, tangible issues and examples to drive transformative action or change. To be eligible, proposals must meet the following criteria:
Promote action and accountability for the themes of UNGA: SDGs, climate action, universal health coverage, development financing, and/or small island states.

Involve multiple sectors (i.e. civil society, business, academia, other key United Nations partners and governments). The more sectors included the higher consideration your proposal will be given.

Include Youth*, gender balance and perspectives from the Global South.

Connect and add value to the High-level events happening during UN General Assembly week.

Engage the audience in an innovative way that goes beyond just reporting on SDG progress to date.

Persons between the ages of 15 – 32, as defined by the UN Secretariat.

Strong preference will be given to applications that have a focus on Leave No One Behind and youth engagement in relation to the UNGA themes.
How to Apply
For more information please check the Link
Latest Online Store
Latest Tenders And EOIs
Latest News
© Renalysis Consultants Pvt Ltd