Back to the Event Listing
Post an Event announcement
Advertise with us
Online store
Subscribe our Weekly Newsletter
More Events
---------------------------------------------
COPASAH Global Symposium on Citizenship, Governance and Accountability in Health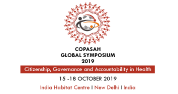 Organization: COPASAH
Event Duration: 15 Oct. 2019 - 15 Oct. 2019
Apply By: No Deadline
Event Title: COPASAH Global Symposium on Citizenship, Governance and Accountability in Health New –Delhi, India
Event Date: October 15 -18, 2019
Venue: India Habitat Centre, New –Delhi, India
#CoPGS2019
About The Symposium
The global network of Community of Practitioners on Accountability and Social Action in Health (COPASAH) www.copasah.net is holding a unique Global Practitioner centered Symposium on Citizenship, Governance, and Accountability from 15-18 October 2019 in New-Delhi, India. For more details on the Symposium visit: http://www.copasahglobalsymposium2019.net/index.html. It is being organised in collaboration with several global and Indian partners including the People's Health Movement, Azim Premji University – Bengaluru (India), Accountability Research Centre – American University - Washington DC (USA), Institute of Development Studies – Sussex (UK), Global Health Justice and Governance Programme – Mailman School of Public Health, Columbia University New York (USA).
Participants
Over 400 practitioners from diverse social – cultural and geographic contexts primarily from the Global South, including Latin America, Eastern Europe, Sub Saharan African, Eastern and Southern Asia along with researchers, programme managers, donors and policy makers in the field of public health governance are expected to participate in the symposium. The symposium will facilitate sharing and learning from grassroots practitioners on the successes and strategies on the issues of citizenship, governance, and accountability while working for achieving the Sustainable Development Goals (SDGs).
Why Participate In The Symposium?
The practitioner centred Symposium is designed as meeting point of practice, think-tanks and policy in community centred health systems. Participating in CoPGS 2019 will provide a unique opportunity for researchers, policy makers, donors, development and policy experts to interact and dialogue with the 'foot-soldiers' of community-centred accountability practice from around the world. The Symposium is a collective event organised in collaboration with several co- travelers concerned about the decline of democratic political and institutional spaces for citizenship.
Focus And Theme Of The Symposium:
The focus of the Symposium on 'Leaving No One Behind: Strengthening Community Centred Health Systems for Achieving Sustainable Development Goals' provides the contemporary context to critically examine the perspectives of Citizenship, Governance and Accountability in Health. In addition, the five thematic axes, lend the existential context of the practice of accountability to sharpen and deepen such discourses. The five key themes are:
Theme 1- Community action in governance and accountability for health systems strengthening
Theme 2-Improving access to quality health services for the indigenous, excluded, vulnerable communities and those in fragile contexts
Theme 3- Moving forward the agenda for Sexual and Reproductive Health Rights
Theme 4-Setting the framework and agenda for people centred accountability of private and corporate health care sectors
Theme 5- Forging alliances between the community and the health care worker
Opportunities In The Symposium To Connect, Engage And Share
1. Register for the Symposium
Be a part of the Conclave of Global Accountability Practitioners. Engage in thematic learning's and intersectional discourses, witness the practitioners assembly, dialogue, share and learn through creative engagements in open spaces.To participate and interact with different practitioners as well as learn about diverse accountability practices in the Symposium, register for the Symposium. For registration details see http://www.copasahglobalsymposium2019.net/registration.html
2. Host and Organise a Satellite Session
Satellite sessions provide a unique opportunity for organisations, networks and universities to hold self-organised events on themes and issues of their interest such as showcasing or disseminating their work. There are 24 spaces of 90 minutes each, available for satellite sessions, on the day of inauguration of the Symposium, i.e. October 15, 2019.
For more details, please see: http://www.copasahglobalsymposium2019.net/satellite-sessions.html
Please participate, support, and join in solidarity in spreading the message across and mobilizing participation in the Symposium across your networks, partners, and associates.
About The Organisers:
COPASAH (Community of Practitioners for Accountability and Social Action in health) is essentially a learning network with a focus on marginalized communities where practitioners learn from each other and by distilling lessons from practice and a bottom up process and sharing lessons on how to improve elements of participation and increase equity and accountability of health systems. See more on www.copasah.net
For queries on the Symposium please write to: copasahsymposium2019@gmail.com
COPASAH Global Symposium 2019 – Secretariat
Centre for Health and Social Justice, New-Delhi, India
Latest Online Store
Latest Tenders And EOIs
Latest News
© Renalysis Consultants Pvt Ltd