Need for collective action to eliminate viral Hepatitis
By United Way Mumbai
August 7, 2019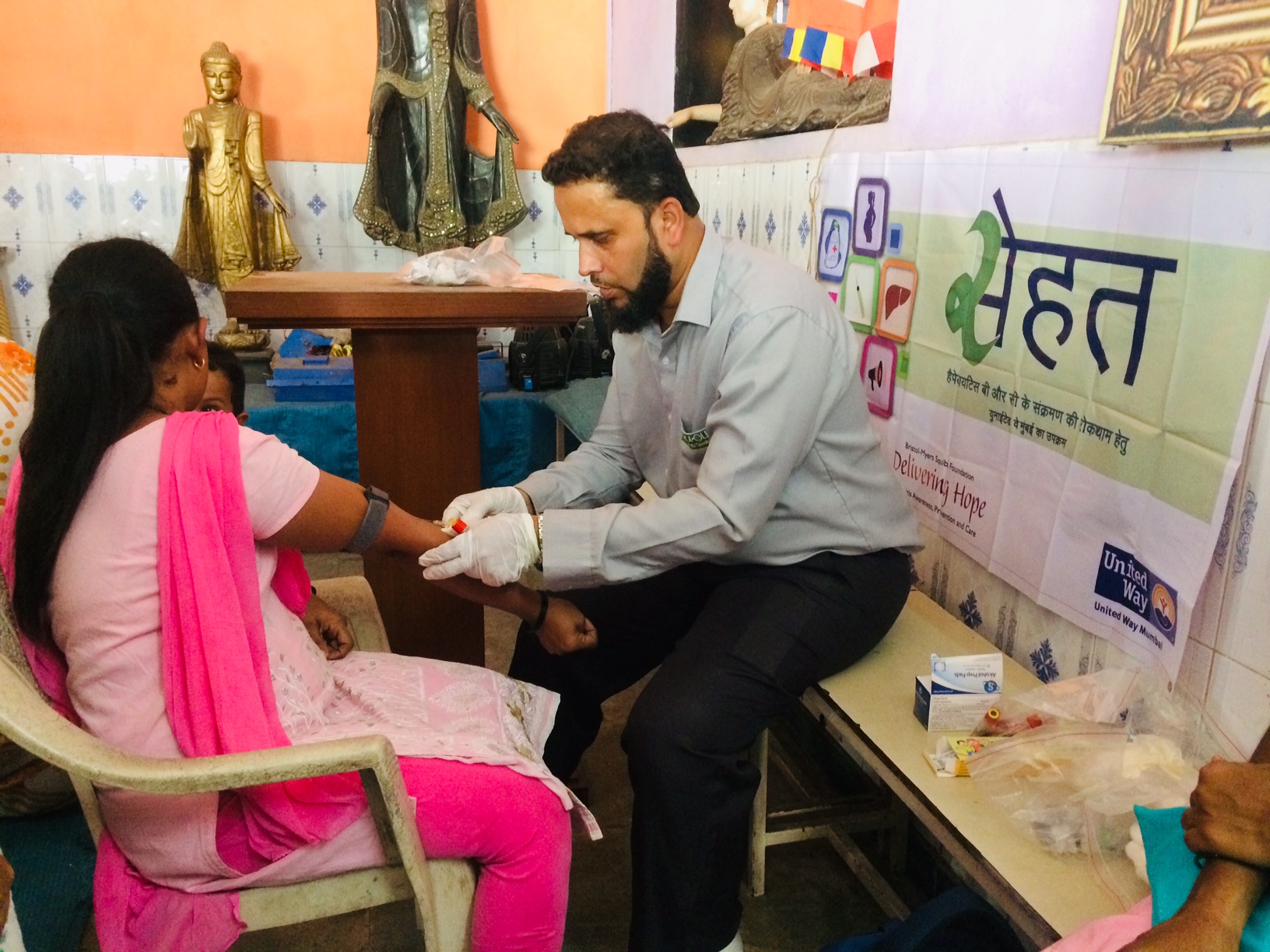 28th July every year is commemorated as World Hepatitis Day (WHD) globally. It is one of just four disease-specific global awareness days officially endorsed by the World Health Organization (WHO), thus corroborating its criticality. Viral Hepatitis is one of the biggest global health concerns of our time.
Hepatitis is an inflammation of the liver, most commonly caused by a viral infection. There are five main hepatitis viruses, referred to as types A, B, C, D and E.
Among these, chronic Hepatitis B and C are life-threatening infectious diseases that cause serious liver damage, cancer, and premature death. Viral hepatitis B and C affect 325 million people worldwide causing 1.4 million deaths a year. It is the second major killer infectious disease after tuberculosis, and 9 times more people are infected with hepatitis than HIV. Hepatitis is preventable, treatable, and in the case of hepatitis C, curable. However, over 80% of people living with hepatitis are lacking prevention, testing and treatment services.
In 2016, 194 governments including that of India committed to eliminating viral hepatitis as a public health threat by 2030. In doing so, they have committed to diagnosing 90% of people living with viral hepatitis by 2030 and 30% of people by 2020. Out of the 325 million people living with viral hepatitis globally, upward of 290 million (that's 9 in 10!) are living with hepatitis B or hepatitis C without knowing.
Unless there is a massive scale-up in screening, diagnosis and linkage to care, more people will become infected and lives will continue to be lost. It is important for all of us to convene and take collective.
Without finding the undiagnosed and linking them to care, millions will continue to suffer, and lives will be lost. The theme of this year's WHD is "Invest in eliminating hepatitis" which urges stakeholders, both public and private to put in sustained efforts for education and prevention of viral Hepatitis.
As citizens we need to ensure voluntary testing and vaccination of all family members especially pregnant women and women in child bearing age. For children, vaccination for Hepatitis B is included under Universal Immunisation Programme of Government of India and parents need to ensure that their children are administered all three dosages.
NGOs and CBOs work at the grass roots to address key community health challenges. The role played by such organisations in public education during 1980's & 90s in India on Acquired Immuno-Deficiency
Syndrome (AIDS) is well documented. Transmission modes of Hepatitis B & C are identical to that of AIDS. However, awareness pertaining to this disease is way lower than AIDS especially among socially and economically vulnerable sections of the communities. A movement by NGOs and CBOs on mass sensitisation of these diseases will go a long way in voluntary reporting for testing and vaccination among communities.
Improving access to public health services is another vital step in ensuring timely diagnosis and affordable care for everyone. Such services exist within the public health infrastructure, however knowledge related to it among vulnerable and high risk community groups such as commercial sex workers, Injected Drug Users, sexual minorities, single male migrants in urban areas etc. Remain negligible. Stigma attached to these disease woks as impediment for vulnerable community group to access public health care. Such barriers need to be removed through constant psycho social support to the patients. Both public hospitals and NGOs on the ground can undertake interventions for this.
Educational institutions can integrate the awareness messages on Hepatitis B and C for students and college youth. In fact students can be trained as peer health educators to ensure their participation in mass scale sensitisation campaigns. This not only helps in awareness generation among masses but also in educating the young generation to the threats of these diseases spurring timely voluntary testing, vaccination.
Corporates can help in tackling challenges related to Hepatitis B and C through investing in efforts for education, improving access to treatment and care, research and development etc. through Corporate Social Responsibility or Public Private Partnerships with the government.
Working on these aspects, a group of organizations and stakeholders will come together to launch, 'United Against Hepatitis Network' organised by United Way Mumbai, a nonprofit organisation working on these issues in Mumbai city. The stakeholders include NGOs & CBOs with focus on community health, public health professionals, representatives of Public Health Department and Hospitals in the city etc. Members of this network will undertake following interventions to remove the barriers to one or more interventions for ensuring Hepatitis Free Generation;
Generating awareness in the communities they work with on Hepatitis B & C

Organizing free of cost testing and vaccination camps on Hepatitis B & C communities with support from United Way Mumbai

Medical referral to the public hospitals providing free of costs/subsidised treatment to those identified Hepatitis B & C positive

Provide psycho social support through Patient Support
Such collective action is critical in achieving the vision of eliminating viral Hepatitis by 2030. Please join us in this movement in elimination of viral Hepatitis. You can know more about this initiative by clicking here or reach out to us at contact@unitedwaymumbai.org
Since 2010, United Way Mumbai has addressed the challenge of increasing prevalence of Hepatitis B and C infections. As a part of our Community Impact Initiative, we target High-Risk populations such as Female Sex Workers, Drug Addicts and Migrants. We also target the general population. The strategy adopted includes medical interventions among the High-Risk groups for controlling the infections, (with testing, medical referral, follow up and support for treatment compliance, patient support activities, etc.). Additionally, we provide health education to the masses to generate awareness and prevent the spread of infections. You can read up about our publications here:
1. Knowledge, Attitude and Practices of Commercial Sex Workers towards Hepatitis B
2. Yuvroshni Impact Assessment Report - Project for Targeted Medical Interventions and Awareness on Hepatitis B
About United Way Mumbai
United Way Mumbai is part of the 130+ year old United Way movement spanning 41 countries across the world. Our mission is to improve lives by mobilizing the caring power of communities to advance the common good.
We work closely with a network of 400+ NGOs and a large number of corporates for their CSR programmes, workplace giving campaigns and other events. This includes designing of CSR policy and strategies, due diligence of NGO partners, programme implementation, employee volunteering, impact assessments and financial and programmatic reporting. Over the past 17 years, we have partnered with over 300 companies and 1,00,000+ individual donors investing over INR 390 crore for community development projects.
Our expertise lies in identifying, designing & implementing high impact projects in the areas of Education, Health, Income, Environment, Public Safety & Social Inclusion in both urban as well as rural communities across the country. We are also the official philanthropy partner of the Tata Mumbai Marathon.
References:
World Hepatitis Alliance: http://www.worldhepatitisalliance.org/world-hepatitis-day-2019
World Health Organisation: https://www.who.int/campaigns/world-hepatitis-day/2018
© Renalysis Consultants Pvt Ltd