Awe-inspiring Divyang Talent & Fashion Show on 14th Divya Heroes organised in Mumbai
By Narayan SevaSansthan
November 12, 2019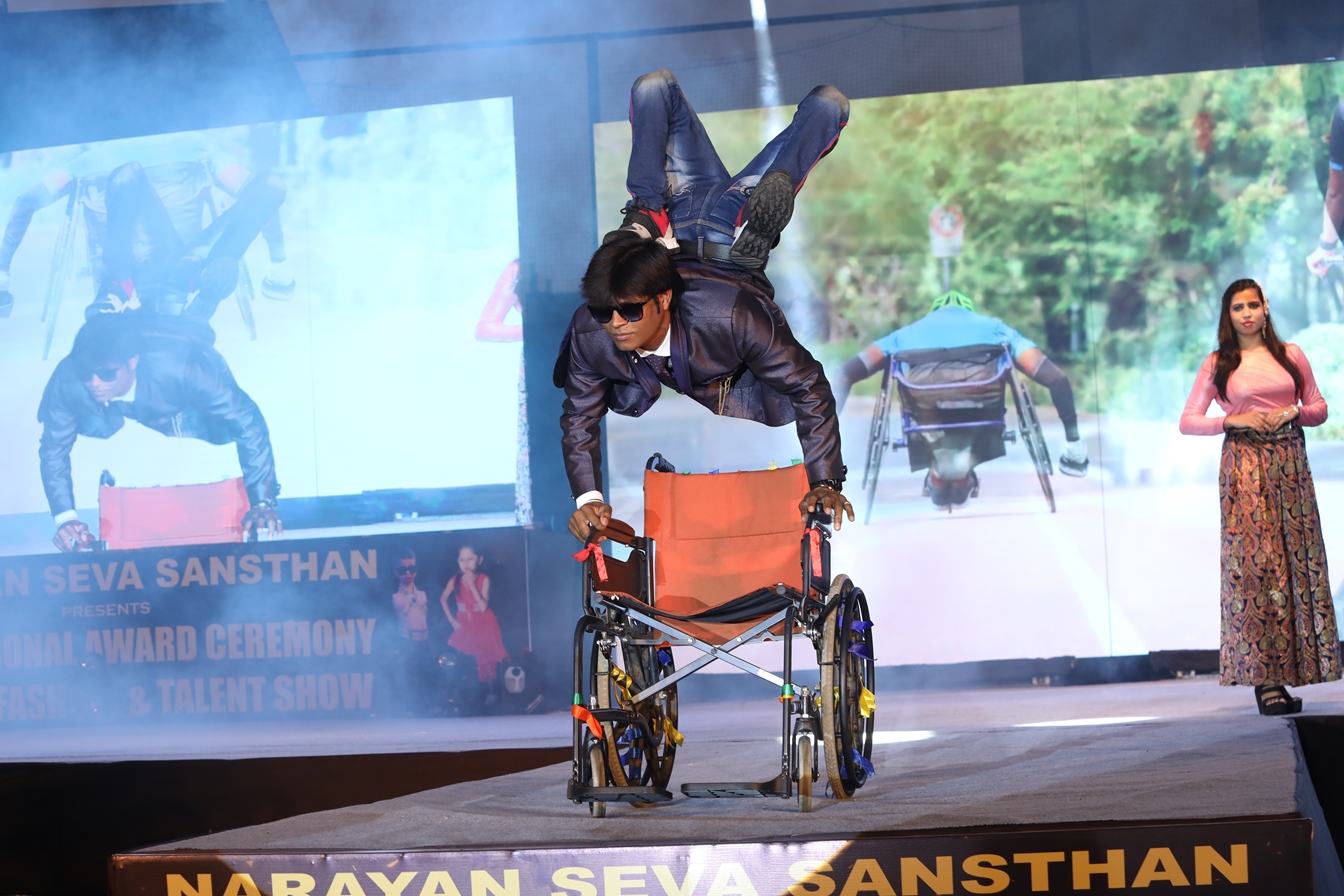 Narayan SevaSansthan's divya heroes showcased their talent with calipers, wheelchairs, crutches, and artificial limbs at 14thDivyang Talent &Fashion Show. On Sunday, 40performers suffering from severe medical conditions like autism, cerebral palsy and polio performed intriguing stunts, dance sequences and ramp walks for the second time in Mumbai.
This one-day mega celebration in the heart of India's Financial Capital – Mumbai inspired the audience. The show received an overwhelming response from visitors. Showcasing talent and encouraging the feeling of pride among talented differently abled who stand determined to transform their lives with support of Narayan Seva Sansthan is the sole of this event.
During the event, Senior Journalist Dr. Ved Pratap Vedik was awarded by Padma Shri Kailash Manav Agarwal and Prashant Agarwal, President, Narayan Seva Sansthan. Divya Heroes participated in four-round fashion show. There were different categories namely Crutch round, group dance round, wheelchair round and caliper round.
Jyoti Mastekar, a 29-year-old artist from Mumbai who performed Lavani, a Marathifolk dance, during the 14th Divyang Talent Show. Jyoti grew up in the corridors of Mumbai's congestedslum, with her one hand being shorter than the other one. She describes that people around her may have conservative thoughts towards her dancing, but she never allowed herself to bow down even in most difficult of circumstances.
Speaking on this occasion, Padma Shri Kailash Manav Agarwal said, "We invite every needy differently abled individual to join the free training of Tailoring, Mobile Repairing, Computer and Hardware coaching skills with possible placement. We are trying to infuse hope for these especially abled by providing them free corrective surgery, free artificial limbs, wheel chairwhile also recognizing talented Divyang Heroes."
Speaking on this occasion, Mr.Prashant Agarwal, President, NarayanSevaSansthansaid, "Our plan is to transform life ofevery differently abled by providing them ample opportunities to equip them with learning necessary skills, providing health support andalsoeducating them tostand equal in the society."
Narayan Seva Sansthan runs 1100 bedded hospital for specially abled where it conducts major surgeries free of cost to make them physically fit and on top of that, helps them in gaining skills into a specific stream under different vocational programs and helps them in finding employment too. Narayan Seva Sansthan has a skill center in its premises where training on tailoring work is provided.
About Narayan Seva Sansthan
Narayan SevaSansthan is a blessed heaven for the differently able and underprivileged individuals in the world. Founded by Padma Shri Kailash 'Manav' Agarwalin1985, Narayan SevaSansthan is a charitable organisation serving to bring the differently able community to the main stream society by empowering them physically, socially and economically. Situated at Badi Village near Lake City - Udaipur, Narayan SevaSansthan is surrounded with the range of Aravali Hills right in the lap of nature.
Narayan SevaSansthan is a 'Smart Campus for differently- Able' with all the facilities for the physically impaired humans who feel deprived in any way, at any stage of life. The Sansthan operates with its 480 branches in India and 86 branches abroad focusing on alleviating disabilities. As a daily practice, a free of cost vehicle reaches to pick-up the patients and their families at the Udaipur Railway Station further providing free accommodation and food at guest house.
Narayan SevaSansthan is the hope for physically impaired patients suffering from Polio, Cerebral Palsy,and other by birth disabilities belonging from India, Afghanistan, Pakistan, Nepal, Bangladesh, Ukraine, UK and USA. Narayan SevaSansthan has operated over 3.7 lakh patients in last 33years and has provided them a full socio-economic support by availing best of the medical services, medicines and technologies in free. This is a place where there is no cash counter for anything that anyone is in need of. It has 1100 bedded hospitals functioning with a team of 125 doctors and nursing staff, who are operating about 95 patients daily and servicing the humanity.
© Renalysis Consultants Pvt Ltd