Go Green Breathe Clean: SEEDS In Partnership With Honeywell India Run A Safety Week Campaign
By Honeywell
October 22, 2019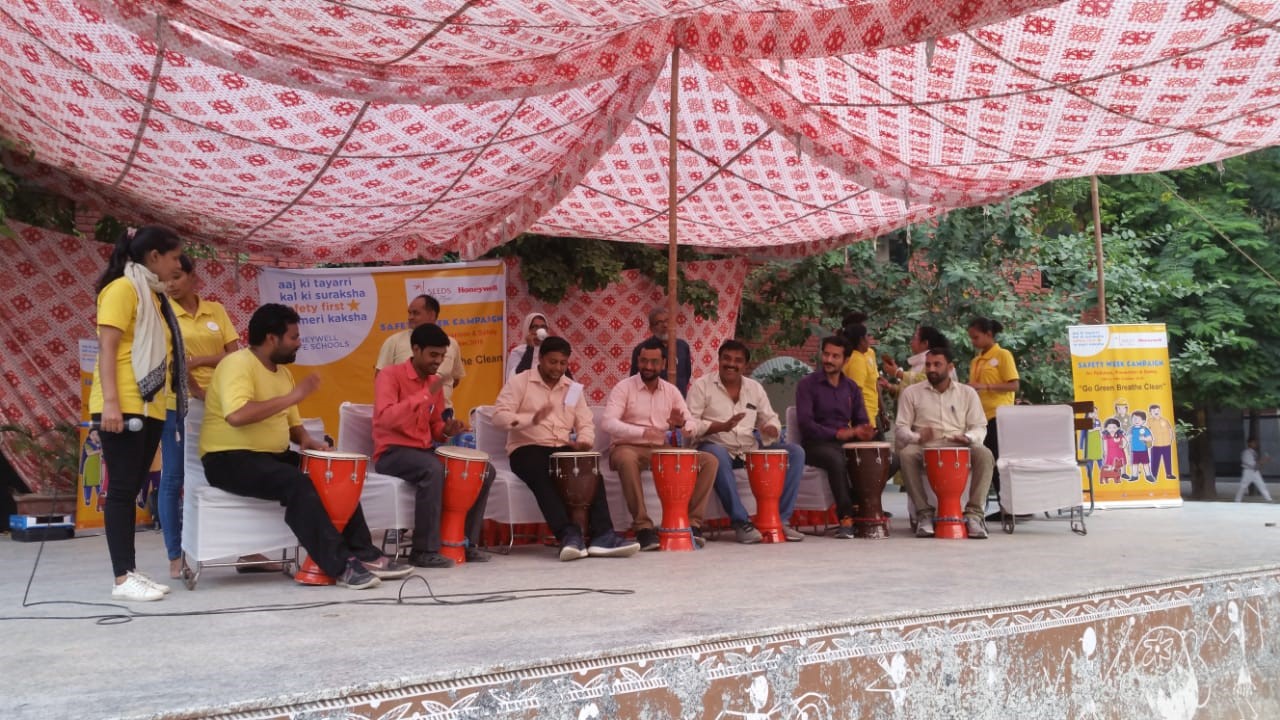 The farm fires, excessive fuel burning from an endless number of vehicles on road or exploitation of the natural resources; all of these affect health and environment equally. The State of Global Air 2019 report released by the Health Effects Institute (HEI), USA stated that India had lost 1.2 million citizens to pollution (both indoor and outdoor) in the year 2017. No matter how much we ignore the fact, pollution is not only taking a toll on human lives but also depleting the natural resources and means to survive on the planet earth.
SEEDS (Sustainable Environment and Ecological Development Society)as a part of its Honeywell Safe Schools program dedicated the Safety Week from 14th to 19th October to spread awareness about air pollution and urge people to bring in practices that helpful in eliminating it. Thus, the campaign was themed as 'Go Green Breathe Clean'. SEEDSHoneywell India team took to streets raising awareness on air pollution through street theatre, flash mob, fire safety drills, lung testing of school children and teachers, tree plantation and drum circle activity at various locations in East Delhi.With a range of participatory activities, the campaign was able to spread the message to a large audience. Apart from school students, teachers and principals, people in huge numbers themselves were drawn to participate in the flash mobs at metro station and watch street play to seek knowledge on best green and clean practices. The entire campaign was run in partnership with Purvi Delhi ApdaPrahari (PDAP) who were a part of each and every activity throughout the campaign.
Mr Yezdani Rahman, Chief of Programmes, SEEDS said, "Through SEEDS-Honeywell Safe Schools Program, we seek to spread a word about the idea of helping nature thrive. Looking at the previous records, it has been realised that the capital city engulfs itself in dangerous smog (smoke and fog) during the winter season leaving the citizens vulnerable to several cardiovascular and respiratory diseases for life. We are glad to know that through this campaign, we were able to generate awareness on the possible health hazards of pollution, encourage tree plantation and prepare them for emergency situations like fire. With a strong belief that the awareness will help people realise the contribution they can make at an individual capacity can help the city breathe cleaner air, we successfully conclude the Safety Week Campaign today".
Students thoroughly enjoyed being a part of the campaign and were enthused to know about the best practices to keep their lungs healthy. They were elated to be a part of such creative activities where learning on anti-pollution and eco-friendly practices was so interesting and engaging. Students recall their week as one of their best experiences which will remain with them forever.
Among others, activities like 'Seeds Bombs' and 'Doodle-It' were also organised. In the Seeds Bombs activity, the team planted saplings and distributed seed bombs packets to the participants for planting trees around their neighbourhoods. In the Doodle It activity, all the participants were asked to produce comics, slogans and posters with respect to air pollution and importance of breathing clean air.
About Honeywell Safe Schools Program:
Honeywell Safe Schools is a pioneering school safety program that brings a tailor-made, child-first approach towards risk reduction, empowering children to become change agents for building resilience in the communities. Funded by Honeywell India and implemented by SEEDS India, the program involves structural assessment of 50 Delhi government schools by engineers and architects; evaluation of risk perception among children, teachers andparents; and examination of preparedness in the face of any natural or manmade disaster. The program has already reached 52,000 children, 45,000 parents and 2,200 teachers across 50 Government schools in East Delhi and as the extension of it in the state of Uttarakhand will be reaching out to 31,000 children, 50,000 parents, and 700 teachers across 100 Government schools in Haridwar and Dehradun districts.
About SEEDS:
SEEDS (Sustainable Environment and Ecological Development Society) is a not-for-profit organisation that enables community resilience through practical solutions in the areas of disaster readiness, response and rehabilitation. Since 1994, the organization has worked extensively on every major disaster in the Indian subcontinent – grafting innovative technology on to traditional wisdom. It has reached out to families affected by disasters and climate stresses; strengthened and rebuilt schools and homes; and has invariably put its faith in skill-building, planning and communications to foster long-term resilience. SEEDS is also India's first agency to be certified for the global Core Humanitarian Standards – an international certification system for quality and accountability in humanitarian response. SEEDS completed 25 years of outstanding service to humanity in 2019 and is re-anchoring its approach to building resilience through innovation. It continues to empower the most vulnerable across Asia to build a better future. For more information, visit www.seedsindia.org
© Renalysis Consultants Pvt Ltd