Back to the Grant Listing
Post a Grant announcement
Advertise with us
Online store
Subscribe our Weekly Newsletter
More Grants
---------------------------------------------
Applications Invited for Agri Udaan - Food and Agribusiness Accelerator Program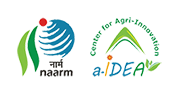 Organization: A-IDEA, Technology Business Incubator of NAARM
Apply By: 06 Oct 2019
About Agri Udaan®
Agri Udaan, Food and Agribusiness Accelerator is a focused program targeted towards startups that are trying to scale up their innovative startups. Globally out of ~ 7, 500+ incubators that exist, the majority of them focus on early-stage support to the startups through incubation programs. There are very few accelerators, especially when it comes to Accelerators in India focused on Food and Agri-Business. With this background, a-IDEA, when it started its operations in 2015, realized the importance of such programs to support Agritech startups that are facing challenges to scale up. In this endeavor, a-IDEA has launched the Agri Udaan, The Food & Agribusiness Accelerator.
Agri Udaan is one of the flagship programs of a-IDEA, NAARM. It is a Food and Agribusiness Accelerator program for scaling Agritech startups. a-IDEA, NAARM launched India's first Food & Agribusiness Accelerator with CIIE, IIM-A in 2015, in this program out of ~192 startups which have applied, 20 startups were mentored and 8 startups were supported. Out of these 8 startups, 3 startups got funding to the tune of 3 Cr INR. Further in 2017, the 2nd series of Food and Agribusiness Accelerator "Agri Udaan 2.0" was launched with the support of Department of Science and Technology in association with Caspian, Yes Bank, Marico, NeML for Agri Udaan 2.0 nearly 579 startups applied, out of which 40 startups were mentored, 10 startups cohort was shortlisted and supported further, out of which 4 startups got funding to the tune of 6.25 Cr INR. In 2019, this year a-IDEA at NAARM with the support of DST is launching its Agri Udaan, Food and Agribusiness Accelerator 3.0 in association with NABARD, Caspian, AgrInnovate, Omnivore, and other prominent partners.
Agri Udaan, Food and Agribusiness Accelerator 3.0 is the 3rd edition of the flagship accelerator program of a-IDEA, NAARM. It brings on board a range of diverse partners to create an inclusive and collaborative ecosystem focusing on catalyzing scale-up stage Food and Agribusiness startups through rigorous mentoring, industry networking and investor pitching.It is a unique platform for scale-up stage innovators, entrepreneurs and startups in Food and Agribusiness sectors to showcase their products/services and to receive valuable inputs from Mentors, Incubators, R&D Institutions, Agribusiness Industry, and Investors.
Agri Udaan 3.0 launched in Hyderabad on 31st August 2019 and organizing its roadshows in Bengaluru, Pune, Patna, Lucknow, Gurugram, Bhopal and Guwahati. Providing a truly Pan-India presence, Agri Udaan seeks to bring out innovations from across the country while also aiming to provide support to the startups across the country.
Agri Udaan 3.0 is a 4 to 6-month program that is launched in order to receive the applications from startups that are trying to scale up (Such startups may be usually 2-3 years old, with a proven team, a working prototype and a reasonable traction in the market as few of the eligibility criteria for the startups to apply). Once the applications are received they would be evaluated on both technical and business parameters and a cohort of 8-10 innovative startups will be shortlisted. The shortlisted cohort undergoes 3 days capacity building workshop at a-IDEA, NAARM followed by rigorous three month mentoring and networking activities supported by mentors helping them on different areas of scaling up including marketing, sales, R&D, Legal, Finance, IP, Technology, Investment etc. (based on the milestones set by the startups to scale up during the capacity building workshop), the end of this accelerator is earmarked by 1-2 demo days/ investor meets, wherein startups get a chance to pitch before a group of investors ranging from VC, Angels, HNI's, seed investors and corporates. One of the key outcomes of the accelerator is to make the cohort Agri-startups investment ready and market-ready. Few of the startups may also attract assured seed investments from a-IDEA.
Food and Agritech Startups aspiring to scale up Apply for Agri Udaan 3.0. Applications opened on 31st August 2019 till 6th Oct 2019.
For more details,please visit our website: https://aidea.naarm.org.in/agri-udaan/
Latest Online Store
Latest Tenders And EOIs
Latest News
© Renalysis Consultants Pvt Ltd