Back to the Grant Listing
Post a Grant announcement
Advertise with us
Online store
Subscribe our Weekly Newsletter
More Grants
---------------------------------------------
Applications Invited for British Ecological Society's Outreach Grants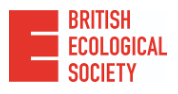 Organization: British Ecological Society
Apply By: 20 Mar 2020
Grant Amount: 2000 Pound
About the Organization:
The British Ecological Society is a learned society in the field of ecology that was founded in 1913. They are the oldest ecological society in the world. The Society's original objective was "to promote and foster the study of Ecology in its widest sense" and this remains the central theme guiding their activities today. The Society has almost 5000 members of which 14% are students.
Outreach Grants:
They define ecology as the scientific study of the distribution, abundance and dynamics of organisms, their interactions with other organisms and their physical environment. Applications should promote and engage the public with the science of ecology. Grants will not be awarded for purely nature conservation purposes or any activity that does not promote the science of ecology.
They support projects that:
Increase public understanding of, and engagement with, ecology

Stimulate discussion about ecology and its implications for society

Inspire and enthuse people of all ages about the science of ecology, especially those not previously interested

Develop skills in communicating the science of ecology
Eligibility and Conditions:
Awards are open to individuals and organisations to organise ecological public engagement events. This includes, but is not limited to, our members, researchers, schools, museums, libraries and community groups.
Your proposal must be aimed at a non-academic audience and all projects must provide a clear demonstration of direct interaction with them. They should also show evidence of links to the research community at UK, regional and international levels, where appropriate.
Applications will NOT be considered for:
Staff salaries (one off costs that are relevant to completing the event e.g. sub-contracting for logo design, will be considered as long as these are justified in your application)

Purchase of apparatus, e.g. computers, cameras, unless integral to your application

Training courses not associated with developing skills in communicating the science of ecology for a public facing audience e.g. specific skills training courses for academics are not eligible for funding

Academic meetings

Closed meetings

Projects aimed solely at delivering curriculum to school children
Applications from museums and schools are welcome, but projects must involve significant outreach beyond schools.
They will not award more than one grant to any one applicant in any one year, and no more than three grants in any five-year period. Failure to submit a satisfactory report at the end of a grant will mean you are ineligible to apply for further grants.
For repeat, annual events that request funding more than once – Grants Committee would only consider this if the project showed new novel ideas and development on the previous application.
Assessment Criteria:
Applications will be judged by a panel of reviewers against the following criteria, so therefore need to demonstrate:
Consistency with at least two of this grant's objectives

Awareness of public interest and concerns, including the relevance to the target audience(s)

Exploration of ecological concepts and issues, rather than simply providing information: specific information should be provided regarding the aspects of ecological science that the project aims to communicate. Projects should be based on sound scientific research

Clear objectives for the project and its potential impact

Evidence of appropriate means of publicity to reach the target audience

The target audience/size of the audience that the event/initiative will reach, and the expected levels of engagement

Clear plans and resources to assess the impact and legacy of the project

Realistic costing and evidence that you can cover any shortfall in funding not covered by this grant or by other organisations

Realistic assessment of practical issues such as copyright, insurance and health and safety

Whether the activity depends on Society funding or that Society funding will add a significant element
All costs must be clearly justified within the budget section. Any costs that are not justified will not be considered. Please ensure all costs are clearly calculated in GBP (British Sterling).
Value: The maximum award is £2,000. However, the award may be used as part-funding for larger projects involving other sponsors.
To Apply:
When applications open, register/log in to our online grants system, complete your contact details, and navigate to 'Your Applications'.

They aim to notify all applicants within two months of the grant deadline.

Applicants are only able to submit one grant application per round, across all grant schemes.

It is a condition of all of our grant schemes that applicants submit a report within three months of the end date of your award. Reports will be submitted via our online grants system.
Deadline: The first grant round of 2020 is now OPEN with a deadline of 17:00 (GMT) Friday 20 March.
For more information please check the Link
Latest Online Store
Latest Tenders And EOIs
Latest News
© Renalysis Consultants Pvt Ltd