Back to the Grant Listing
Post a Grant announcement
Advertise with us
Online store
Subscribe our Weekly Newsletter
More Grants
---------------------------------------------
Applications Invited for the IMPACT Programme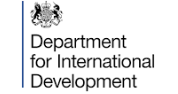 Organization: UK Department for International Development (DFID)
Apply By: 20 Nov 2019
Grant Amount: 5000000 Pound
About the Organization:
The UK government's Department for International Development (DFID) works in partnership with developing countries to promote development and leads the UK's work to end extreme poverty. DFID was described as "an international development leader in times of global crisis". The UK aid logo is often used to publicly acknowledge DFID's development programmes are funded by UK taxpayers.
About the IMPACT Programme:
The IMPACT Programme ("the Programme") is a 4-year programme funded by the UK Department for International Development (DFID) managed by Palladium in partnership with Enclude Capital Advisory and The Good Economy.
The Programme's overall goal is to unblock constraints preventing Impact Investing from scaling in SubSaharan Africa and South Asia. They seek to support the flow of investment capital from Impact Investors into businesses reaching the underserved as consumers, suppliers, distributors or employees, in hard to reach/difficult geographies, and/or through innovative business models
Programme Background and Context:
The Programme will aim to strengthen the impact investing markets in Sub-Saharan Africa and South Asia, resulting in broader access to impact investing opportunities for enterprises.
The Programme's principal focus will be:
Development of a range of Products, Tools and Services, which help to increase the flow and distribution of investment to impactful enterprises;

Development of generally accepted principles and methodologies for managing and measuring Impact Investing performance, with a focus on impact (as opposed to financial) outcomes and outputs; and

Deepening awareness, identity and practice of Impact Investing in Sub-Saharan Africa and South Asia in order to encourage more impact investing activity.
First Call: funding window:
The Programme is now accepting funding applications for projects between £250,000 and £1,000,000. Exceptions can be made for compelling applications for grant amounts which fall outside of this range.

The Programme highly encourages initiatives and concepts that focus directly on interventions in South Asia and Sub-Saharan Africa, either directly to organisations based in these regions or through partnerships with organisations currently working in these regions.

Please note that the Programme will not be funding business-as-usual operations or be making direct investments into Impact Investment Funds or Accelerators.

The deadline for submitting a concept for this call is Wednesday 20th November 2019, 12 p.m. BST / 2 p.m. EST/ 4.30 p.m. IST. You must submit your application to applications@theimpactprogramme.org.uk before the deadline. Late submissions will not be accepted.
Eligibility Criteria:
Any organisations with a valid legal registration, and therefore a mandate to operate, may apply for funding under the IMPACT Activity Fund. This includes, but is not limited to, private sector organisations, civil society and not-for-profit organisations and entities.
To be eligible to receive funding, interventions should:
Meet minimum eligibility criteria

Do no harm;

Contribute to delivering systemic changes to the impact investing ecosystem particularly in SubSaharan Africa and South Asia;

Have the potential of being adopted / replicated by the wider ecosystem;

Include proactive and inclusive measures for knowledge sharing with stakeholders in the impact investing ecosystem;

Avoid excessive reputational risk to DFID, the IMPACT Programme, Palladium, and The Good Economy
Grant Evaluation Guidelines:
For successful concept notes which move to the Proposal stage, they will assess formal proposals against the criteria listed above, but also according to the following additional criteria: -
1. Impact Investing Identity: Each Proposal is expected to contribute to establishing and/orstrengthening the identity of impact investing on a global, regional or local level through knowledge sharing and targeted dissemination activities.
2. Innovation: Proposals will clearly articulate the innovation that they are bringing to the Impact Investing ecosystem, and how this innovation will result in positive changes to the market.
3. Scale: The outputs from proposals should be scalable. The Programme will consider the "return potential" when it invests, particularly whether initiatives will kick-start or otherwise build the impact investing market.
4. Measurability: Proposals must set out clearly how they will measure performance, either according to quantitative and/or qualitative metrics.
5. Knowledge transfer: Proposals are required to include a plan for communicating and sharing knowledge and lessons learned within the Impact Investing ecosystem.
Important Dates:
Call for concept Note submission open: 25th October 2019

Regional Webinar for clarifications- Sub-Saharan Africa: 29th October 2019

Regional Webinar for clarifications- South Asia: 30th October 2019

Deadline for posting queries: 4th November 2019

Clarification response posted from IMPACT programme team: 8th November 2019

Deadline for concept note submission: 20th November 2019

Shortlisting decision communicated through emails: 18th December 2019

Full Proposal submission: 7th February 2020

Final selection of grantees: 28th February 2020
For more information please check the Link
Latest Online Store
Latest Tenders And EOIs
Latest News
© Renalysis Consultants Pvt Ltd