Back to the Job Listing
Post a Job announcement
Advertise with us
Online store
Subscribe our Weekly Newsletter
More Jobs
---------------------------------------------
Assistant Manager / Associate Manager - Development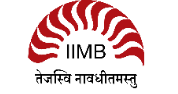 Organization: Indian Institute of Management Bangalore (IIMB)
Apply By: 22 Jan 2020
Location: Bengaluru(Karnataka)
About the Organization:
Indian Institute of Management Bangalore (IIMB) is a public management school and an Institute of National Importance located in Bangalore, Karnataka, India. They were the third IIM to be established, after IIM Calcutta and IIM Ahmedabad. They offer Post Graduate, Doctoral and executive training programmes.
Position: Assistant Manager / Associate Manager - Development
Major Duties and Responsibilities:
Assistant Manager / Associate Manager – Development will manage the operations of the Development Office, which would include research on potential Donors (could be individuals or companies), Contacting them and fixing high level meetings, helping in the creation of funding proposals, creating and managing a robust MIS, tracking of Accounts, interacting with finance, keeping in touch with donors and communicating with them on the utilization of funds, keeping of all records of the department and overseeing departmental facilities.

Would identify potential Alumni and also scan reports in media, use the internet and data bases and identify potential donors who have an inclination towards supporting causes in Education. Such donors would include Trusts, Large organizations, CSR funds, Family Businesses, Entrepreneurs, High Net-worth Individuals besides Alumni.

Once the potential organization is identified, needs to reach out to those who manage this activity within the organization. Should be able to connect to these prospective donors, in a presales mode and fix up meetings for the IIM leadership team.

Should be required to travel for meeting the alumni/corporates whenever required

Similar meetings need to be fixed with the identified High Net-worth Individuals. Needs to work closely with the Alumni Department in identifying HNI Alums

Will need to work closely with Faculty, understanding their research and funding needs

Will need to work closely with the various Centers in the Institute, understanding the work that is being done and the funding requirements of each of them.

Should be able to create detailed fundraising proposals, working closely with the Head - Development.

Should track such proposals, constantly monitoring their status and alert the Head - Development if there is any deviation in schedules.

Managing the MIS: All proposals and activities of the Department have to be captured on a detailed MIS report.

Would need to keep a track of all donations received and work closely with the Finance Department ensuring that the records are kept properly. Payment milestones need to be tracked and invoices are to be raised as per the schedule drawn. Relevant certificates should be given to the donors.

Would need to keep close contact with the Donors, updating them on the use of funds, sending CSR compliant reports wherever necessary.

Would need to oversee the management of facilities of the Department.
Key Skills / Abilities/Knowledge required:
Strong Analytical, Planning and Forecasting skills.

Strong customer orientation

Detail oriented

Should possess excellent interpersonal skills and have a solution orientated mindset.

Should be self-motivated and able to work independently, with a strong sense of urgency regarding timely completion of work.

Ability to identify and collaborate with internal stakeholders and should have ability to work effectively with members of the staff and faculty.

Ability to effectively communicate to senior managers across levels.

Maintaining organized and accurate written and electronic records of all relevant work in the department and the results thereof.

Ability to prioritize work opportunities in the department, effectively managing time.
Education and Experience:
Candidate should be a First-Class Graduate from a reputed University

Should have minimum 6 to 12 years of experience
Compensation: Monthly CTC will be in the range of Rs.46,000 to Rs.74,000
For more information please check the Link
Latest Fellowships
Latest Grants
Latest News
© Renalysis Consultants Pvt Ltd