Back to the Job Listing
Post a Job announcement
Advertise with us
Online store
Subscribe our Weekly Newsletter
More Jobs
---------------------------------------------
Associate, Moderation Services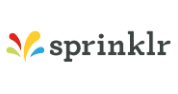 Organization: Sprinklr
Apply By: 24 Sep 2019
Location: Bengaluru(Karnataka)
About the Organization:
Sprinklr is a unified customer experience management platform for enterprises. It provides social media marketing, social advertising, content management, collaboration, advocacy and social media monitoring for large brands.
Position: Associate, Moderation Services
Location: Bangalore, India
Community Management Team:
Enterprises often struggle with high levels of user generated social conversations surrounding the brand. Community Management come into the picture by offering a 24/7 moderation solution that vigilantly watches over our client's social channels. Their steadfast team moderates across 20+ social channels and 85 languages. They button down the good content that could be relevant to the brand, while identifying and mitigating every situation that could threaten the brand's social media presence and reputation. No matter what the threat, they are ready to take it down owing to the finest technology Sprinklr possesses, the rich experience backing us up and a team of highly skilled professionals, naturally inclined towards social media with a through understanding of the social tone, language and content of the brand.
Responsibilities:
Understand client objectives, category/competitive trends for various product categories

Create listening search queries for social and non-social media sources, by using listening frameworks and market research methodologies

Analyse data from Facebook, Twitter, Instagram, YouTube and other social media and non-social sites to provide insights around community, campaigns and contests.

Derive meaningful insights and inferences from social media conversations/data for clients and agencies using Sprinklr platform.

Work with team members, various departments to provide actionable insights.

Present deliverables with commentary, verbatim and visualization of data using MS Excel/Word/PowerPoint with storytelling the findings, conclusions and suggestions

Ensure quality, accuracy and attention: data gathering, data processing and reporting

Continuous research and conceptualize new analysis frameworks, innovate and market ideas contributing to enhancement of social media analysis capabilities.

Actively participate in team and client meetings with impactful contribution.

Keeping an eye on the Social Media space around the globe to gain knowledge around latest social media analytical trends
Qualifications:
1 to 2 years of experience in social media research and analytics at agencies or organizations.

Ability to analyze and interpret large volume of data, build valuable inferences and make informed decisions.

Ability to work in a highly challenging and dynamic environment

Maintain high standards of accuracy in qualitative & quantitative data representation using charts, graphs, diagrams, etc.

Possess great ability to identify potential negative or crisis situation and apply conflict resolution principles to mitigate issues

Well versed about social media channel functions, dimensions, metrics and data limitations (Facebook, Twitter, YouTube, Foursquare, Instagram and others).

Should be confident, professional with strong analytical and research design skills

Proactive, self-starter, strategic thinker with time management & organizational skill

Advance knowledge in computer and online usage: Microsoft Excel, Word, and PowerPoint; Google tools such as docs, spreadsheets, calendar and apps

Attention to detail, with experience in creating client-facing documents and presentations.

Ability to innovate and learn on the job to refine processes

Excellent communication skills - high level of fluency in English - both written and verbal.
Knowledge & Skills:
Adequate awareness/knowledge of social media management tools and its usage

Familiarity on business strategies for clients and campaigns

Certifications in social media/digital marketing

Prior work experience with social media management tools
For more information please click the Link

Latest Fellowships
Latest Grants
Latest News
© Renalysis Consultants Pvt Ltd