Back to the Job Listing
Post a Job announcement
Advertise with us
Online store
Subscribe our Weekly Newsletter
More Jobs
---------------------------------------------
District Agricultural Marketing Coordinator (DAMC) under ATMA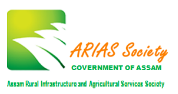 Organization: Assam Rural Infrastructure and Agricultural Services Society (ARIAS)
Apply By: 18 Jun 2019
Location: Guwahati(Assam)
About the organization
Government of Assam created the Assam Rural Infrastructure and Agricultural Services Society (ARIASS) in November 1998, as an autonomous body, headed by the Chief Secretary, Assam, as its President (Project Guidance Council) and the Agriculture Production Commissioner, Assam as the Chairman (Governing Body). The key mandate of the Society is to manage, coordinate, implement World Bank aided projects and any other externally funded projects as authorized by the State Government, and to monitor the implementation performance of the line departments of the projects.
Job Description
Background And Objectives Of The Project
The Government of Assam (GoA) through Government of India (GoI) has applied for a loan from the World Bank for the Assam Agribusiness and Rural Transformation Project (APART). Assam Rural Infrastructure and Agricultural Services (ARIAS) Society is the apex coordinating and monitoring agency for APART. ARIAS Society in association with Directorate of Agriculture now intends to hire two District Agricultural Marketing Coordinators in each of the 16 (undivided as of 1st April, 2016) project Districts, purely on contractual basis. Hence the total tentative number of positions is 16X2=32.

The development objective of the project is "to add value and improve resilience of selected agri value chains focusing on smallholder farmers and agro entrepreneurs in the targeted districts of the State of Assam".
Objectives Of The Assignment And Scope
The scope of work would includes, development of agribusiness and agri value chains at cluster level, assisting ATMA and other District level project staff in providing market oriented services to farmers and other value chain players, be instrumental in dissemination of agricultural market intelligence through close liaising with Market Intelligence Cell (being set up in the project) and Assam State Agricultural Marketing Board and so also obtaining market specifications/customer preferences of agro commodities and disseminating them to extension staff, FPOs, individual farmers and other value chain players.
Responsibilities
The key job responsibilities of the DAMC include:
Provide strategic guidance to the project in the area of agribusiness and value chain development including identification of focus areas for intervention; and identifying and developing the needs that are emerging from high value horticulture/ agriculture and allied sectors of the state;

Provide the strategic guidance to the district ATMA and others involved in project in the planning, scheduling and coordination of activities pertaining to agribusiness and value chain development for the project.

Assess and document the performance of local sub-sector and industries involved in the value chains of the project commodities (e.g., farmers and producers of final and intermediate goods, such as processors, input suppliers, freight forwarders, transporters, and so on), based on existing documents, secondary research and field visits.

Identify actions that can be taken up by value chain participants to improve productivity, efficiency, expand their market share, reduce costs, increase competitiveness, and add value along the product value chain and this would include –

Knowledge Dissemination:

Preparation of knowledge materials and products linked to Agricultural Marketing, Agribusiness Development and Value Chain Development in the project

Dissemination of best practices and cross learning across states

Participate in workshops and learning/exchange forums as needed

Travel Requirements: The DAMC will be required to undertake extensive field-visits and tours as per the project requirements
Qualifications, Experience, Age Etc.
Educational Qualifications: Graduate Degree in Agriculture or allied Science followed by a Post-Graduation in Agribusiness/ Agribusiness Management /Agricultural Marketing & Cooperation/ Agribusiness Economics/ Agricultural Economics/ Rural Management/ Rural Development/ Marketing or a closely related field from any recognized University/ approved Institution.
Working Experience: At least three years of professional experience in Agricultural Marketing, Agribusiness and Value Chain Development, specifically in the development of market linkages and working experience in the establishment of Agriculture & Horticulture based institutions and operations of marketing enterprises by farmer organizations, agri entrepreneurs etc
Computer Skills: The DAMC must have experience of using Internet based applications, using and working with advanced word processing/spreadsheet including MS Word, MS Excel and MS Power Point and other related applications.
Language: Fluency in English and Hindi.
Age: Age of the candidate should not be more than 45 years as on 1st June, 2019.
Desirable:
Experience of working in project(s) funded by any international/national organization and/or any

international/national NGO institution and / or experience of working in private sector agribusiness companies;

Experience of providing technical support to and capacity building of agribusiness/ farmer producer

organizations with strong analytical skills, and ability to synthesize complex concepts and to communicate

them effectively;

Ability to work effectively in teams as well as independently;

Good communication and presentation skills; the candidate must show initiative, synthesis, organization and personal dynamism, should be able to independently prepare market reports, marketing plans etc;

Experience of working in multi stakeholder environment and multi tasking;

Fluency in Assamese, Bengali, Bodo and other local languages;
Remuneration
Depending on the qualifications, experience, competency, and also the remuneration/pay package of the last assignment, the consolidated fixed remuneration of the DAMC will be determined and mutually agreed, which could be in the range of Rs. 6.60 lakh to Rs. 10.80 lakh per year.
Walk-In for Interview on 18th June 2019 (Tuesday) between 10:30 AM to 12:30 PM at the office of the ARIAS Society, Agriculture Complex, Khanapara, G.S. Road, Guwahati- 781022.
For more information please check the Link
Latest Fellowships
Latest Grants
Latest News
© Renalysis Consultants Pvt Ltd