Back to the Job Listing
Post a Job announcement
Advertise with us
Online store
Subscribe our Weekly Newsletter
More Jobs
---------------------------------------------
India Project Lead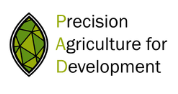 Organization: Precision Agriculture for Development
Apply By: 31 May 2019
Location: Ludhiana(Punjab)
About the organization:
PAD is a US-based non-profit organization with a mission to support smallholder farmers in developing countries by providing customized agricultural information and services that increase productivity, profitability, and environmental sustainability. PAD aims to improve the lives of 100 million farmers in developing countries with its services.
Job Description:
Role:
Project Lead to support PAD research, operations, and scale-up activities in India by leading activities in few North Indian states, in collaboration with state governments, private/social enterprises, and other key partner organizations.
Responsibilities:
Define and lead the overall operational and implementation activities, ensuring project milestones are delivered on time and within budget

Build, manage and strengthen relations with different partners and stakeholders: technology providers, agri-businesses, development organizations, non-profits and other service providers and implementation partners to facilitate scale-up of the PAD service

Understand end user's requirement and support the development of the optimum product

Support the development and implementation of the technology platform to deliver the product

Lead the overall hiring, training and management of staff across verticals

Overseeing progress and expense reports for the funders

Be responsible for submission of project reports, invoices/bills or any other documents to the concerned stakeholders

Represent PAD in planning and steering committee meetings and different state planning meetings and committees

Follow relevant trends in precision agriculture, innovations and best practices in government extension services

Carry out any other responsibility as assigned by the India Country Director and the global management team
Qualifications and Experience:
Essential:
A master's degree in business, management, economics, public policy, or a related field

At least 4 years' experience managing/leading projects preferably in the developing world

Experience of managing a diverse team

Strong writing and oral communication skills in English

Experience speaking and giving presentations in public

Ability to manage multiple partners and stakeholders

Strong understanding of data analytics and statistics

Willingness and ability to work under tight timelines, and willingness to travel to project areas and internationally

Ability to work independently and with minimum supervision

Strong interpersonal skills and ability to lead the team of diverse professionals
Desired Qualifications and Experience:
Experience and ability to work in multicultural settings

Experience in smallholder agriculture and the developing world

Experience in marketing of agricultural inputs and farm machinery

Familiarity with impact evaluation method

Consulting or other private sector experience

Fluency in at least one Indian language (Hindi, Gujarati, Oriya, Kannada, Bengali, )
To apply, please visit the PAD website and use the online application form. The job position will be available until May 31, 2019. Applications will be reviewed on a rolling basis.
For more information please check the Link
Latest Fellowships
Latest Grants
Latest News
© Renalysis Consultants Pvt Ltd