Back to the Job Listing
Post a Job announcement
Advertise with us
Online store
Subscribe our Weekly Newsletter
More Jobs
---------------------------------------------
Investigator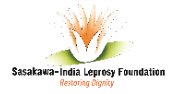 Organization: Sasakawa India Leprosy Foundation
Apply By: 22 Nov 2019
Location: New Delhi(Delhi) Vadodara(Gujarat) Guwahati(Assam)
Position: Investigator (for baseline survey of identification and validation of number of Leprosy Colonies in India)
Organization: S-ILF
Location: 5 different locations
Last date- By November 2019 (as per the attached detail)
Sasakawa-India Leprosy Foundation (S-ILF), instituted in November 2006, works towards ending stigma against leprosy by ensuring equal social and economic opportunities to leprosy-affected persons and their families residing in the self-settled leprosy colonies across the country. Our scope of work encompasses helping leprosy affected people and their children to gain access to education, training them in feasible livelihood streams and drawing them away from the demeaning and soul destroying activity of begging for alms. S-ILF also works towards raising awareness among different groups of people against social and economic discrimination of leprosy affected people. Through our work in this way we have impacted more than 6000 leprosy-affected families across 18 states of India.More details about the organization can be viewed at www.silf.in
We are looking for 5 Investigators (2 for North and one each for North East, South and West & Central India zones) to work on the baseline survey of "Identification and Validation of Number of Leprosy Colonies in India". This is a pan-India survey to be conducted in the leprosy colonies of four zones, viz-, North, North East, South and West & central zone. It is a field based position located in their respective zones for the purpose of data generation & recording, networking and liaisioning. Investigatorswill be based in the locations viz. New Delhi, Chandigarh, Baroda (Gujarat), Kanchipuram (Tamilnadu), Guwahati (Assam) will have to cover the states as assigned by their supervisor. While being based in the field the Investigator will communicate and coordinate on a regular basis with Research Coordinator, based in New Delhi for giving updates and progress of project deliverables.
Responsibilities:
Visit leprosy colonies and collect data from there (its point of origin), facilitate the preprocessing of data to locate missing records for completeness of data as necessary.

Compile, sort & verify the accuracy of data before it is entered by using checks provided by the supervisor.

Perform data entry efficiently and systematically.

Maintain timelines and accuracy in submitting up-to-date activity logs and completed data entries and follow-ups.

Maintain not only the documents and report files but also the confidentiality of the data.

Perform other duties as assigned by the supervisor to ensure successful achievement of the organizational and project goals.
Required Qualification and Experience:
A graduate from a recognized university with an understanding of issues of marginalization, empowerment and rights.

Prior experience in social development sector would be preferred.

Strong analytical and documentation skills for communication and information management.

Good written and oral communication skills in English, Hindi. Ability to communicate in local language would be an added qualification.

Strong computer skills in the use of MS Office.

Good speed and accuracy in data entry.

Ability to creatively communicate development issues and build network and relationship.

Ability to work in a diversified team as well as independently.

Ability and willingness to travel.
Contract Type and Period: This will be a fixed term contract for a period of 1 month anytime from November 2019 to December 2019.
S-ILF offers dynamic and enabling work environment and provides competitive compensation based on experience and background. Interested candidates should submit their application with their latest CV to alka@silf.in . Last date for submitting the application is-
For New Delhi- 04.11.2019
For Chandigarh- 15.11.2019
For Baroda (Gujarat), Kanchipuram (Tamilnadu) and Guwahati (Assam) - 22.11.2019
P.S. Only shortlisted candidates will be acknowledged and called for interviews. Residents/locals of the place shall be preferred.
Latest Fellowships
Latest Grants
Latest News
© Renalysis Consultants Pvt Ltd