Clean, Affordable and Sustainable Cooking Energy For Indian Possibilities And Realities Beyond LPG
Sectors : Energy, Environment and Climate Change,
Published by: The Council on Energy, Environment and Water (CEEW)
Publication type: Report
Published on: 2015
Tags :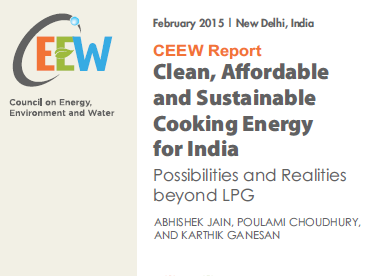 Clean, Affordable and Sustainable Cooking Energy For Indian Possibilities And Realities Beyond LPG
Over the last decade, the number of domestic LPG connections in the country, and concomitantly the associated subsidy outlay, has increased at an unprecedented rate. The rising subsidy burden and high import dependency for LPG are posing challenges to current account deficit and nation security. Despite the growth in its consumption, the transition to LPG is not complete; with 80% of Indian households continued to use traditional fuels for cooking, as of 2011-12. Thus, the problem of indoor air pollution continues to be a major public health menace for the country, which accounted for more than 1.3 million pre-mature deaths in year 2010.
Given this background it is vital to look at and compare the other clean cooking energy solutions vis-à-vis LPG, which can reduce the indoor air pollution burden and drudgery associated with the use of traditional cooking fuels, while being affordable and sustainable in the long run. There is a dearth of research and studies which compare different cooking energy options, especially using a multi-dimensional approach. Thus, with the objective of promoting clean, affordable and sustainable cooking energy for all, this study analysed the potential of the alternatives, going beyond LPG. The options which were assessed include the centrally distributed commodities like LPG, PNG, electricity and the decentralised options such as biogas and improved biomass cooking stoves.
A multi-criteria comparative analysis was conducted, incorporating various dimensions such as economics, fuel supply assurance, technology resilience, cooking convenience, environmental impacts, etc. The analysis utilised the existing wealth of literature and secondary data, while tapping into the knowledge and experience of technology experts through online surveys and interviews. The key findings from the analysis are:
1) On the economic front, biogas emerged as the most attractive option, along with PNG, while LPG and pellet based cooking stoves were among the costliest. One major finding on economic front was regarding improved cooking stoves which largely perceived to be the most economical solution due to 'free-of-cost' biomass. However, NSS data over the years suggests that more than 70% of biomass consumed in rural households is commercially procured and thus carries a real cost, apart from the notional cost associated even with the free-of-cost biomass.
2) In terms of health improvements due to indoor air pollution, all technologies fared well, except improved cooking stoves, which still need substantial technological improvements to reduce emissions to safe levels. However, a major finding on health benefit font is that unless there is a complete transition to cleaner cooking option both at household level as well as at the community level, the entire health benefits of clean cooking would not be realised.
3) On assurance of fuel supply front, which also pertains to energy security at national level, traditional biomass was marked with the highest fuel supply assurance, followed by PNG, biogas, LPG and lastly the electricity based solutions.
4) For convenience of cooking, which incorporated multiple sub-attributes influencing the overall cooking experience, the balance was tilted in the favour of gaseous fuel based options due to their improved heat control, higher heat intensities, accommodation to variety of cooking needs and so on. Thus, LPG and PNG were rated highly, along with biogas, followed by electricity based solutions. Improved cooking stoves were deemed as least convenient among the considered options.
5) In terms of technology resilience, biogas and improved cooking stoves both fared low, whereas the LPG and PNG solutions were rated as highly resilient. Electricity based cooking solutions received the mediocre place.
6) Next, considering the global environmental impacts, i.e. climate forcing, all the clean cooking energy technologies were evaluated as better than the traditional chulha. This is mainly due to avoidance of high emissions of black carbon resulting from incomplete combustion in traditional stoves. Improved cooking stoves were the best, as only non-CO2 emissions were considered, assuming sustainable harvesting.
Next was biogas, followed by PNG and LPG. Electricity based solutions had the highest impact due to predominantly thermal generation mix of India. Based on the comparative analysis and overall findings, the following key recommendations are proposed: 1) multiple efforts are already being pursued by the government on all the different fronts such as RGGLVY to increase the LPG distribution and consumer base, expansion of PNG networks, and respective central government programme on biogas and improved cooking stoves. However, due to the lack of a unified approach to the broader goal of achieving clean cooking energy for all, the efforts are not leading to commensurate achievements, and different technologies are not getting their fair share of attention (funds) and adequate direction of interventions.
1) Thus, there is a need to unify these government efforts under a common framework, with a vision (and mission) to achieve clean, affordable and sustainable cooking energy for every Indian household.
2) The primary objective of such a mission should be to create awareness about negative impacts of the use of traditional chulha, in order to generate a bottom-up demand of clean cooking solutions while ensuring their sustained use and a complete transition, which is necessary to completely realised the associated health and social benefits.
3) Operational implementation of such a mission and thus the decision-making should be based on top-down and bottom-up collaborations (driven by the nature of technology). Local-level decision-making authorities should play a critical part in determining the best possible technologies under the local context of demand, socio-economic factors and resources endowments.
4) In terms of specific technology oriented actions, PNG, faring high on multidimensional assessment, should be promoted in the urban areas, beginning with densely populated cities, while developing the medium to long term strategies for sourcing the commodity at competitive prices.
5) Create an enabling environment to support the market based promotion of biogas as a cooking energy solution while eliminating the challenges of technology resilience and management through innovative approaches such as service-based enterprise models. It must be promoted selectively, in areas with climatic feasibility, resource feasibility, and community acceptance, in order to maintain high success rate and thus establish community confidence in the technology.
6) For improved cooking stoves, technology development should be the main focus, in order to improve (i) emission performance; (ii) technology resilience and; (iii) cooking convenience, while promoting them with a check on quality, only in areas where biogas is not feasible and LPG is not affordable.
7) Finally, unless there is radical technical innovation on improved cookstoves and increased deployment experience of other emerging technologies like waste-tobiogas, LPG would continue to play a significant role in meeting the clean cooking energy needs of the country. As the challenges of affordability and import dependency are likely to continue with LPG, it is imperative to promote the efficient use of commodity, while improving the subsidy targeting to unintended users and uses. In conclusion, the study has proposed a framework for comparative analysis of various cooking energy options across a range of criteria in order to provide a holistic and comprehensive view of the state of technology options. With the evolution of technology, the analysis outcomes may vary in the years to come, but the framework would continue to provide a robust methodology for evaluation and thus help the decision-making towards clean cooking energy for all.
Download the full document here
- Abhishek Jain, PoulamiChoudhury, and KarthikGanesan
Other Publications
More...
Call for Paper

6th International Conference on Cloud Computing and Big Data
Submited by : 30 Nov -0001

Call For Papers From Journal Of Business & Industrial Marketing
Submited by : 30 Nov -0001
11th International Language and Development Conference 2015
Submited by : 30 Nov -0001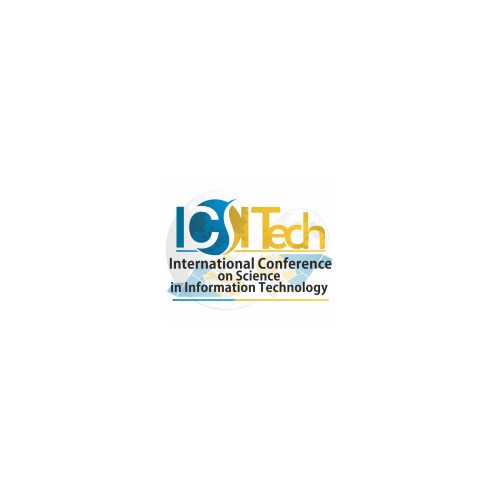 ICSITech 2015 International Conference on Science in Information Technology
Submited by : 30 Nov -0001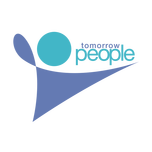 4th Annual Belgrade International Conference on Education
Submited by : 30 Nov -0001
Events
Applications Invited for the Victor K. McElheny Award 2020
1 Apr 2020 to 15 Apr 2020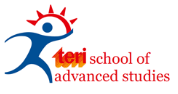 Applications Invited for National level Workshop on Redefining Urban Water Space
28 Jan 2020 to 28 Jan 2020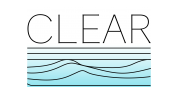 Applications Invited for Civic Laboratory for Environmental Action Research (CLEAR) Artist-in-Residence Program 2020
25 Jan 2020 to 25 Feb 2020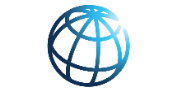 Applications Invited for Innovate4Climate (I4C) - Pitch Hub Competition
26 May 2020 to 28 May 2020
Applications Invited for Science, Technology and Arts (STARTS) Prize 2020
1 Jun 2020 to 15 Jun 2020
Online store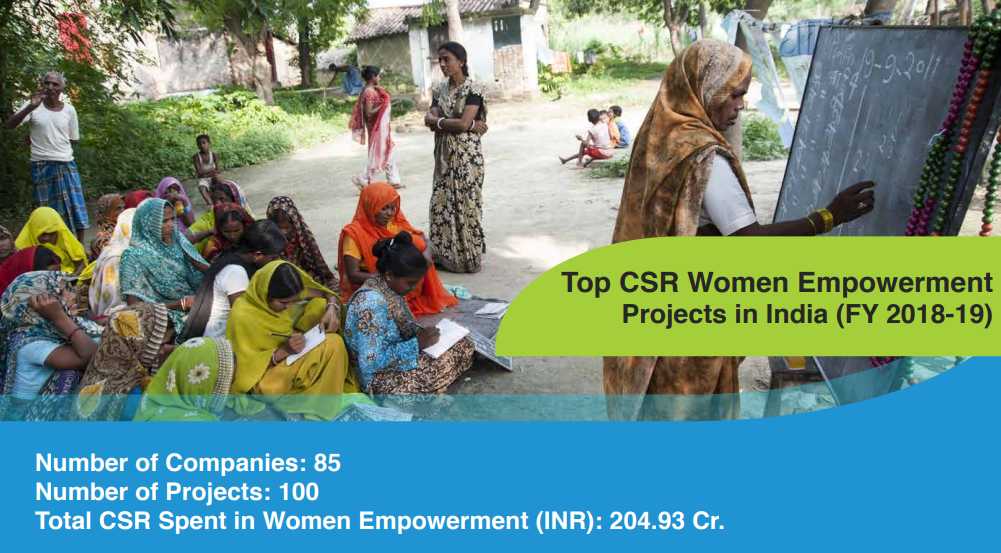 CSR Projects in Women Empowerment in India in FY 18-19 (New)
Published by : NGOBOX and CSRBOX
Published on : 2019
Product Price : 4300 INR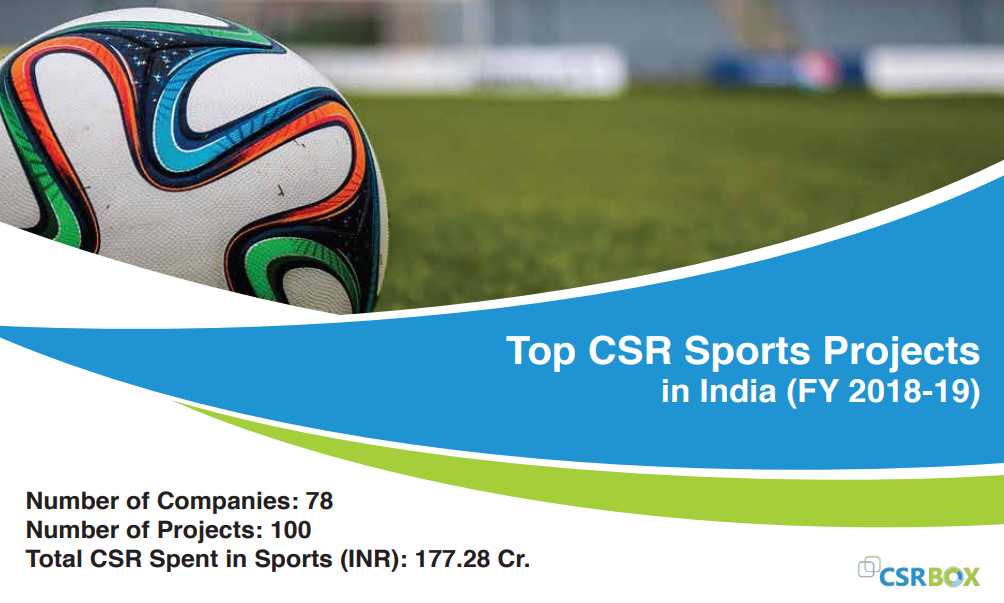 CSR Projects in Sports in India in FY 18-19 (New)
Published by : NGOBOX and CSRBOX
Published on : 2019
Product Price : 3600 INR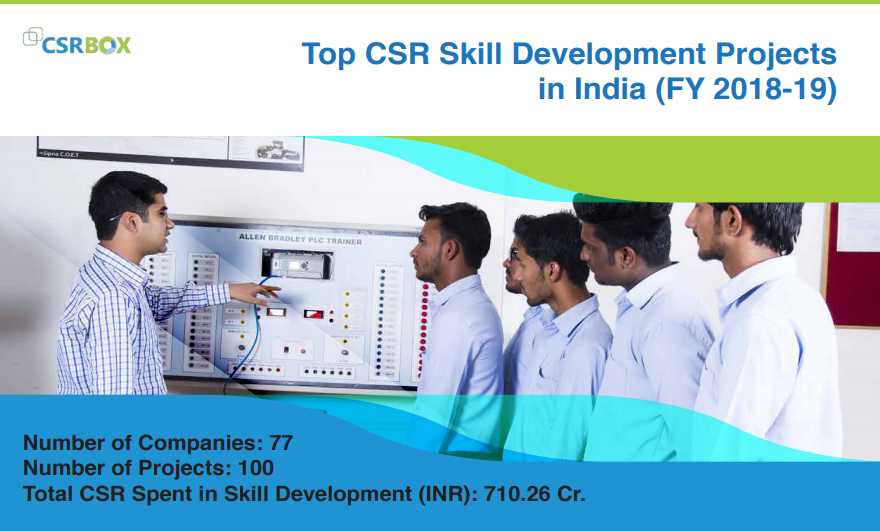 CSR Projects in Skill Development in India in FY 18-19 (New)
Published by : NGOBOX and CSRBOX
Published on : 2019
Product Price : 4800 INR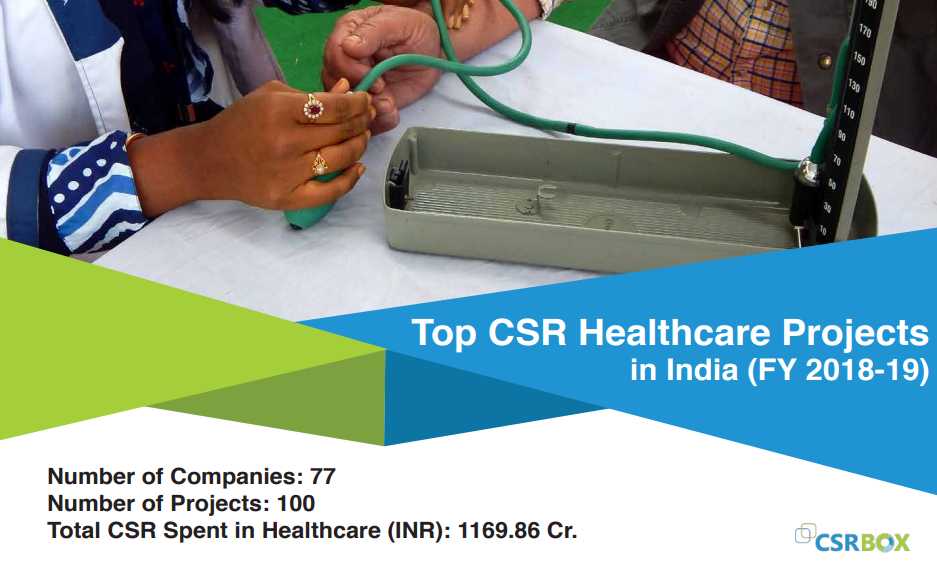 CSR Projects in Healthcare in India in FY 18-19 (New)
Published by : NGOBOX and CSRBOX
Published on : 2019
Product Price : 4700 INR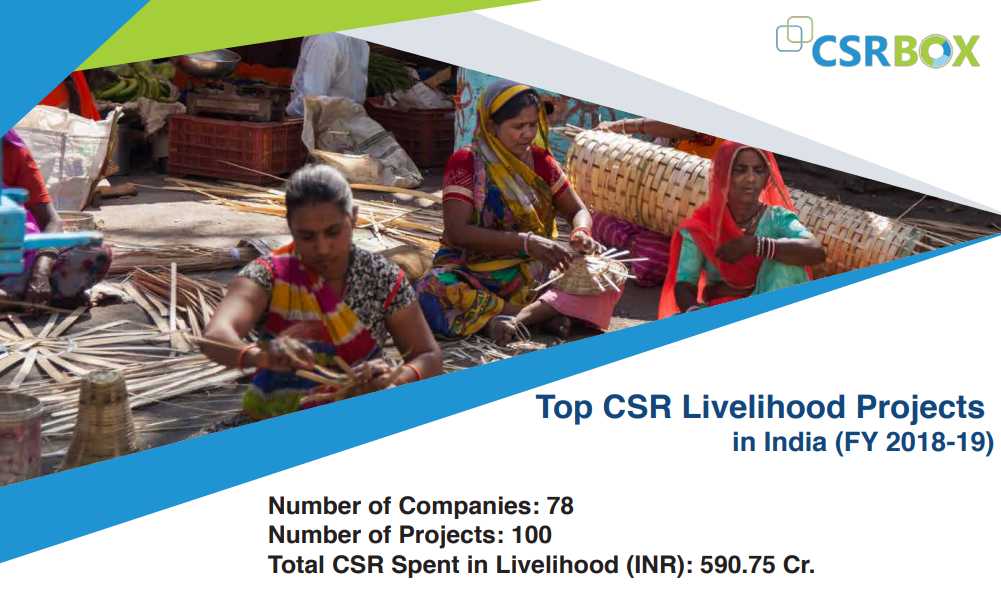 CSR Projects in Livelihood in India in FY 18-19 (New)
Published by : NGOBOX and CSRBOX
Published on : 2019
Product Price : 3900 INR