Back to the Call for Papers Listing
Post a Call for Papers
Advertise with us
Online store
Subscribe our Weekly Newsletter
More Call for Papers
---------------------------------------------
Call for Papers - World Disability & Rehabilitation Conference (WDRC)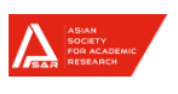 Organization Name: Asian Society for Academic Research (ASAR)
Apply By: 06 Aug 2022
Location: Chennai
Presentation Date: 20 Aug. 2022 - 20 Aug. 2022
About the Organization
Asian Society for Academic Research (ASAR) promotes the development and strengthening of the interfaces between various disciplines in Engineering, General Sciences, Medical and Healthcare Humanities, Social Science and Management related fields.
Founded in 2012, the Asian Society for Academic Research (ASAR) is a nonprofit organization and a registered unit of PE Trust (Registered under Govt. of India) of individuals and institutions committed to furthering academic research. ASAR also fulfills its mission by providing a valuable communication link among corporations, government agencies, and educational institutions.
About the Conference
World Disability & Rehabilitation Conference(WDRC), which will be held at Chennai,India, on 20th Aug 2022. WDRC is hosted by ASAR- India. The WDRC conference offers a track of quality R&D updates from key experts and provides an opportunity in bringing in the new techniques and horizons that will contribute to Advanced research on Science, Engineering and Technology in the next few years. All submitted papers will be under peer review and accepted papers will be published in the conference proceeding. Both academia and industries are invited to present their papers dealing with state-of-art research and future developments.
WDRC is the premier forum for the presentation of new advances and research results in the fields of Disability & Rehabilitation. The conference will bring together leading academic scientists, researchers and scholars in the domain of interest from around the world. Topics of interest for submission include, but are not limited to:
Disability & Rehabilitation
Policies, and Laws promoting rights of people (or individuals) with disabilities

Implementation of the United Nations Rights of Persons with Disabilities in developing and developed countries

Advocacy initiatives to promote access to education across the life span

Access to health services for people with disabilities

Facilitating career and employment opportunities

Disability and Sports: A platform for Development and Inclusion

Equalization of Opportunities and Independent Living for individuals with Disabilities

Improving mental health care and services in rural communities via technology

Navigation for university students with disabilities: building self-advocacy skills
For more information please check the Link
Latest Online Store
Latest Tenders And EOIs
Latest News
© Renalysis Consultants Pvt Ltd