A Journey Towards Becoming Water Positive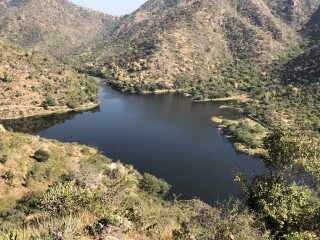 ACC Trust
The word drought creates a picture of shattered condition in our minds. One such worst condition had arrived in Marathwada during 2013-2015. Since the beginning it being aware of its social responsibilities, the ACC took up the challenge for the water conservation.
Tukaram Chavhan, Farmer, Pimparkhed says - 'Drinking water was major issue farmers used to face. Water was scarce even for animals. There was no facility to store water for regular use. This company has helped us a lot with all these issues.'
Shaikh Ahmad, Sarpanch, Hivara says – 'They have supported us a lot on all fronts. They constructed water tank and check dams for us on rivers which helped in arresting water. 500 acres of land is improved because of this construction.'
The ACC took up this initiative for water conservation revolution in 12 villages along with Marathwada in 2017-18 and in 2018-19. The trust constructed small dams along those 12 villages in association with an NGO named 'Dilasa'.
Earlier the farmers could cultivate only cotton in the farms. Now, they are able to cultivate Soybean, Channa, Wheat as their second produce along with cotton. Earlier we had no drip irrigation at all. Now a day, ACC has pioneered this drip system. They have done not only that project but thanks to their lift irrigation project, which could irrigate 100 acres of more agricultural land. Today, there is a hundred and fifty TCM of water available in Paramdon because of the work done by the ACC.
The groundwater level has now been raised from 300 feet below to 150 feet below. The ACC started a new concept, a farm pond in Sindula village, Yavatmal. This helps to store the otherwise flowing runoff water. The ACC constructed a small dam in the area and has made a miracle!
Santos Zaade, Farmer, Sindola says – 'Earlier, we could earn hardly 2- 2.5 lac rupees through cotton and cereal farming. Now we can think of crops Pomegranate because we have ample of water now. We can now raise 6-7 lacs through 3 crops.'
An additional 35 acres of agricultural land can now be cultivated because of the new stock of water in Sindola.
The ACC cleaned the siltation of the pond in Shingaon Pond at Chandrapur district as well as Kavadashi village of Yavatmal. The ACC helped to motivate people's participation in many villagers to complete a lot of significant work because of the work done by the ACC 252 hectares of land could be irrigated. The average ground water level has increased 4 meters. It created the water storage capacity of 215 TCM.
Farmers can now enjoy three crops instead of two because of the additional water available. The ACC is going to continue its effort to help our countrymen to fulfill their water demand so that the people can defeat the vicious drought.
Source
At ACC TRUST, the goal has been clear- to transform lives and create a better world for the people. ACC TRUST is working steadfastly to improve the lives of people living in marginalised or economically backward communities, with programmes that encompass livelihoods, education, health & sanitation and women empowerment. ACC TRUST comes up with groundbreaking technology and creative solutions to drive humanity to a better, prosperous future.
© Renalysis Consultants Pvt Ltd