Dilruba Yasmeen - Climbing the Ladder of Success with Katha Lab School
Katha
Katha Lab School is a 'boon' for the children that are at most risk. 'At Most risk' means the children not living their childhood to the fullest, dropping out from the educational system, or indulging in child labor. All of them come from impoverished families and most marginalized communities. Their greatest survival mechanism is the arrangement of the two meals a day. Other things such as education, health, and family life are often neglected due to financial crunches. Almost all the children at Katha Lab School have similar scary and inspiring stories. These children are so underprivileged and underserved that they cannot further fall in the universal power ladder and hence are appallingly placed at the 'bottom of the pyramid'. They have no control over their lives, no hopes, no visible pathway to go ahead in their lives as they are either neo-literate or first-generation learners.
Yet at Katha Lab School; they engage in their studies, come to school regularly, and put in the work they need to do. The center is their hope to get a new life to fulfill a dream that they have dared to have.
There are many inspiring stories of children from Katha Lab School that have risen above their circumstances and want to grow up to be a respectful, productive, responsible and responsive citizen and living a life of dignity.
Dilruba Yasmeen is one such girl that was enrolled in 2010 after wasting a year out of school. Her family migrated to Delhi in search of a better livelihood. Her father worked as a site laborer. Even in Delhi, he could not get a decent job as he has no proper education or skill. Her mother worked as a cook in a school and supported the family. One of 7 children in her family, Yasmeen was spotted by the community mobilizer of Katha during the door-to-door survey. She was out of school as she has no documentation proof nor her family could afford to send her to private school. The only thing she had was zeal and excitement. She was counseled and motivated to enroll at Katha Lab School.
Yasmeen had to see many hardships in her family. Every day she had to cover about 6 km to and fro from home to school. Being the elder child in the home, she also had to perform all her household chores as her mother would get late from her duty. Knowing her situation and hardship at home, Katha's teachers allowed her to stay after school hours also, to give her extra support. She was a bright child and she was supported by free reading learning material and scholarship.
Katha Lab School is meant for marginalized children like Yasmeen. This is not a normal school. This is a center of innovation and creativity, critical thinking, curiosity are enhanced along with quality education and vocational skill training. It helped Yasmeen develop as a strong individual who knows how to work for the larger good. It was the hard work of Yasmeen and the teachers at Katha Lab School that made her a bright, confident girl. She began to participate in inter-school contests, workshops, volunteering activities, etc., and won many prizes. She availed of scholarships as she performed well in her academics. She then appeared in the 10th and 12th board exams by NIOS and was successfully cleared with flying colors. Yasmeen expressed her desire to learn computer skills and hence she was enrolled in IT computer courses of 1-year duration. She was also trained in financial management, entrepreneurship development, and marketing. In 2018, Yasmeen was hired by Mango India, an online fashion design manufacturing company with the first salary of 12,000/- per month. With the first salary, she bought clothes for her family and later on bought a fridge and washing machine to ease her mother from household work.
The last 10 years have been one of the most inspiring stories from the communities where there is hardship and scarcity is the peculiar feature be it lack of amenities, lack of opportunities, and lack of inspirational stories. Yasmeen has risen from being a fearful, hesitant girl to an educated and empowered girl. At the moment, she is working as a senior fashion designer at Reliance Trends at Jaipur and earning a handsome salary of 45,000/- per month.
Her mother with teary eyes expressed immense satisfaction and happiness. "After all the hardship my child (Yasmeen) has gone through, it is the result of her sheer hard work and resilience only. I used to say that do not take too much burden, but she would only smile. Now she goes to her office and speaks English."
Dilruba Yasmeen only had one word to describe her stay and experience at Katha Lab School. She was quick to say "THE BEST"
Source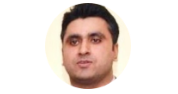 Dr. Ayaz Malik is a social anthropologist and professional development practitioner with a keen eye on measuring social changes ethnographically. Started career as a social researcher, travelled extensively in Northern states of India and understood social and economic fabrication. Currently looking after donor relations and partnership at Katha in the capacity of Assistant Director. At Katha he is credited with establishing strong M&E mechanisms and undertaken impact evaluation of education and skill development program
© Renalysis Consultants Pvt Ltd