HDFC Bank is positively transforming lives with its 'Holistic Rural Development Programme' in Bihar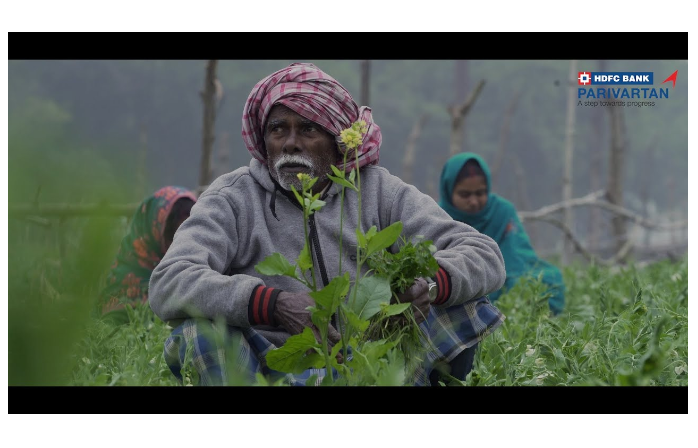 HDFC Bank
Nearly nine-tenths of Bihar's population lives in its villages. And these villages are filled with hope. Hope for better tomorrow, hope for change. At HDFC Bank, it has always been their endeavour to be a part of this change and to help bring about long term sustainable development in the communities in which they operate.
Ever since the launch of the first HDFC Bank branch in 2002, the bank's footprint in Bihar has gone beyond banking through their social initiative 'Parivartan' which has impacted the lives of over 51 Lakh rural residents. The farmers of Manika Ghazi were introduced to the concept of intensive farming due to which their vegetable yield has nearly doubled over the past 2 years, resulting not only in stable income, but also the conservation of land through lesser sowing. The village also saw the installation of solar-powered water pumps that helped farmers with increased land for cultivation, lower input costs and enhanced productivity.
Usha Devi, Manika Ghazi,Muzzaffarpur says – 'Earlier, we faced a lot of difficulties. Fuel was expensive, irrigation was difficult.'
Shivchandra Bhagat, Manika Ghazi adds – 'Cultivating vegetables here was rare and wheat too would not grow in all the fields. Establishment of boring pumps has led to increase in yield, not even an inch is crop less.'
Aiming at making a more efficient and sustainable use of agricultural resources, these farmers were also introduced to the concept of conservation agriculture and gluepads used for protection from pests, resulting in a significant rise in the yield of their wheat crop.
Rameshwar Rai, Manika Ghazi says – 'Earlier, a lot of seeds were used and yet the germination would not happen as desired. Fertilizing the land was a problem, but since we have started using the zero tillage method, with proper lining, the process of fertilizing has become much easier, leading to better yield.'
Initiatives such as these under HDFC Bank's 'Holistic Rural Development Programme' have helped them reach out to communities in over 50 villages, lighting up over 12 thousand households with the promise of a better tomorrow.
The Anganwadi centre of Raghunathpur Jagdish village was not in dire need of renovation, but was also seeing a low attendance level and high rate of student drop-outs. The renovation measures ranged from rebuilding its sanitation to even repairing its walls to aid learning. Education-related initiatives are also carried out in the only major school of Narsenghpur village. It's integral development involved the establishment of a library unit, improved sanitation, access to clean water and an education-friendly environment for its students.
Through the 'Sustainable Livelihood Initiative', HDFC Bank has impacted more than 7 Lac lives by imparting skills training and financial literacy training. The capital district Patna saw the establishment of the Orion Skill Training Centre, introducing nearly 270 students to the gateway of boundless opportunities.
Subrat Kumar Singh, Student, Orion Skill Training Centre, Pune says - 'Before I joined here, I was an introvert. I could not speak even when it was necessary. I lacked certain skills. But since, I have joined here, I see a change in myself, change that paves for new thoughts and opportunities.'
HDFC Bank's bio-toilets here also lead the way forward in sustainable, eco-friendly sanitation. 4100 plus sanitation units were built under the initiative. 20 Lakh plus childen impacted. 2 Lak plus teachers trained. 39,000+ women entrepreneurs trained, 33,000+ schools reached, 1,100+ kitchen gardens installed, 51 Lakh+ rural lives impacted in Bihar.
HDFC Bank's 'Parivartan' is now at the forefront of effecting progress all across India, transforming nearly 65 million lives. And this is just the start.
Source
HDFC Bank Ltd. is an Indian banking and financial services company headquartered in Mumbai, Maharashtra. It has a base of 104154 permanent employees as of 30 June 2019. HDFC Bank is India's largest private sector lender by assets. It is the largest bank in India by market capitalisation as of February 2016
© Renalysis Consultants Pvt Ltd